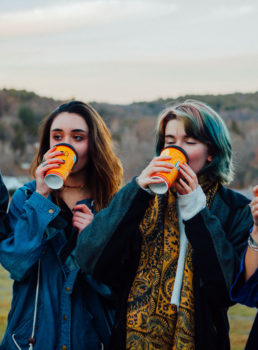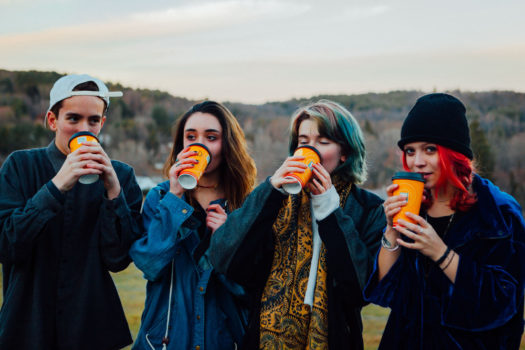 The Snaz are sick of backhanded compliments. Whenever someone has written about them the past few years, the first thing mentioned is inevitably the band members' young age (mid-teens when their first EP came out in 2014, if you must know). Though well-meaning, the constant youth focus could carry the unspoken implication, "They've very good…for people so young." But they're very good, period. Also, they're not even that young these days.
"The band isn't just a bunch of kids anymore," singer Dharma Ramirez says. "We're all like 18 and half living on our own. There's a sense of independence and all the confusion that comes along with that."
The Snaz just released their third album, Sensitive Man and their maturity shows. Ramirez says this album found her for the first time addressing topics outside of her own world. She sings about police brutality on "Gary" and small-town peers settling down and starting families before they've seen anything of the world on "Holly Mae."
The maturity comes across in the music too, confident and rocking. The nine songs' jangly power-pop that at times channels everyone from Tame Impala to Motown (one song even reminds me a little of Guano Apes). The band produced it themselves, which is especially impressive at it's their best-recorded album to date.
There are still nods to their youth. As we noted when we named lead single "Strung Out on Candy Bars" one of the "Best Vermont Songs of 2016", an older rock and roll band might be strung out on something harder. And "Summer Underground" incorporates part of "The Streets of Cairo, or the Poor Little Country Maid," probably better known today as that cheeky children's song "There's a place in France / where the naked ladies dance…" But these winks bely a seriousness and maturity that should break them out of the kid-rockers category once and for all.
"We're pretty sick of people calling us a teen band," Ramirez says. "Just take us seriously for the music."
Stream Sensitive Man below, then buy it at Bandcamp.
Click here to discover more of the best new rock music in Vermont.