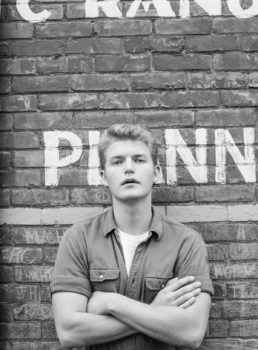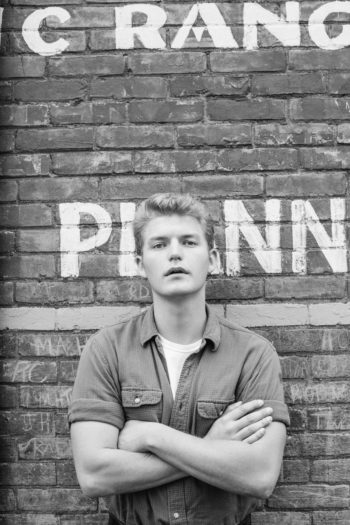 Though he's only 22 years-old, Vermont songwriter Erin Cassels-Brown has packed in a lot of living since he nearly died.
When he was in college, a burst appendix sent his body into septic shock, landing him in the hospital for an extended stay – he says he left "12 pounds lighter and a million life thoughts heavier." His brush with death made him reevaluate his purpose, dropping out of college and leaving work at his father's solar company to pursue music full time.
"I decided to get on a bus and try to be a street performer for a while," he says. "I went to Asheville, North Carolina and Charlottesville, Virginia. I didn't make much money, but I made some amazing friends and it gave me a new lease on life, both physically and emotionally."
Cassels-Brown traveling around busking on the street, trying to scrape together a life from tips tossed into his guitar case. On his debut EP Northern Lights, Vol. 1, the song "Virginia, Bring Me Light" traces his Kerouac-ian journey. "That might be the saddest song on the album," he says. "It certainly doesn't include the happy ending of the real life adventure, but I was trying to write from the place I was in right before I got on the southbound bus."
Produced by Willoughby Morse of Madaila, Northern Lights, Vol. 1 channels classic country songwriting just left of the mainstream, from Steve Earle to Guy Clark. Cassels-Brown cites The Tallest Man on Earth as a major influence too, and you can hear that in a song like "Virginia, Bring Me Light" which brings an ethereal wash to augment the acoustic guitar.
Then on "Athena," he and his former North End Honeys bandmate Hannah Fair channel Gram Parsons and Emmylou Harris for a classic road song. It's "Turn the Page" as written by Levon Helm. As he sings to open the song, "I'm leaving for a long time, my dream is coming true, but I'll be living so far away from you / Is it worth it if that dream is shaded blue, casting shadows over all we meant to do?"
"The thing I've wanted most in my entire life is to be a full-time touring musician," he says. "I got a small taste of that in The North End Honeys when I wrote the song. I was making money playing music for the first time. My dream was starting to be real, but I missed my friends and had a very hard time keeping any sort of relationship together."
Back home in Vermont and with his street-performing days behind him (for now), Cassels-Brown plans to record his debut album this year. He plays with a number of our favorite local bands, including new combo The Welterweights with Kelly Ravin, Lowell Thompson, and Morse and until just a few months ago in Little Slugger, who released one of our favorite albums of last year. And he continues working towards the goals he made when he got out of the hospital.
"A really good friend likes to remind me that we could get hit by a bus any day," he says. "That sounds morbid, but for me it's a motivator to make the things that are important to me happen."
Click here to discover more of the best new folk music in Vermont.