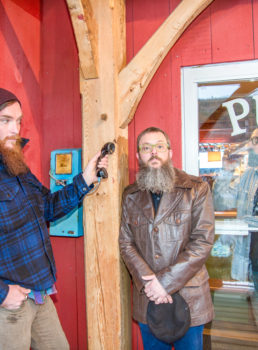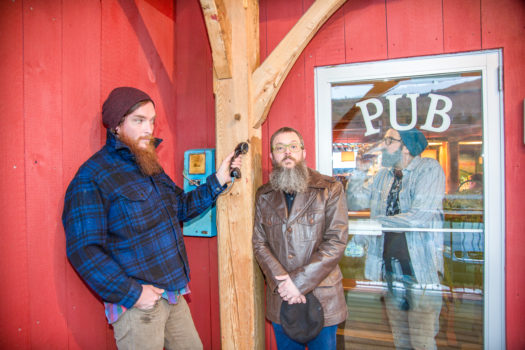 There must be something in the water. Earlier this week, we posted a song inspired by Wren Kitz's job at a sewage treatment facility, and now we have another killer track inspired by water work.
The song is "Via Champlain" (as in Lake Champlain, on the Vermont-NY border) by new Americana trio Some Hollow. Band frontman and songwriter Jason Lee used to work as a deckhand on the Grand Isle Ferry, shuttling passengers and commuters back and forth across the lake.
"I worked full time while simultaneously taking care of my twin boys during the day," he says. "I did this from the time they were born until they went into kindergarten. During an eight-hour shift on the ferry, we would make twelve trips. Thus [the lyric] 'back and forth we will go another dozen times.'"
"Via Champlain" leads off Some Hollow's terrific debut EP, Green, recorded as a trio of Lee, Josh Morse on drums, and Aidan Lenihan on guitar and pedal steel. Lee says his musical influences include Hank Williams and '90s alt-rock band Starflyer 59, an unusual pairing that actually makes sense when you listen to the EP. Though "Via Champlain" lies neatly the Americana mold, the band leans more towards grunge on a song like "Dubious," then veers way over to country for "Don't Call Me Baby" (a song Lee says he imagines Willie Nelson singing). At times they even reminded me of Barenaked Ladies, mostly due to Lee's expressive singing voice.
The band name Some Hollow has a double meaning, with roots in both folk music and their home state. "I pulled it from the traditional folk song, 'Moonshiner' ('I go to some hollow to set up my still') which has been a staple of my solo shows for years and quickly became one for the band," Lee says. "Also, as any Vermont musician can attest, we find ourselves playing in a wide variety of venues all over the state. The question, 'Where are you playing tonight?' can often be answered with, 'Oh, some hollow'."
Stream Some Hollow's Green EP below, then download it at Bandcamp.
Click here to discover more of the best new Americana music in Vermont.