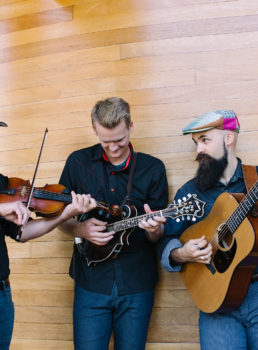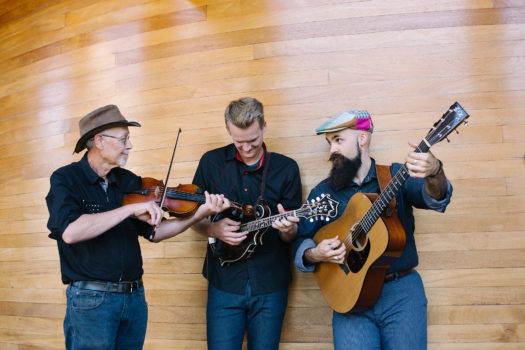 The novice listener might assume Pete's Posse, a band blending fiddle, mandolin, and guitar, plays bluegrass. That listener would be wrong.
Guitarist Tristan Henderson gently corrects me when I blithely ask about how his band approaches bluegrass. They don't play bluegrass music, he says, they play "old-time." "Bluegrass is Old-Time that put on a suit and slicked up," he adds. "Bluegrass is very clean, polished and articulate Old-Time."
Indeed, the music Pete's Posse makes is woolier than bluegrass, incorporating influences far beyond the borders of Appalachia. The songs on their new album The Conversation incorporate Celtic influences, plus an instrument a literal world away from any traditional bluegrass environment: the jaw harp.
"It's one of my favorite instruments to play," Henderson says. "I love how you can get so much from so little, just a reed and a metal frame. Most of the projection, overtones and manipulations come from your own body. It is one of the oldest instruments known to man, showing up all over the world in a variety of makes and sounds. In the band, it's taken a strong rhythmic role and also imitates the melody, with the overtones. But as you hear in 'The Echo,' it does take the lead a couple times, which is a thrill!"
Their songs are deeply rooted in the culture and landscape of Vermont. "Sap Ain't Runnin'" addresses how climate change is affecting the maple syrup industry. A cappella closer "Florona" is named for a mountain near where the titular fiddler Pete Sutherland has lived for two decades. And instrumental "The Vermont Set" is just that, a set of three early 20th-century Vermont fiddle tunes the band learned from the Helen Hartness Flanders traditional folk-ballad collection housed at Middlebury.
The Conversation blends traditional music with the band's own compositions so deftly it can be difficult to tell where one ends and other begins. "The Brocca Set" mixes ancient Irish reels with a new composition from contemporary fiddler Liz Carroll. Whereas "Burnin' Shivers" sounds like a cover of an old country song, but is in fact a Henderson original.
The band ably walks the line of drawing on ancient traditions without getting stuck in the past. Even when they're playing new compositions, it's all still Old-Time.
Click here to discover more of the best new folk music in Vermont.