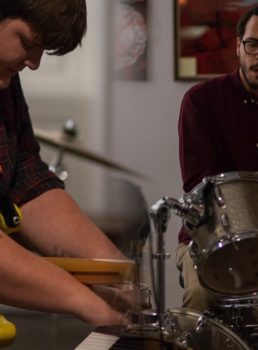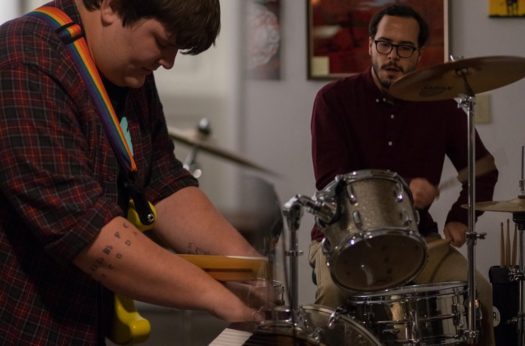 The song titles on Plastique Mammals' debut album are fantastic. "The Whirring Keeps Me Up At Night." "There Are Bigger Men Than Me." And, maybe my favorite, the vaguely sinister "Twice As Many Bees."
Here's the thing though: all these songs are instrumentals. Plastique Mammals is Remi Russin on bass guitar and synth loops and Evan Raine on drums. No vocals. The ingenious titles in no way reflect the lyrics, because there aren't any. Which got me wondering: how do you title a song with no words?
I asked Russin where these clever phrases came from, and how he matched them to a given song. For instance, standout album opener "The Whirring Keeps Me Up at Night" has a soft bass melody that slowly creeps up on you and a percussive slow-build that gently moves it forward. What it doesn't have is much whirring, and it's hard to imagine a groove this mellow impeding anyone's sleep.
It's one of the duo's earliest songs, one he wrote right after graduating college. He found himself kicking around campus alone for a few days after all his friends had left. During that time, the song and its evocative title both came to him. "I went to the dining hall for dinner and I was one of a couple people there," he says. "It was dead silent, except that the light above my head was buzzing. I ended up fixated on it; I was trying to figure out if it had only just started buzzing, or if I had just never noticed it because I'd never heard the room that quiet."
He wrote "There Are Bigger Men Than Me" not long after. It starts off in a funky midtempo groove and then, true to its title I suppose, suddenly switches to something bigger a little before the two-minute mark. "I think I said some variation of 'there are bigger men than me' to someone [shortly after graduation], talking about life after college," he explains. "I'm sure whatever I actually said was much less eloquent and catchy, but the effect was something to do with that whole 'small fish/big pond' idea."
Other titles are just evocative phrases Russin has read or overheard. He keeps a running list in his phone. When he writes a new track, he simply scrolls through the list until he finds one that matches the track's vibe. "Flea Circus Families." "Endoplasmic Reticulum." "Water Bears." The connections aren't always clear to the outsider – "Call of Duty Modern Warfare 2," one of the album's slowest songs, strikes me as a terrible soundtrack for a shoot-'em-up video game – but the contrast is part of why they work. (Russin says he might make a music video juxtaposing the song and the game, which could be quite surreal.)
Watch a video of Plastique Mammals playing "Endoplasmic Reticulum" live, then buy the full debut album The Best Of – speaking of good titles – at Bandcamp.
Click here to discover more of the best indie rock music in Vermont.