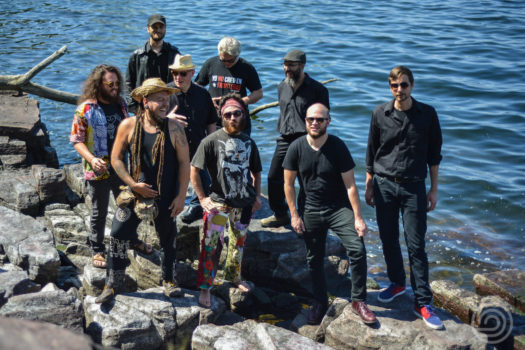 Maiz Vargas Sandoval began life in Costa Rica. He lived there through college, studying sociology and anthropology at the Universidad Nacional, before immigrating to the states in his twenties. After traveling around for a year, he landed in Burlington, Vermont in 2014 – geographically, culturally, and, not least, meteorologically, a long way from home.
He landed in Burlington through a friendship with local soul musician Kat Wright and her husband Lee Anderson. He quickly integrated himself into the Burlington music scene, playing and sometimes bartending at the local clubs Anderson runs. And he founded Mal Maiz, a band that plays Latin and Afro-Caribbean music in all its many forms, from well-known-to-Americans genres like reggae to lesser-known traditions like cumbia.
After several years of riotous local shows, last year Sandoval got the opportunity to record some of the best original songs he and bandmate Graham Lambert had written into their just-released debut album Historia de un Inmigrante [Story of an Immigrant]. "A lot of the music came from my culture and travels through Latin America," Sandoval says. "My music brings back the smells of rain in the tropical forest, the heat of the coffee farms. It voices the joy and the sadness of immigrants, of all humans who decide to move out of their land and experience other cultures with openness."
In a time of such hostility to immigrants and outsiders in America, Sandoval uses his art to foster cultural understanding. "My music is not meant to be political, but to create social movement and awareness in the circles we exist," he says. "I found my voice as an artist as an immigrant."
In addition to discussing the plight of immigrants generally, the album's seven tracks tell the story of one specific immigrant. For those who don't speak Spanish, here's how Sandoval breaks down the album's plot:
All the music in my album is connected, intertwined, telling the story of a fictitious character who moves out of the tropical forest and jungle (Track 1) to the city (Track 2). Then he deals with the reality of a close minded society (Track 3) and he remembers his ancestors to find courage (Track 4).

Track 5 is a funeral song I dedicate to my grandfather who passed away during the process of my album, and the song [expresses] the feeling of being so far away from your love ones. Track 6 is a pop song I wrote in the rhythm of regatón that expresses acceptance for the new, what it is like to be empathic when you travel with all cultures and ethnics. Track 7 is a mantra of protection, a prayer to the spirits of the south, to bring justice to all humanity and for those who need it the most.
Sandoval hopes the album will raise awareness of the immigrants living in communities all over the country, where their neighbors might not even notice them. "The feeling of not being able to choose our local leaders or enjoy the social guaranties of this country makes us invisible, intangible, like a ghost," he says. "We exist but we don't at the same time. We are so involved with our communities, with the schools, but people and the government keep us silent. They fear us like we are ghosts, even though we are serving the same country and paying the same taxes."
If Sandoval has his way, Historia de un Inmigrante will make you think. It might also make you dance. Buy the album at CDBaby, and listen to a couple tracks below.
Click here to discover more of the best new world music in Vermont.