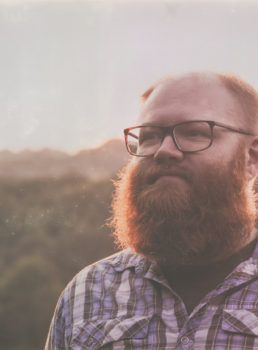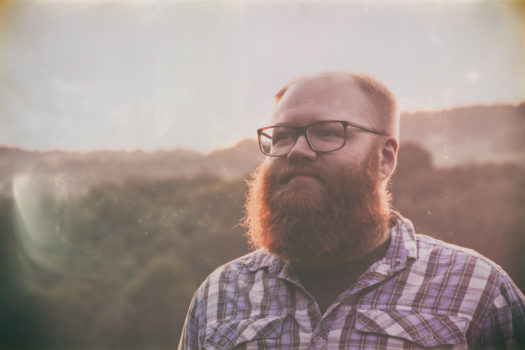 Dave Richardson's new album Carry Me Along includes songs about love and loss and life and death. And they're all wonderful.
But we gotta start with the squid.
The album opens with an acoustic guitar strumming what sounds like your standard plaintive Americana ballad. Then Richardson begins crooning:
Squid, giant squid
Hanging like a hanged man
In this building right downtown
An impressive specimen
It goes on like that, talking about sperm whales and Iceland and 5,000 gallon tanks of water. Not exactly your typical folk-song subject matter. Is this the first squid song ever? I had to learn more.
"I was at the Museum of Natural History in DC and I stumbled on this giant squid in a very long glass case, submerged in liquid so it didn't dry out," he told me. "I observed this creature that lives so deep down in the ocean it is almost never seen in the wild. On one hand I marveled at the opportunity to check it out up close. But it also made me feel weird seeing this once-mighty creature, dead and on display. Those 'weird' feelings can be great starting points for a song."
You'd probably assume this was an isolated aquatic one-off – but it isn't. "Squid" is just the latest song in what's he's calling his "marine life" series, which so far also includes songs about narwhals, sea anemones, and, coming up, a new one about an octopus. "I am fascinated by all of the creatures that live in the sea," he says.
Press play on that track and you'll hear the key fact I haven't yet mentioned: The song is gorgeous! A song about squids sounds like a novelty from the Dr. Demento radio show archives, but Richardson's is not a joke or a gag. It's a beautiful piece of reflection on death. And that sort of juxtaposition pops up throughout Carry Me Along. There's a song about a fox eating a field mouse and another about Dave eating chicken gumbo. There's a song about sitting on a front porch and another about lying on a car hood. He sings about graves and jewels and rocks and doing cannonballs into a lake. But those songs aren't entirely about those things, and I doubt the octopus one will be either.
"Specificity is the soul of narrative," Richardson says, quoting his hero John Hodgman. He adds: "I find that I am more successful writing a song about something small and finding a way to tie it to a larger idea, or statement, or feeling. There are songwriters that are great at writing love songs that we can all relate to. Paul McCartney is one of my favorite songwriters and he is the king of the 'silly love song.' But the songwriters that influence me the most – Greg Brown, Harry Nilsson, Dar Williams – they give you these amazing, rich details that you can sink your teeth into. That's what I aspire to do."
Listen to Dave Richardson's Carry Me Along below, then buy it at Bandcamp as a download, CD, or vinyl.
Click here to discover more of the best new Americana music in Vermont.