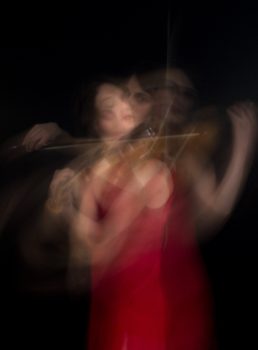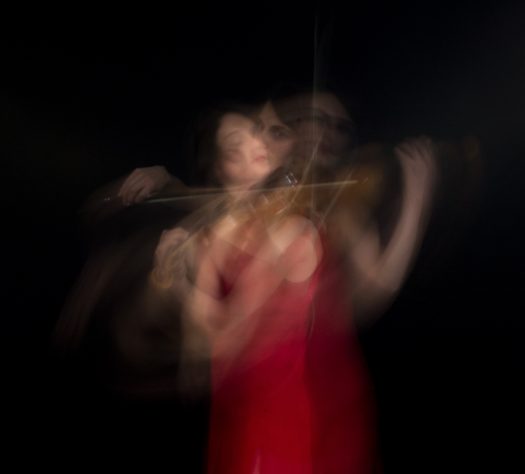 Many prominent artists are recording "political" albums these days. But almost inevitably, the lyrics tend to paint a blurry picture. Musicians have over-learned the lessons of 1960s protest singers, who wrote songs so timely that they became dated within days. Is anyone's favorite Dylan song really "Talkin' John Birch Paranoid Blues"? Today's overcorrection leads to broad generalities about "the fight" and "resistance," without speaking to the times in any direct way.
Emma Back's fantastic new album Little World is a political album too, but Back has something specific to say. No, she's not chronicling the Iran deal's dissolution. There's no "Talkin' Bob Mueller Blues," and the word "Trump" does not come up once. Little World succeeds where others have failed because, rather than attempting a sweeping statement about "our times," Back drills into one specific subject: war in the Middle East.
Back has personal experience in the region, which may help her so successfully navigate a figurative (and literal) minefield. The 30-year old has traveled in Israel, studied its music, and studies her ancestry – a line of Jewish merchants in Eastern Europe. Spending time in the country complicated her understanding of the Palestinian conflict, and inspired many of the album's best songs.
"When I came back from Israel, I was dealing with my own feeling about the conflict and all that had come up while I was there, learning more about the history of the Jewish people, Israel, the diaspora and the Holocaust," she says. "I was personally experiencing a lot of sorrow for my ancestral history and how I see that pain continue to play out in the state of Israel, and the world, today. Rather than blaming and taking sides, I wrote these songs as a way of asking questions, opening it up, going beyond conclusions or fixed views."
The song "Traveller's Prayer" includes a passage from the Hebrew poem of the same name, and the narrator of "The Fear" asks repeatedly, "Do you know how the war broke out?" "Refugee" may be the most harrowing song of all, a first-person account of someone trying to claim shelter in an unwilling country. In the song, a newscaster tells a child, "To keep us safe, we turn back your race / You are the bad ones." The child eventually accepts the "bad ones" label; if you hear it often enough, maybe you begin to believe it.
"I never set out to write a concept album," Back says. "When I first noticed that every song had some lyric reference to 'war,' I thought I had perhaps lost my writing chops and was becoming repetitive. But by the time I wrote 'Refugee,' I saw that there was a common thread that could form a cohesive whole. The idea of being displaced from home, war, oppression and the feminine voice are important subjects that weave together in each song."
As another example, Back cites "Mockin' Gun," a political blues-folk stomp in the vein of Rhiannon Giddens. "When I wrote 'Mockin' Gun,' I was trying to come to terms with what I felt and thought about the situation after my first trip to Israel," she says. "On the one hand, I am Jewish and have family in Israel and a deep heart connection to the land. But I am also a humanist and firmly stand for non-violence."
The music itself – what drew me in before I even noticed the lyrical subject matter – also arises from her global travels. Though not strictly traditional – Israeli settlers didn't have many loop pedals – Back draws from a deep history playing Middle Eastern and Eastern European musical styles on violin and an arsenal of other instruments. She fell in love with Balkan music at age ten, through singing with a world music choir in Vermont, going on to study the genre in college. When she was in Israel in 2014, she began playing with the Jerusalem band Nava Tehila.
How did a preteen in Vermont find herself drawn to this old music? "I love the scales and the rhythms," she says. "There is something so mournful and yet so rich. This dynamic, aliveness and somewhat un-graspable quality of the world fascinates me. I think the Eastern-European and Middle Eastern sounds feel this way too. There is something very tangible and gut-wrenching but also sort of un-touchable, or beyond human beings."
You can hear all of that in "Home," another of the album's highlights. The string layers introducing the song initially sound like something off a Putumayo coffee-shop collection, but it builds into a more modern folk-pop jig, anchored, as always, by her violin. She blends some very old sounds into a creative that seems fresh and new.
After years traveling, Back returned home to Vermont recently when a personal health crisis – being diagnosed with celiac disease and a rare form of anemia – necessitated her family's care. Spending six months bedridden gave her time to assimilate all she'd soaked up into Little World.
"As I lay in bed, I found myself contemplating personal and global conflict as 'illness,' she says. "What I discovered in my own pathway towards healing is that in bearing witness to "shadow" – the parts of our inner and outer worlds that we either strive to ignore or feel hopeless about resolving – we can transform not only our own pain, but both the ancestral and current collective suffering we carry."
Click here for more of the best new folk music by Vermont artists.