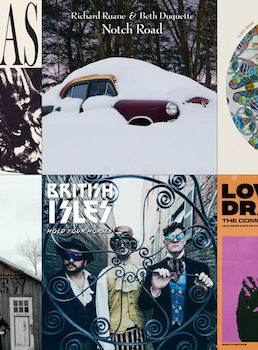 See previous monthly Best-Of lists here.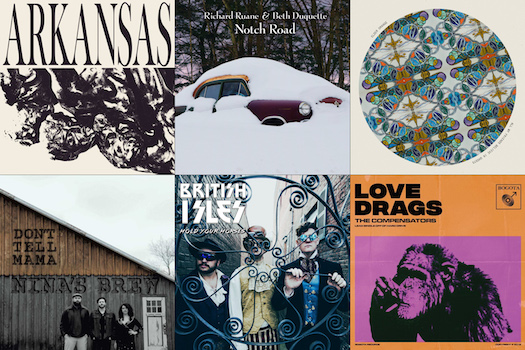 Addy Sechler – Make Home to Me

One of the best albums of 2017 was Mount Eerie's A Crow Looked at Me. It was also one of the toughest to actually listen to, being a songwriter frankly grappling with his wife's sudden death. When you want that same quiet, hushed vibe, but don't have the emotional bandwidth to sink into that weighty subject matter, Addy Sechler's new album will suit just fine.
Barbacoa – Rule the World

Barbacoa is, to my ears, the best surf-rock band going today (and the fact that that's a low bar doesn't diminish their talent). Except, on some of the new songs they've posted on Bandcamp, they're not exactly surf-rock any more. For one, these songs – unlike the entirety of their last album – have lyrics. Pretty good ones too! The constant, though, is Bill Mullins' ability with a melodic hook. They get stuck in your head, whether coming out of his mouth or his reverb-ed guitar.
Bison – Arkansas

Bison's final (sadly) EP comes out tomorrow. I haven't heard it yet, but I wouldn't be surprised if something from that shows up in Best of June. The post-punk trio never put out a bad song in their short career, and "Arkansas" is certainly no exception. They will be missed.
British Isles – Hold Your Horses

I named the lead single from Josh Panda's last album the best song of 2016, so it was with some regret I read he's ditching that band, and most of those tunes too. But the silver lining is his new band, British Isles, which pushes his occasional glam-rock tendencies to the fore. Debut video "Hold Your Horses" blends a killer guitar riff, some steampunk outfits, and probably the loudest song this ballet company has ever danced to.
The Compensators – Love Drags

argonaut&wasp are among the more successful Vermont expats of recent years, but apparently their slick dance-pop inhibited them from letting out their rock and roll rawness. Hence new side project The Compensators, which they describe as "like witnessing spectacular gear shifting as your hands grab that 'oh shit' bar hanging above the passenger window." The band debuts with the killer "Love Drags," along the lines of Franz Ferdinand or Bloc Party. Even though they've dropped the synths for guitar and drums, it's still plenty danceable.
Dave Richardson – Daffodils and the Rolling Hills

"Daffodils And The Rolling Hills" sounds like an old British folk song, something to sing around the Maypole. That's no accident. Dave Richardson, who's only a few months past a great album, is already back with a new song in honor of May Day. These are all the best songs of May, but this is certainly the best song about May too.
Elder Orange – Homebody

The next time anyone asks the perennial question "What's the difference between hip-hop and rap," here's one answer. Elder Orange's beatscapes unquestionably live in the world of hip-hop, but they're instrumentals. There's no actual, you know, rapping. And these aren't simple beats either, not the rap demos all over Bandcamp and Soundcloud by a would-be producer hoping for an MC to jump on. I'm not even sure where a rapper would fit on a lush production like "Homebody," a world unto itself with no need for lyrics.
Emma Back – Little World

I dove deep into a bunch of the songs on violin-looper Emma Back's new album, so here I'll highlight the song that first hooked me. It's not one of the more explicitly political numbers (though they're all political to some extent), but features one of the album's best hooks and a brilliant use of her violin, from bowing to scratching to pizzicato notes.
Human Talk – Please Don't Hurt Me (demo)

As the album title makes plain, these are just acoustic demoes. But boy does this make me want to hear the final product! With some electric guitars, synths, and more production value, this propulsive and instantly-catchy track could be a killer.
Julia Caesar – 3 new songs

For anyone paying attention, Julia Caesar are the buzziest new band out of Vermont this year. This despite the fact they haven't, you know, released anything. It's all on the basis of their live shows. Their website says their debut EP Heavy Flow is coming this spring (only a couple weeks left, people…). In the meantime, one can hear some songs in a beautifully-filmed new live session – though one without the song titles listed, I'm afraid. Hopefully we'll know soon enough.
Nina's Brew – Don't Tell Mama

Nina's Brew's debut EP Don't Tell Mama opens with confidence, the instantly catchy title track belying the fact they haven't even been a band for a year. But the three members have plenty of individual experience, with singer Giovanina Bucci putting out several several solid folk-pop albums over the past decade. She shines brighter in this full-band context though, allowing a more muscular side to come forth. It's swampy roots-rock that channels Hurray for the Riff Raff or Alabama Shakes.
Phil Yates and the Affiliates – Send Him the Bill

Though I like his new album Party Music!, I didn't include a song in last month's list because Yates had moved away from Vermont (albeit to Chicago, my hometown!). Turns out, he recorded the album in Vermont and everyone else still lives her, so, to quote Señor Chang, "I'll allow it." So a delayed shoutout to his loud and brawling new song "Send Him the Bill," where he does, in fact, let the bastards get him down.
Richard Ruane and Beth Duquette – Ellie Brown

These are all the best Vermont songs, but this is also the most Vermont song. Ruane packs in hyper-local references from Windham County to Middlebury to Rutland. You needn't know any of those references to be transfixed by the song though. It sounds like an ancient folk tune, something Bob Dylan might have covered before he picked up a pen, but is in fact an original. An instant classic, beautifully aided by Beth Duquette's harmonies.
Strawberry 3000 – Circles

Strawberry 3000's Bandcamp bio simply reads "Found on an old cassette in your father's garage," which is the perfect descriptor. The five tracks on new EP circles are warped and faded, unidentified 1980s-ish samples piling atop each other like the Blade Runner vinyl left out in the sun. How obscure are these samples? Tracking down the title track led me to an Angelfire page (remember Angelfire?). Turns it it comes from Dino, a young '80s singer with worse hair than Flock of Seagulls (it's like a half-braided mullet). He's forgotten everywhere except Angelfire – and, apparently, Strawberry 3000.
White Birch – Closer Now Than Before

Insanely loud post-rock with drums permanently set on "In the Air Tonight" mode – what's not to like?
Why Nona – Liquor Stores

The music to "Liquor Stores" is, like Why Nona's first EP, emo revival at its finest. But the lyrics this time around hold shades of the Mountain Goats. I'm thinking of "No Children" specifically, John Darnielle's feel-bad sing-along about dark vibes and a darker marriage. Why Nona's huge chorus climax "Let me treat the ones who treated me like family like they're garbage in the street" would fit right in there. And will we hear a better opening verse than "Why do I feel nervous in liquor stores and still feel like I'm 16? / Have I felt true love or am I loving to love just to know how it feels to be needed? / If I die now what the fuck do I have to show for myself?" There we are, back to emo.
If you missed it, here's our Best Vermont Songs of 2017 post.