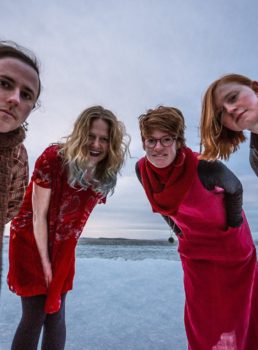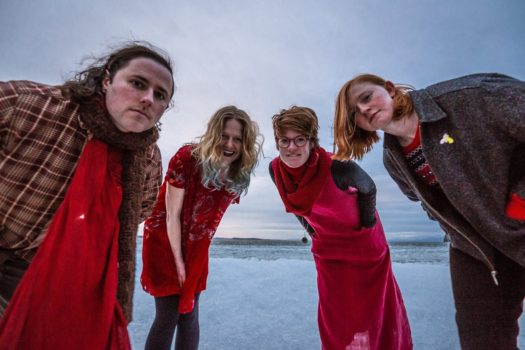 For the past year, the most talked-about new band in Vermont has been Julia Caesar. They built their reputation solely on fiery local shows, without a single song out there for the wider world to hear. (When I finally dug up a live video to post in May, I couldn't even uncover the song titles.) In January, the music editor of alt-weekly Seven Days named his top hope for 2018 as getting any proper recording from the band.
Well, would that all of our new-year's goals were wrapped up by mid-July! Julia Caesar drops their long-awaited debut EP today. Hopefully it will begin transmitting the deafening noise surrounding them in Vermont to a national audience.
The band is Liz Stafford (guitar/vocals), Katy Hellman (bass/vocals), Megan Rice (guitar/vocals), and Steven Lebel (drums), and the fact that three-quarters of those names are female is no coincidence. Hellman says that, after years of playing in various mostly-male bands, she "was desperate to be playing with women and/or nonbinary folks." She set up a "friend/music date" with Stafford, and Julia Caesar came into the world. Check out their new music video for "Crimson":
As you can hear, the band's music, written collectively, delivers hook after jangly hook, a faux-casual form of indie-rock channeling everyone from Pavement to Juliana Hatfield. But the lyrics, written by Hellman, carry a more serious message. As the founder of an "intersectional feminist cooperative dedicated to shifting power within the music industry" (which she says is currently on pause to reorient), Hellman writes calls to arms to fight the powers that be. Like a more woke The National, she slips evocative and at times jarring images into hard-to-pin-down narratives. An example from "Crimson": "Oh we taste the blood / It is splattered on our hands / The walls we thought were white / Are soaked in violence second hand."
"My lyrics are an outlet for calling out injustice, contradiction and emptiness upheld by white supremacy, cis-hetero-patriarchy and capitalism," she says. "In these tumultuous times I think that really I am just trying to speak my truth – and often scream my truth – drawing my inspiration from the acts of resistance around me and in my community, my ever developing and deepening inner world, and the natural world around."
She adds: "Our songs range from moments of despair to heavy melancholy to joyful explosions, and I think that this is really just trying to emulate the range of emotions in our day-to-day. In our patriarchal, white-supremacist society and music industry, emotionality and sensitivity are stigmatized as weak, and with these songs we challenge that directly, showing that it is a radical act to be vulnerable."
Stream Julia Caesar's Heavy Flow EP below, then buy it at Bandcamp. If the band's current trajectory continues, you'll soon be able to boast that you knew them when.