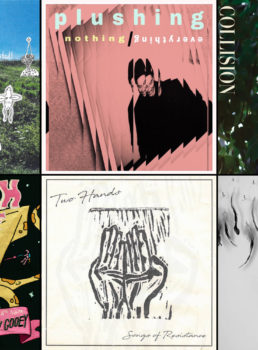 See previous monthly Best-Of lists here.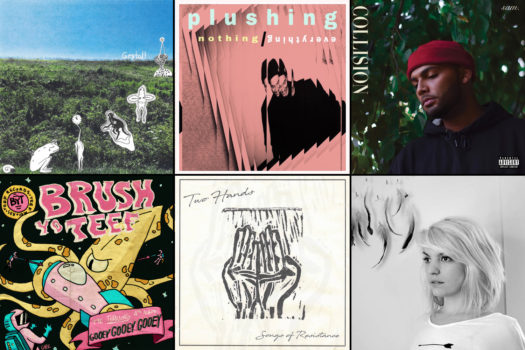 Abby Sherman – Wanting to Run

Great little details abound in the final song off Abby Sherman's debut album: "The callused fingers fumble over the strings. / Do you only find me beautiful when I sing? / In a dark bar where the lights are kept low. / Nothing better to do and no where better to go."
Baby Brush – Dinos

I feel I wasted a good Frank Zappa comparison in last month's list. Vermont expats Baby Brush – Christopher Davis, Peter Housekeeper, Theodore Housekeeper, and Ryan Kochalka (James' nephew) – sounds far closer to Zappa than anything I've encountered so far, twisting and warping just about every genre in popular music on their debut album. Opening track "A Tribute to Foot" turns doo-wop on its head, with the only lyrics being "foot foot." Then "Dinos" alternates wild guitar with wonked-out synthesizers over lyrics about nipple tassels, sounding like five song ideas crammed into one. Like Zappa himself, it's a delicate balance that occasionally falls off the edge of insanity – but succeeds far more often than it should.
Brush Yo Teef – Baby's Into Taxidermy

First Baby Brush, now Brush Yo Teef – Is there something in the word "brush" that implies musical insanity? "Baby's Into Taxidermy" sounds like a modern spin on a Spike Jonze or Allan Sherman novelty number, a goofy and fun number with plenty of jokes sprinkled over a crunchy garage-rock hooks.
Eric George – Gentrification Rag

They say no one writes protest songs any more? Tell that to Eric George, whose "Gentrification Rag" sounds like Phil Ochs transported to the 21st century. "The streets are cleaner but the people are meaner, trying to make the fake grass look greener," he sings in this deeply sarcastic ode to kicking out the riff-raff.
Gestalt – Paper

Smart, angular rock invokes Wire or a mellower Minutemen. And, like them, best listened to in album form. Gestalt's self-titled debut works as a mood piece – the track breaks feel almost arbitrary. I'll pick "Paper," since it's what's playing as I write this – and it's a good overview of what this album offers. Bonus points for doing good deeds: All proceeds from record sales go to the ACLU.
Jessica Rabbit Syndrome – Bacchus D

A doomy groove, "Bacchus D" sounds like Ozzy Osbourne on downers. Jessica Rabbit Syndrome dubs their genre "glamour trash witchcore," and though you won't confuse this heavy dirge for glam-rock, it is plenty witchy – particularly near the end, when the haunted-house synth joins the dark processional.
Plushing – Do You Feel It Too?

Wonderfully grungy lo-fi rock and roll from Brattleboro, Vermont. What The War on Drugs is to Bruce Springsteen – classic rock jams semi-buried between a haze of distortion – Plushing may be to The Cure. With added guitar solos, and some Motown singalong hooks, all in under three minutes.
The Rear Defrosters – Thank the Lord

Back in June, we debuted the first original song from honkytonk covers band The Rear Defrosters. Now there's a second, off their upcoming Gentleman Farmer EP. Songwriter Michael Roberts said he wanted to write songs that could fit seamlessly alongside Dwight Yoakam and Jimmie Rodgers, and "Thank the Lord" fits the bill. The details really make this a gem, following Roberts' engaging yarns about lapsed car insurance and haggling at a yard sale. Do-si-doers would have to listen close to catch the Bernie/Trump references, the only thing separating it from an old-time country tune.
Sam. – Jungle

If the 90 minutes on Drake's Scorpion didn't satiate you – or you wanted a higher per-track batting average – check out 21-year old Sam Paulino's debut EP. Clocking in at barely 20 minutes, this minimalist hip-hop blends rapping and singing over unexpected production that recalls everyone from Tyler, the Creator ("Jungle") to Pablo-era Kanye ("Don't Call Me").
The Thursday Torys – Seashore Minor

The Thursday Torys debut album Future Freaks has grand ambitions, with singer Brayden Baird writing it aims to "describe tonally and lyrically the struggles and joys of living in a futuristic world while longing for the down to earth nostalgia of small town, easy living." Fittingly, there's a lot going on in these songs though. For me, though, the one that jumped out is perhaps the slightest: pretty guitar instrumental "Seashore Minor." I don't know how it fits into the broader narrative, but the beauty of this song is I don't need to.
If you missed it, here's our Best Vermont Songs of 2017 post.