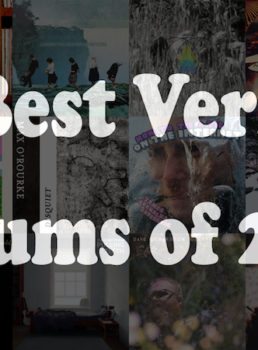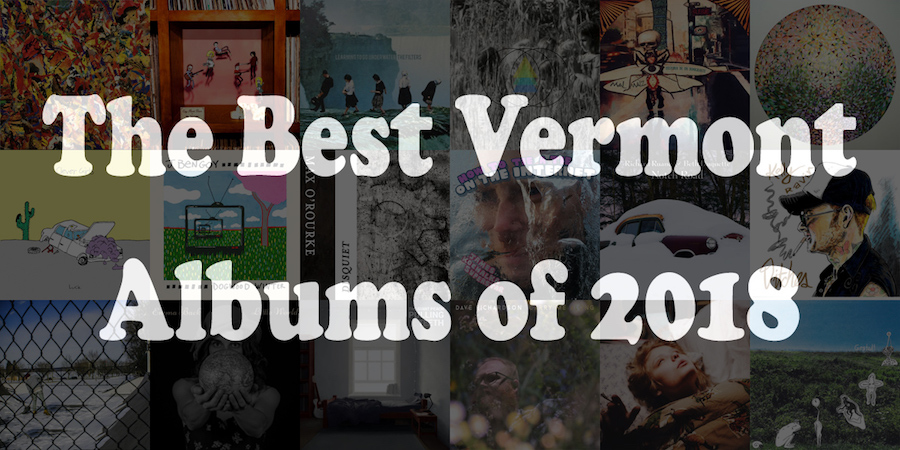 I only stepped foot in Vermont once this year.
That's the dirty little secret of this blog (well, not that secret; it says it right on the About page): I don't live there. Haven't since I started doing this last year.
That's going to change when I move back in the spring, but the aim of the site won't. I conceived of County Tracks as helping to expose the best music created in Vermont to non-Vermonters. In the digital era, it's easy for an expat dedicated enough to follow any local scene from afar. What's trickier is getting great local music heard by people who have no reason to care about the category of "Vermont music."
This ties into a broader problem. The glut of choice of streaming, rather than leveling the playing field, has mostly helped the famous get more famous. Yesterday's Wall Street Journal had a Billboard staffer claiming Drake was "bigger than the Beatles" because all 25 tracks on Drake's new album appeared on the Hot 100 simultaneously. I won't even get into the "bigger than the Beatles" nonsense (come on). The more important point is that, overwhelmed by choice, listeners are gravitating towards what they know. No matter how many times a digital music CEO says the word "discovery," actual music discovery seems harder than ever.
I don't know if any of the artists below are blowing up Spotify playlists, or whether any computer algorithm is pushing them on users. But they deserve attention. Great music happens beyond the big cities and big labels; it just needs exposure. In my small way, I hope these lists help a little. There'a lot of great music being made in Vermont. More people outside Vermont – people like me – need to hear it.
20. Gestalt – Gestalt
Like Wire or Gang of Four, the guitar lines on Gestalt's arty debut rarely settle, skittering about restlessly under verses and choruses. The rare moments when a guitar chord appears serve merely as an excuse to let the bass player go nuts. The trio, who recently decamped for Seattle, brew a heady mix of endless riffing and enigmatic lyrics. It adds up to the sort of album that builds a world, less a collection of individual songs than a single set piece.
19. Tiger Fire Company No. 1 – East Kingdom
Half rap album and half sound collage, East Kingdom defies easy definition. It's the sort of album that can transition from a sampled monologue about what makes a "real Vermonter" to a goofy bit from Hot Rod. A deft touch keeps it from collapsing under the weight of its samples, as do dexterous and personal rhymes about the three members growing up in Vermont's Northeast Kingdom.
18. Zeus Springsteen – Zeus Springsteen
Zeus Springsteen doesn't sound much like their namesake. A more apt mythological moniker might be Death Cab for Zeusy. On their self-titled debut, the band piles hook upon hook, harkening back to the jangliest days of college rock with edges of post-punk aggression. Song topics surprise at every turn. "Everything Will Be Eventual" storms through a reflection on friends changing for the worse, while "Joey Is a Robot" chronicles a sexual assault-avenging robot I've rechristened #R2MeToo.
17. Rough Francis – MSP3: Counter Attack
Rough Francis blast through seven songs in 16 minutes on their debut full-length. It's not quite OFF!-level concision, but these punk brawlers waste no time getting to the point. At certain points, MSP3 hits as hard as anything in their catalog. At other moments, though, they slow things down – a rare gear for this band. Turns out, they're pretty good at dynamics, momentarily peeling away the aggression before ratcheting things back up again with a lacerating scream.
16. Mal Maiz – Historia de un Inmigrante
Translating the Spanish title of their new album Historia de un Inmigrante shouldn't be too difficult. In some ways, "un" is the key word. The album discusses the plight of immigrants through the imagined story of one specific immigrant. Over these seven tracks, the titular character moves from the jungle to the city, drawing strength from his ancestors as he confronts his close-minded neighbors. This Latin and Afro-Caribbean band plays world music in all its many forms, from well-known (to Americans) genres like reggae to lesser-known traditions like cumbia. Frontman and songwriter Maiz Vargas Sandoval hopes the album will raise awareness of the immigrants living in communities all over the country.
15. Clever Girls – Luck
The last ten seconds of "Junior." Three minutes and twenty seconds into "Hannah Wants To See You." The cathartic final chorus of "Get Out." When Diane Jean let her vocal chords rip, you take notice. She chooses her moments judiciously on Clever Girls' debut album Luck though. She's got a hell of a voice, which hits all the more powerfully in those loud moments because of her typical restraint. Even when she's not belting, her singing soars over the killer shoegaze-y band she's assembled. The volume swells and ebbs, channeling Pavement slacker hooks at one moment, Godspeed You! Black Emperor noise squalls the next. Through it all, whether belting or murmuring, Diane Jean's singing draws you in.
14. Dave Richardson – Carry Me Along
Dave Richardson sings about graves and jewels and rocks and chicken gumbo. There's a song about a fox eating a field mouse and another about a squid in a museum. But those songs aren't entirely about those things, and that's what's makes this album so memorable. Over sprightly acoustic backing that recollects some Paul Simon albums, Richardson weaves mediation on life and love and death through a series of whimsical metaphors and memorable images. You could ignore the lyrics and glide along with Richardson's smooth vocals and ear for a melody, but you'd be missing some of this album's depth.
13. The Giant Peach – Pulling Teeth
Pulling Teeth is technically a bedroom recording – frontman Harrison Hsiang recorded almost every song in his dorm room. But this ambitious debut is anything but stripped-down. What other bedroom recording features trumpet, sax, violin, and slide guitar, three credited drummers and eight vocalists? Hsiang channels Talking Heads and Iron and Wine in his intricate songs, then switches gears and closes with flourishes of jazz piano. Bedroom recordings have come a long way from Bon Iver in his cabin.
12. Kelly Ravin – Ditches
The most prolific artist on this list, Kelly Ravin diligently releases a new album every fall. That repetition typically wouldn't auger good things for quality control. Yet, so far at least, Ravin hasn't faltered. He's plowed a gritty country-rock lane for himself, a shot of Skynyrd in his John Prine cocktail. The formula gets tweaked a bit here though. Harmonies come to the fore more in Ditches, as does the occasional apropos sound effect (a beer can opening in the title track, a hearty "Fuck yeah!" leading into "Leo"). But, as always, Ravin's empathetic narratives of the down-and-almost-out steal the show.
11. A Box of Stars – Days Drunk Off Heat
Enigmatic lyrics swirl around minimalist instrumentation on A Box of Stars' soft gem. It's not flashy music, and folky slowcore of this sort often lands in the background-music category. But the band's restrained playing comes together like a Faberge egg, precious and delicate. It demands you lean in to catch every nuance, and rewards the attention with gorgeous songs that slowly, subtly squirm their way into your brain.
10. The Filters – Learning to Go Underwater
When I first wrote about singer-songwriter Sam Morris, I compared his sound to Leonard Cohen. A year later and Cohen's would hardly be a name that comes to mind. Morris's new indie-rock band The Filters channels jangle-pop like R.E.M. at one moment, heartland rock like Petty the next, with the occasional Dylan-esque harmonica interlude. It shows an impressive range from the 23-year old – one I wouldn't have guessed from last year's folkie fingerpicking.
9. James Kochalka Superstar – How to Tie a Tie on the Internet
James Kochalka is by trade a cartoonist. This will surprise newcomers not one bit once they hear his songs. Even reading the titles puts the message across: "Miniature Stairway to Heaven," "A Donut Named Maria," "I'm So Woke." Like a tight stand-up comic, on his new album Kochalka hits the punchlines and goes out on the laugh. Most of the songs run under two minutes. Some don't even top one. The bulk of "Queen Latifah's Teeth" is just him repeating the title line over and over. Silliness owns the day, but not at the expense of craft. The hooks and performance keep you coming back, even once you know the jokes by heart.
8. Richard Ruane and Beth Duquette – Notch Road
A couple of songs on Notch Road are covers of traditional folk tunes, but you'll be hard pressed to tell which ones if you don't already know them. Every track sounds like it could be some old farming ballad or vintage romantic lament. Take "Come On Back," which sounds like something Jean Ritchie might have sung. Equally timeless are the pair's harmonies, beautifully delicate blends that keep fresh songs both old and just old-sounding.
7. J. Bengoy – Dogwood Winter
I've been anticipating J. Bengoy's debut album ever since they dropped "So Good (I Could Die)," one of the best songs of 2017. It was worth the wait. They titled it Dogwood Winter, but it could have easily been called Dog Days of Summer. "So Good" remains the centerpiece, and a cathartic concert moment; playing music festival Waking Windows this year – the only local band I saw earn a line down the block – every hand seemed raised during that closing song. The other tracks turn more reflective at times, from the gradual build of "Hands" sidling into some classic-rock shredding to a lustful song about The Simpsons (it's not as gross as it sounds).
6. Plastique Mammals – The Best Of
New duo Plastique Mammals vie for album title of the year with The Best Of – their debut record. Technically, that must be accurate. And though these don't sound like any band's greatest hits – I haven't heard many slow-groove instrumentals on Top 40 radio recently – the ten tracks display craft and polish, keeping a steady groove but never meandering. Picking highlights proves difficult for an album so meant to be listened to as a whole, but the soft bass melody of "The Whirring Keeps Me Up at Night" slowly creeps up on you, while "There Are Bigger Men Than Me" starts off in a funky midtempo groove and then suddenly switches to something indeed bigger a little before the two-minute mark. Like a singer with too many hits for one disc, here's hoping their Best Of gets a Volume Two.
5. Max O'Rourke – Disquiet
The phrase "jazz guitarist" brings to mind the musician you try to ignore in the restaurant's back corner. That's not Max O'Rourke. On his terrific album Disquiet, he leads his trio to some decidedly un-smooth places. He claims "gypsy jazz" as his inspiration, which brings to mind the tasteful likes of Django Reinhardt. O'Rourke, though, can make quite a racket when he so chooses.
4. The Smittens – City Rock Dove
"Twee" gets thrown around a lot talking about indie-pop bands like the Smittens. Think the Juno soundtrack, or something they might parody on Portlandia. The long-running band incorporates other influences on their first full-length album in eight years, though, from dance music on "Cats for Cats" to tropicália on "Infinity Pools." What remains unchained is the band's way with a melody as sweet as candy, and their ability to balance a lot of instruments and singers into bite-sized pop productions.
3. Ver Sacrum – Stirrings Still
Half of Ver Sacrum's stunning album sounds one step away from dead air. It takes almost three minutes into the title track before the first hint of a melody emerges, and "California" whistles and drones for almost as long before the actual song begins. But the ambient moments give the songs their power. Vocals and guitar sound like they manifest in the fog for a time, before slowly being submerged again. Stirrings Still demands patience, and repeated listenings. It rewards it in spades.
2. Emma Back – Little World
Politically-minded musicians have over-learned from the mistakes of the 1960s, when protest singers wrote songs so timely that they became dated within days. Today's overcorrection leads to broad generalities about "the fight" and "resistance," without speaking to the times in any direct way. Emma Back's fantastic new album Little World is a political album too, but Back drills into one specific subject: war in the Middle East, and its impact on regular people. The song "Traveller's Prayer" includes a passage from a Hebrew poem, and the narrator of "The Fear" repeats the question, "Do you know how the war broke out?" "Refugee" may be the most harrowing of all, a first-person account of someone trying to claim shelter in an unwelcoming country. Back draws from a long history playing Middle Eastern and Eastern European musical styles on violin, modernizing her sound with a loop pedal and other 21st-century production techniques. It all adds up to the best protest album of recent years, and the rare one that will stay just as relevant in years to come.
1. Ben Patton – Meaning What
Ben Patton crams a lot into the 32 minutes of new album Meaning What. After starting with the vocal doo-wop of "Maybe I Live to Make You Happy," it quickly careens into garage-rock, Tin Pan Alley, jazz, showtunes, and beyond. Yet, against all odds, this unwieldy genre-mash holds together. Whether crooning like a Cole Porter character on "New Love New Love" or bouncing through an Abbey Road-esque medley on "The Jebidiah Mustache Suite," Patton never sounds less than fully in command of his many disparate influences. He works multiple earworm hooks and memorable melodies into each song without overstuffing anything. Meaning What is a packed masterpiece that reveals new highlights on each listen.
Check out the Best Vermont EPs and Best Vermont Songs of 2018 as well.