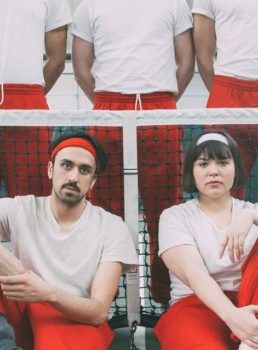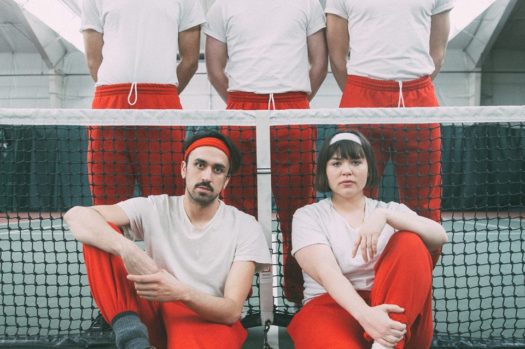 Vermont quintet Fever Dolls' debut single "Gennifer Flowers" ranked second on our Best Songs of 2018, and now they're back with a follow-up: "Adeline." Never short on ideas, the band packs a lot into under three minutes. In this case, an entire piece of musical theatre written in miniature, plotted around a husband and wife both in love with the same woman.
"[Singer Renn Mulloy] and I spent years playing in different bands with people that wanted to make Radiohead's Kid A," says songwriter Evan Allis, "while we were trying to make Disney's The Kid."
The madcap video, presented in widescreen and directed by Kayhl Cooper, stays true to that cinematic vision. The rest of the band serves as Mulloy's backup chorus, channeling musical-theatre tropes from Grease white t-shirts to West Side Story finger-snapping over a country-cabaret singalong. "We said, 'Every time the song makes you reach a new level of euphoria you've never experienced before, we should have a costume change,'" says Allis. "So there are roughly 100,000 costume changes."
Watch Fever Dolls' new "Adeline" video below. They've got a third single and video coming soon as they work on their debut album.