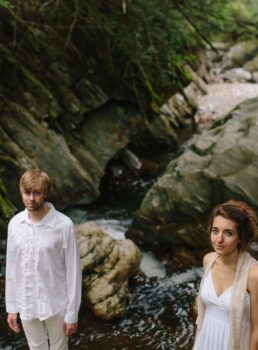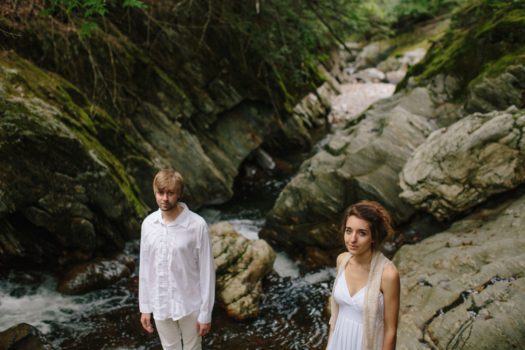 Looking at the track list for Vermont folk duo Cricket Blue's debut album Serotinalia, one song leaps out: "Corn King." It's not the title as much as the run time: 11 minutes and 57 seconds. On a folk album, one imagines a song this long must be an epic ballad comprising dozens of verses, their "Desolation Row" perhaps. The reality is much stranger.
Though quiet and acoustic in its presentation, the song's structure leans more progressive-rock than folk. Add drums and a fretless bass solo and "Corn King" could be a Rush song. Rather than a standard verse-chorus structure, the song breaks down into six distinct parts, with melodies and motifs that interweave, some borrowed from other songs on the same album. The combination of gorgeous, string-laden acoustic music with an odd structure echoes an artist the band claims as a key influence: experimental indie-harpist Joanna Newsom.
The song took Taylor Smith – half of Cricket Blue, alongside Laura Heaberlin – four years to write. "I didn't set out to write such a long song," he says. "I had a bunch of different songs I was working on, all about the same circumstances in my life. At a certain point I thought, maybe these are all the same song."
The lyrics draw from the old myth of John Barleycorn, about townspeople ritually burning an effigy to ensure a good harvest. But, as with everything surrounding this song, it's not quite that straightforward. Smith describes a "dream logic" mixing of the mythological stories with "very literal descriptions of a couple of kids going on road trips and listening to records," "The cycle of the seasons, death at harvest, and reblossoming of the earth gives the song its structure," he adds. "It's also how I justified it changing all the time: 'Oh, now it's summer, so I can have completely new melodies and chords.' I didn't need to have an A/B/C structure."
Like any song that could find "prog-" affixed to its genre tag, this might sound off-putting when described. It's anything but. Like the entire album, "Corn King" is gorgeous, a wonderful wash of vocal harmonies and inventive orchestral arrangements for strings, flute, trumpet, and clarinet. "It took us forever to work out the duet version," Heaberlin says. "Writing a guitar part to go along with all the weird chord changes and reasoning out the harmonies took at least seven months."
The work paid off in the most ambitious song of Cricket Blue's career to date. Listen to "Corn King" below, and buy the full album on Bandcamp.