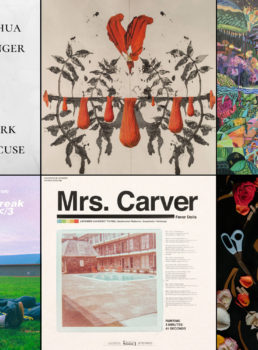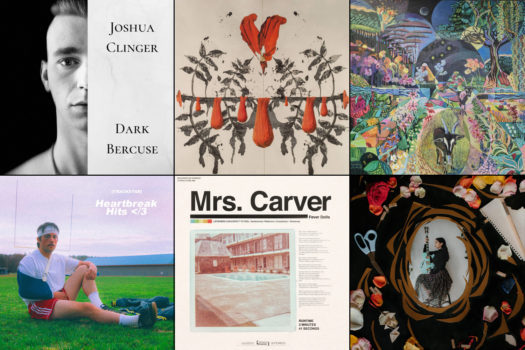 Bishop LaVey – Romulus

Kane Sweeney's last single addressed ancient mythology, and his follow-up stays in that old world, this time riffing on the Roman Empire. His thundering wail of a voice suits the subject, as does his "doom-folk" genre styling. If Game of Thrones were still going, he would have fit right in with the wildlings north of The Wall.
Bow Thayer – Morning Glory

Prolific folk-bluesman Bow Thayer returns with some serious groove. His band sounds increasingly like The Band – no surprise for a man who once played with Levon. Turn your ears to the low end to hear bassist Alex Abraham, on what must have been one of his last recordings before he passed last year.
Chris Weisman – Top Down

In January, prolific lo-fi songwriter Chris Weisman released a mammoth 30-track album. Five months later, he's already returned with another 30 songs. I haven't had time to really dig in, so I'll include the woozy ballad Chris made the featured track on Bandcamp (you'd call it the "single," but I don't think Chris really does "singles").
Cricket Blue – Little Grays

I already wrote at length about the folk duo's 12-minute epic "Corn King," but what shouldn't be forgotten is the wonderful two-minute palette cleanser that follows it. On the surface, the two songs seem quite different. But one element connects them: fire. "Corn King" ends with the titular figure burned alive. In "Little Grays," the conflagration continues – this time a real fire that enveloped singer Laura Heaberlin's kitchen. The title character here – a favorite pair of scissors – survives. Maybe, the pairing implies, the Corn King did too.
Django Soulo – Tiger & the Lion

A host of Vermont's most prolific Americana musicians back Django Koenig on his new album (out tomorrow). On this single, Liz Beatty's beautiful background vocals take pride of place for the few minutes until the full band crashes in for a hootenanny jam.
Fever Dolls – Mrs. Carver

After their frenetic first two singles, indie-pop eccentrics Fever Dolls bring things way down on song number three. A slow-burn piano ballad wonderfully sung by Renn Mulloy, the song could have found a happy home on one of Elton John's '70s country albums. What hasn't changed is the band's evocative and elliptical lyrics, offering fragments of a character study with much of the storyline left to the listener's imagination.
Joshua Clinger – Cordoban Puppet

I don't write much about classical music here, because I don't know much. But I know what I like, and 27 year-old composer Joshua Clinger's debut is a winning and melodic set of compositions featuring strings, piano, and, on this track, a triumphant brass fanfare. He's apparently been storing songs up for years, and debut Dark Bercuse will be his first of five consecutive albums this year.
Lissa Schneckenburger – I Need Us Together

Lissa Schneckenburger channels a lot of influences over the course of her terrific album Thunder In My Arms, and is never more Regina Spektor than on the winning "I Need Us Together."
No Drums – Different

On early Queen albums, the band proudly printed "No Synthesizers!" in the liner notes. Inevitably, within a few years, their songs featured prominent synthesizers. A new slacker-pop band calling themselves "No Drums" didn't even wait that long, prominently featuring drums – or at least a drum machine – on their very first single.
Pro feat. Fattie B – Naturally

The killer horn and flute samples lift this self-empowerment anthem up high. Pro may stand for "prolific," as he says in a verse here, but despite a million other projects (most notably The Aztext), this is the veteran Vermont rapper's first-ever solo album.
Sabrina Comellas – What the World Looks Like

Vermont-via-Long Island songwriter Sabrina Comellas comes out swinging on an impressive first single. The video is simple, a perfect framing to keep the focus on the song. Though don't miss her guitar work, which, while decidedly not flashy, adds another layer of depth.
Trackstar – I Wish (I Was Over You)

When I pull up this Trackstar video, YouTube recommends I next watch the new song from Silver Jews' David Berman. For once, the algorithm is dead on. There's an even more obvious, and recent, comparison point though: chillwave. Like a lost track from the buzzy genre's peak of 2k9 (RIP Hipster Runoff), Trackstar's debut single creeps up on you, decidedly chill but deceptively catchy.
Wild Leek River – Cookin' Bacon with My Shirt Off

Surprisingly, Wild Leek River sounds like George Jones. Why surprisingly? The last time I wrote about the guys in this band, the headline was "Four New Doom Metal EPs to Get You Through the Winter." That band was Acid Roach (which continues on), but turns out these metalheads can equally ably rip off some classic honky-tonk. Just like when the A Mighty Wind folk singers opened for Spinal Tap, Acid Roach should bring Wild Leek River on the road.