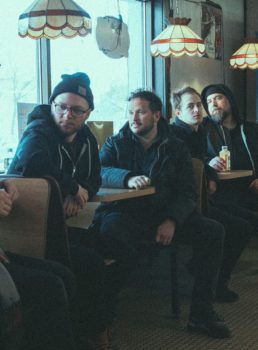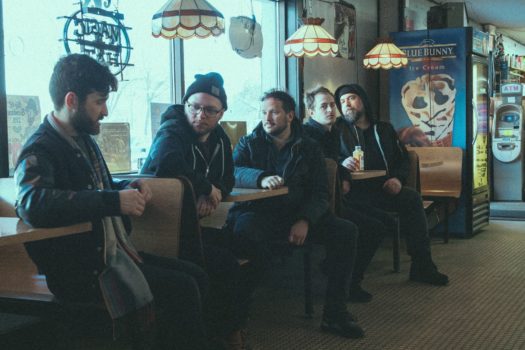 In a career spanning 25 years, Ezra Oklan has played with everyone from Nicole Atkins to Ambulance LTD, toured opening for The Killers and the Black Keys, and graced TV studios from Conan O'Brien to Carson Daly. Throughout, he could always be found at the back of the stage, drumming (check out this killer live performance of Atkins' "The Tower" for a taste).
Now, in his new band Matthew Mercury, the sideman becomes a frontman for the first time. And not just that, but this veteran of a million Americana, indie-rock, and jazz bands steps out front with a new genre: post-punk. Despite the other sounds on his resumé, he's not a newcomer to the genre.
"I was raised on '80s rock n roll/new wave/post punk," he writes in an email. "From a young age, I was really in to Duran Duran, The Cure, New Order, Bowie, Joy Division, U2, Eurythmics, Depeche Mode, etc … To me, the late '70s-'80s produced some of the best analog synth sounds we know of and that's the sound I was looking for with [Matthew Mercury]."
You can trace all those bands throughout Matthew Mercury's self-titled debut album. The dark and thundering "Contessa" sounds like Joy Division or The Cure, while the peppier "Dark City" brings in elements of Duran Duran. Oklan kept the production all analog to emulate those '80s touchstones. The results don't come off as an exercise in nostalgia, though, as much as a modern homage.
Helping him hone that sound is longtime collaborator Matthew Dublin. Dublin writes the lyrics but doesn't perform with the band – the Bernie Taupin to Oklan's Elton John. Dublin's enigmatic lyrics can be hard to pin down, but convey a slightly wry angst (very post-punk!). He writes: "The overall theme or sensibility would be a survey of disintegrating relationships filtered through a mordant sense of humor, kind of like shoring up fragments of experience that are both dark and painful, but also funny, and trying to make sense of them."
As for the longtime drummer's new career as a frontman, Oklan seems to be taking to it. "Playing the drums is my safe place that I can always go back to," he writes. "Singing out front is waaaaay out of my comfort zone and I'm craving that 'unknown' aspect of performing right now. I don't need comfortable and safe. I need to take some chances at this stage in the game."
Watch a live video below, then pick up Matthew Mercury's self-titled debut album at their website.
Don't miss Matthew Mercury playing Grace Potter's fest Grand Point North in Burlington, Vermont this fall. And check out more of the best rock music from Vermont here.