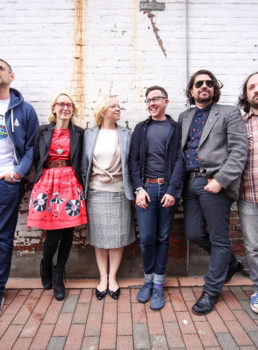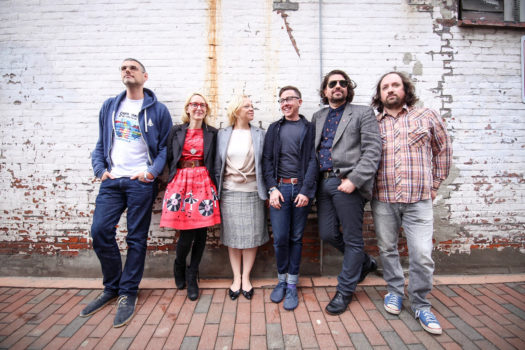 In addition to County Tracks, I oversee another site all about cover songs. Vermont band The Smittens made our year-end list in 2016 with a cover of a short-lived band I'd never heard of called Go Sailor.
On their new covers collection Stay Gold, The Smittens cover a number of artists like Go Sailor: pioneers and peers in their chosen genre, which sometimes is termed "twee-pop" (not everyone loves the "twee" moniker, but The Smittens include it right there on their website). They also twee-ify a few songs from very different genres, including The Angels' "My Boyfriend's Back," Indigo Girls' "Closer to Fine," and, in an old studio recording getting its first ever release here, the Oasis classic "Live Forever."
Far from a loud Brit-pop anthem, "Live Forever" in The Smittens' hands because a small acoustic ballad, sung by Dana Kaplan. Personally-wise, this unassuming group seems a far cry from the boisterous Gallagher brothers (and god knows what those Twitter brawlers would think of this version), yet the song fits nicely in this new genre.
Band member David Zacharis says the song was originally recorded for an Oasis tribute album he attempted in the mid-2000s. The album unfortunately never got much farther than the name…which was great. It would have been all bands from Burlington, Vermont, which sits on the shores of Lake Champlain. So the planned album title: Champlain Supernovas.
The cover's origins stretch back even farther though. Zacharis' story of how he first got into Oasis is worth quoting in full:
In the '90s was a super pretentious music snob and I wouldn't have given Oasis a listen. I was living in Amherst Mass. However one night in '95 or '96, after going to see Ted Leo's band Chisel. I was at the Wately Dinner in Western Mass with a bunch mod kids (one included future Oscar-winner Anthony Rossomondo) and some truckers asked us if we were Oasis. We said with no hint of a Manchurian accent we said "Yes, we are." I hadn't heard them yet. The trucker walked over to the jukebox and put on "Wonderwall" and pointed at us.  To my surprise, it is really really good song. At that point they cut through my snobbery and made me listen to songs on merit. To this day "Wonderwall" has a special place in my heart, my wife Holly (who happens to be the drummer of the Smittens) walked down the aisle to Myra Flynn singing Wonderwall."
Listen to The Smittens' "Live Forever" cover below, and buy the entire Stay Gold collection at Bandcamp.
Is this a good time to mention I recently wrote an entire book about cover songs?