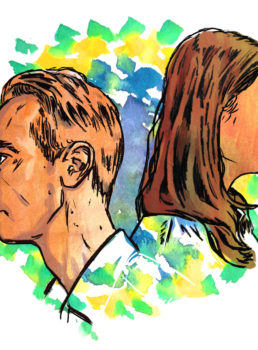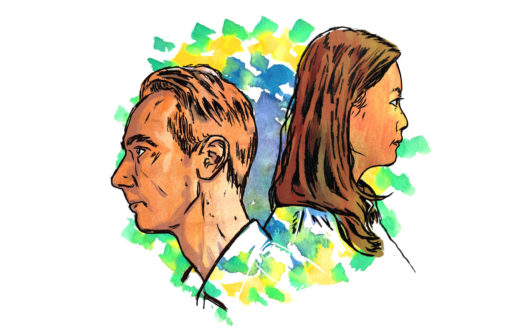 When I first heard Ben Patton and Michelle Sudarsono's new album Our Follies, I assumed it was covers of old showtunes. I don't follow the musical-theater world closely, so the fact that I didn't recognize any of the titles didn't strike me as odd. Titles like "Take Her to Hear Some Jazz" and "If They'd Had Flappers (Back in Shakespeare's Day)" don't exactly leap out as modern. I figured these peppy and polished songs were just slightly deeper cuts by Cole Porter or whoever  – he does have another song about Shakespeare, after all.
By this point, you've probably guessed that the songs on Our Follies are not by Cole Porter, or anyone else from yesteryear. 36 year-old Patton wrote them all himself. The composer showed some theatrical flair here and there on last year's Meaning What (my favorite album of the year), but he also swam around the entire history of rock and roll there, touching on The Beatles and Beach Boys more than he did Broadway. Our Follies looks back past even those bands, sounding like songs from some 1940s musical due for its latest New York City revival.
"These songs and arrangements borrow reverently from the sounds of Broadway, Hollywood and Tin Pan Alley in the first half of the last century," he wrote on Facebook announcing the album, adding in an email that it "aspire[s] to have the flavor of a musical theater revue." Against all odds, his compositions hold up to those lofty influences. If you haven't seen Kiss Me Kate or Anything Goes recently, it's no stretch to imagine these songs slotting right in.
The performances, too, hold up to a classic-showtunes-soundtrack standard. Like an unknown actress getting her star-making turn, Sudarsono steals the show with winsome and sprightly vocals that spar with Ben's – or with her own, as on the vocal-looped "Three Little Sisters." The album doesn't skimp on production either, boasting full sections of strings, brass, and woodwinds. Even most actual Broadway musicals don't have that many instruments anymore.
Patton's fellow Vermonter Anaïs Mitchell recently became the toast of Broadway with Hadestown. If he were to string these songs together with some plot  – he does say he has an entirely separate unstaged musical sitting around –  he could be next.
Click here to hear the best recent jazz music from the state of Vermont.