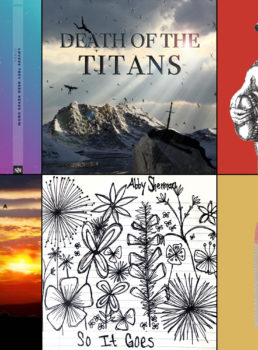 Abby Sherman – Hand with the Devil

If the only Satan-themed violin song you've heard is "The Devil Went Down to Georgia," Abby Sherman's "Hand with the Devil" might throw you for a loop. Rather than rollickin' fiddlin', Abby Sherman and violinist Katie Trautz create something truly spooky, like the sort of Gillian Welch track you don't play in the dark.
Damascus Kafumbe – Twala Obulamu Bwange (Take Charge of My Life)

Damascus Kafumbe plays every instrument on his new EP, and I bet you'll only recognize one of them: adungu, mbuutu, mpuunyi, nsaasi, claves, and lead vocals. This Middlebury ethnomusicology professor knows his stuff: his speciality is the music of East Africa and last year he published a book on the music of the Kingdom of Buganda, in Uganda. The description that accompanies his new album is beautiful: "In an era of metastatic geopolitical fear and xenophobic loathing, Damascus Kafumbe offers Teach Me To Love, a song cycle EP to remind listeners that we live in a beautiful world. Far from the irrational paranoia that Americans should be suspicious of all foreign influence, this record implores people to listen more carefully, to love our neighbors, to seek transcendent wisdom, and ultimately, to hear a world full of goodwill and hope."
Eric George – Found Out

This prolific folk singer ventured into punk-rock on an earlier album this year. He's back closer to his roots on new album Where I Start, but dips into the blues a bit on "Found Out."
Fridge and the Spins – God in Good Times

No joke: I was planning to call Fridge and the Spins' album "trashy beach-rock" and then I noticed they beat me to it. The album is literally titled Trash / Beach. Like early Best Coast, the band fuzzes the hell out of delectable pop sounds like blend girl groups and the Beach Boys.
[Note: After I wrote this blurb, I discovered that, though the album just popped up on streaming services this month, it first came out in 2012.]
G Rockwell – Spark

G Rockwell's website boasts a quote from Tony Trischka. For banjo players, that's like a pop artist getting a quote from Taylor Swift. Or maybe Trischka's Katy Perry and Béla Fleck is Swift, but Rockwell's covered there too: the 16-year old jammed on stage with Fleck just last month. He's clearly an old soul, though; I assumed this song was some bluegrass staple with its old-timey phrasing. Turns out he wrote it himself.
Ionne – Lovers They Need Never Know

"Tech house" sounds like a genre I would very much dislike, but "Lovers They Need Never Know" by artist Ionne (aka Maurice Lajuane Harris) is basically a catchy disco song wrapped in an EDM production. And for the real house-heads, there's a remix on the flip side that sounds more like what I initially imagined "tech house" to be.
Mezrah Masada – Death of the Titans

You probably guessed from the title ("Death of the Titans"), band name (Mezrah Masada), or album art (swords, mountains, winged creature), but this is heavy metal – and of the most grand and unapologetic sort. Across seven fast-paced minutes, the band builds an epic instrumental suite, symphonic in its scope but with a bit of a hardcore edge underneath. One part math-rock, two parts Maiden.
People Watchers – Dark Thoughts

The chorus lyric "I have dark thoughts inside of my head" brings the subtext of most punk music right onto the surface. You probably could have guessed the sentiment from the sound: fast and loud and over in 81 seconds. Also from the "album cover," which is just a black square. To the point.
Plastique Mammals – Three Rainbows In The Same Day

Plastique Mammals are nothing if not ambitious. They titled their debut album The Best Of (accurate, technically) and are charging $1,000 on Bandcamp for this five-song outtakes collection. Maybe some billionaire with nothing better to do will take them up on it. The duo's grooves always hit beautifully, spacious and meandering but without the aimlessness of so much instrumental rock music.
The Pyros – Coffee

The Pyros cite 1950s rockabilly and Pulp Fiction as inspirations. One of those you can hear in their new single "Coffee," and the other you can see in its slightly crazed retro video (the first of three on their "video EP" Christian Mingle). Like a Sun Records artist trying to make an impression on one side of a 45, they blast through the track in under 90 seconds, sending you right to YouTube's replay button.
Transitory Symphony – Nothing But A Hole In The Ground

Like any protest song worth its salt, "Nothing But A Hole In The Ground" takes on an incredibly specific story to make a bigger point. The subject being protested in this case is a construction catastrophe in Burlington, Vermont, but you don't need to know or care about that particular issue to relate to the song's closing verse: "250 million dollars / It could help a lot of folks when spread around / But in land known as the Queen City / All it could buy was a hole in the ground".
Tyler Davidson – its all luv

This sort of woozy, lo-fi hip-hop gets tagged "Soundcloud rap," but I'm pretty sure Tyler Davidson doesn't have a Soundcloud. Is "Bandcamp rap" a thing?