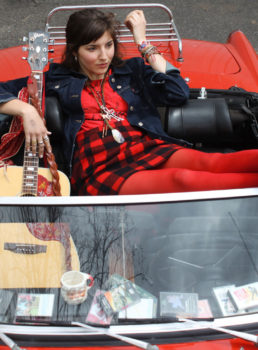 This is a pick where the songwriter herself might not agree with me. Caroline Rose doesn't play "America Religious" any more, nor any of the other songs from her first two albums. The singer-songwriter drastically changed her sound on most recent album Loner, from Americana to a spunky indiepop. On the whole, her music might be better for it; Loner is the best record of her career. But even if she might just as soon forget about a roots-rock gem like "America Religious," we shouldn't.
She must have been proud of "America Religious" in her Americana phase, at least. After it first provided the title track of her 2013 debut album, she reused the song on 2014 sophomore album I Will Not Be Afraid. That's often a move when an artist or a label feels an older song should have been a bigger hit. I don't know whether it worked – it's not one of her most-played songs on Spotify, all but one of which come from Loner – but it should have.
A protest song with a light touch, "America Religious" wittily skewers spiritual hypocrisy with early-Springsteen levels of packed imagery. She's put this sort of political Americana behind her, but she left the genre with an indelible contribution.
Check out more entries in our month-long series on The Best Songs of the 2010s.