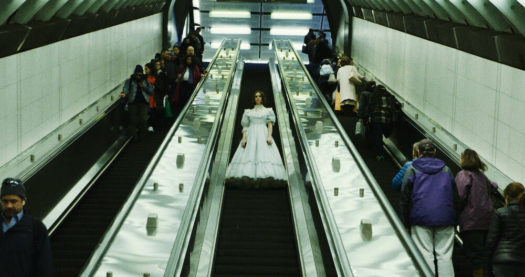 Francesca Blanchard's whimsical new music video was filmed in New York City well before the coronavirus crisis. But watching her wander through mobs of people now in the clip for her single "Did It To Myself," I couldn't help thinking, "Six feet apart, guys!"
But if you're walking the streets in a wedding dress singing to yourself, people might steer clear regardless.
"I wanted something to speak for itself, leave room for the song to breathe," she says. "The idea of wandering around public locations in a Victorian dress struck me as something that didn't need a narrative or any kind of explanation. Something out of place, but somehow strangely in its own element."
(I asked if she got weird looks: "Yes, lots of stares… but I just got lost in dancing to the song in my headphones and it was incredibly freeing")
The video, directed by her and Kayhl Cooper, accompanies a dreamy folk-pop ballad – like a Stevie Nicks look for a Christine McVie song. It's the latest peek at Blanchard's upcoming album, which even without a title or release date yet has garnered buzz from Billboard, NPR, and American Songwriter.
Click here for more of the best pop music from Vermont artists.