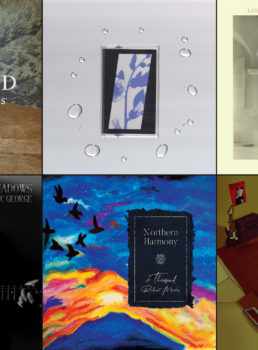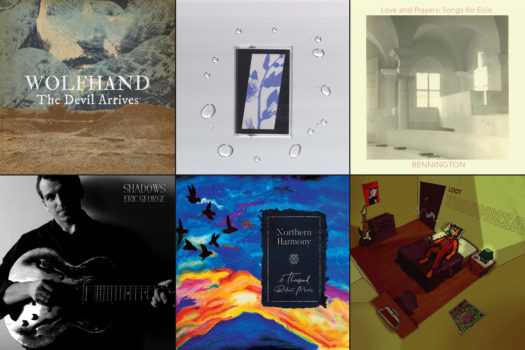 Amelia Devoid – Side A

I was just listening to a podcast where the hosts were debating what type of music they needed during this crisis. One wanted peppy, upbeat songs to lift them from their funk. The other wanted downcast, inward-looking songs to match their current mood. No wrong answers. If you want something blissful and ambient to relax to, Amelia Devoid's got you covered.
Bennington – Dime Robadora

Vocal quartet Bennington (named after Bennington college, where they all went to school) covers everyone from The Supremes to Crosby, Stills, and Nash on their debut album. And those are just the people you've heard of. But I found it fun to poke around the many songs I'd never heard of, as someone not super familiar with choral music. "Dime Robadora" is composed by Cancionero de Upsala. Who or what is Cancionero de Upsala? After some exhaustive research (read: I Wikipedia'd it), I learned it was an anonymous volume of Spanish music that came out in the 1500s, of which there is only one volume remaining. So with this album come for the songs you know, stay for some schoolin' in the ones you don't.
Carraway – St. Patrick's Day

St. Patrick's Day wasn't really a thing for most of us this year (and if you really did St. Patrick's Day big, you probably did something wrong). But Carraway's rousing new single "St. Patrick's Day" can be just as easily enjoyed at home. Pour a pint of Guinness and holler along to the "ba da da da"s all by yourself.
Eastern Mountain Time – One World (Dire Straits cover)
Eastern Mountain Time's Sean Hood covered a Dire Straits song that, despite being on one of the best-selling albums ever, has never gotten a decent cover before. As I said over on my covers site, it was worth the wait.
Eric George – Shadows

I've heard rumors prolific roots musician Eric George has recorded an entire album about Harry Potter. This isn't it. Rather, Shadows offers a short EP's worth of songs all combined into one track. He calls it a vignette. On Bandcamp, he writes, "This album was made using only a cell phone as a recording device, a compilation of field recordings and spontaneous creations captured in the moment of their conception. The recordings were originally meant to be a reference, the seeds of songs I would later record in front of expensive microphones. I later realized there is so much magic in the first moments of a song's existence." [Update: After I wrote this he dropped the Harry Potter album!]
Father Figuer – Error

"Error," off Father Figuer's strange and dreamy new album, sounds true to its name. A meditative ballad drifts along for the first bit, drawing you in. Then, at 57 seconds, it sounds like someone switched the dial on the radio, abruptly shifting into what a different song: louder, faster, harder-rocking all around. Was this intentional, or a serendipitous technical glitch they kept? I have no idea, but it makes sense after a couple listens.
Kingfisher – Blue Skies

No, it's not a cover of the Irving Berlin song. Rock quartet Kingfisher deliver an original both memorable and meditative, jazz-piano flourishes laid atop dream-country (that's like dream-pop, but, you know). Their self-titled EP has tracks with more energy and tempo, but they do this sort of mellow reverie extremely well, and, right now, I'm in the mood for something soothing.
Loot – Robert Downey Jr.

Loot's timing couldn't have been much worse. Releasing an album about partying hard and getting rowdy just days before those things stopped happening. Bummer. I guess you're still free to get rowdy in your own apartment. If you do, this would be a worthy soundtrack.
Northern Harmony – Ndikhokele

Lotta choral music this month! Well, two, but that's two more than usual. In these incredibly stressful times, a sound like Northern Harmony's can provide a calming balm. They pull songs from all over the globe on new album A Thousand Radiant Marks, from Bulgaria ("Otišla moma hubava") to the French island of Corsica ("Bernardinu") to South Africa ("Ndikhokele"). I don't know what these words are – I can't imagine any human alive is fluent in every language they sing in (some are pretty obscure) – but the sounds say it all.
Shore Rites – And Over.

If you're gonna be a bassist, be a bassist in a post-punk band. Few genres as regularly let their bassists take center stage. Shore Rites lean as dream-pop as they do post-punk, and a song like "And Over." off their excellent debut EP wonderfully blends the two seemingly unblendable genres.
Wolfhand – Canyon Wizard

The song titles on The Devil Arrives would prepare you for a real country record. "Saloon." "Gallows." "High Noon." And though it certainly has some old-time-country touches, don't expect Roy Acuff on "Canyon Wizard." This is one parts country, ten parts doom metal. Maybe that's the "Canyon" part mixed with the "Wizard" part. I can't wait to hear the rest.
Zeus Springsteen – Madman Across the Water (Elton John cover)

Zeus Springsteen is a power trio. Read: No pianist. So Elton John might seem like an unlikely person to cover. But the inability to be too faithful to the original leads to a wild progged-out "Madman." Chris Farnsworth says: "We all like the demo version from Tumbleweed Connection, the one with the Mick Ronson solo on it. So we skewed towards that, but we kept pulling on the sound like taffy until the track felt suitably under mental duress."