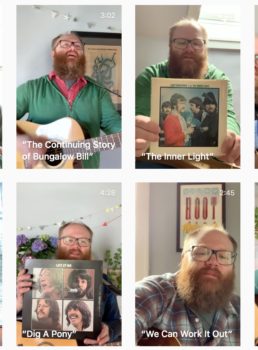 Dave Richardson is a Beatles fan.
I know – who isn't, right? But Dave is a big Beatles fan. He's also a singer-songwriter up in Vermont, so every morning during this period of self-isolation, he's been posting a new Beatles cover. He calls it "Beatles with Breakfast." Most are performed solo – naturally – on guitar or occasionally dulcimer, and all are totally charming. With each one, he holds up the corresponding record, often rare singles and 45s. He says he got them all at yard sales in the '90s, before anyone cared about old vinyl.
"The Beatles are the reason I love music," he writes in an email. "I got totally obsessed with them when I was in elementary school. I picked up the guitar so I could learn their songs. Their music has always brought me joy and comfort, and I think many of us are turning to the things that give us those feelings right now."
His deep affinity with the band's catalog shows on his choice of songs. You get the hits – today's cover is "A Hard Day's Night" – along with plenty of more obscure tracks. My main gig is following cover songs and you almost never hear anyone tackle "The Inner Light." "I know The Beatles catalog so well that the 'lesser known' songs don't feel like deep cuts to me," he writes. "I've heard them all literally hundreds of times!"
View a selection below, and many more on his Instagram, which you should follow for a daily dose of the Beatles every morning. He doesn't know if he'll get through the entire catalog, but says he has no plans to stop anytime soon.
Check out our recent playlist of quarantine-themed songs from Vermont artists.