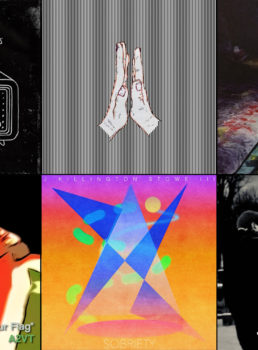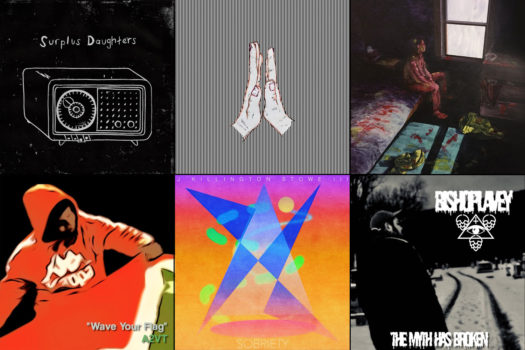 Amelia Devoid ft. Bleach Day – Afraid to Touch Her

Clouds dominate the single cover, and it's hard to think of a more fitting image. This dreamy reverie seems the perfect soundtrack to staring into the sky and getting lost in your own thoughts. The electronic musician's last album tackled some heavy themes (for one: genocide), but the new single seems light as a breeze.
A2VT – Wave Your Flag

Refugee pop group A2VT released one of last year's best singles with "Faas Waa." The Burlington-based duo of Said Bulle and George Mnyonge originally hail from Somalia and Tanzania, respectively, and their story infuses their music. Their follow-up single "Wave Your Flag" keeps the energy high, mixing languages over a colorful video. They've also added more members from Vermont's refugee community: guest singer Meax (Tanzania/Burundi) and dancers Mr. Oli (Tanzania/Congo) and Fantome J (Nigeria).
Bishop LaVey – The Myth Has Broken

I already wrote at some length about Bishop LaVey's new "doom-folk" single. I still think some fan should set a Game of Thrones YouTube montage to this.
Father Figuer – Outside

Though they've been making noise around their University of Vermont homebase for a couple years now, jammy slowcore quartet Father Figuer haven't released any music beyond a couple Soundcloud demos. That changes with their first proper single off their first proper EP. "Outside" proves worth the wait, meandering and meditative. And despite the "slowcore" tag (which they use themselves), the song – at certain moments – actually rocks out a bit.
Henry Jamison – Florence Nightingale (Live at Reservoir)

Henry Jamison's great second album Gloria Duplex dropped in February (I've already written about it a few times), but he just released a standout live-in-studio performance of one of the best songs. He doesn't skimp on the production value or arrangement, featuring grand piano, strings, and two-fifths of recently-departed pop band Madaila.
J Killington Stowe III – Futility Party

J Killington Stowe III (whew) has a knack for song titles. On his new album, they include "Educational Film About Inevitable Death," "Futility Party," and "Drum Circle Near the Art Museum." Mostly electronic, with periodic swerves into rock, Stowe's music lives up to the high bar he sets with the track list.
Lean Tee – Expected

That terrific EP cover art (painted by Drew Parkinson) perfectly encapsulates the vibe of this melancholy song. The music meanders along, pleasant but slightly unsettled, for a couple minutes until an expected drum pattern kicks in.
Levi Jones – Lost My Tooth, Broke My Crown

"Lost My Tooth, Broke My Crown" sounds like a demo from Laurel Canyon, something that might have popped up on a Graham Nash solo album. Though unassuming, it quietly works on you over the six-minute duration. The lyrics nod to an older Wilco album (A Ghost Is Born), but sonically, it's more reminiscent of their recent couple records, gentler and less concerned with wearing its ambition on its sleeve (no pun intended).
Out with the Old – Sober

I can't find any information about who this is, but this short EP shows a lot of promise. Despite the demo-quality recording (for all I know, these are demos), the songs are tight and feature hearty harmonies.
Surplus Daughters – Thirteen (Big Star cover)

Folk trio Surplus Daughters cover a lot of traditional songs on their self-titled debut album, but they close with a (somewhat) more recent track: Big Star's classic "Thirteen." A beautiful acoustic/electric guitar duet provides the backing, but the harmonies make it truly levitate.
Teece Luvv – Sunday Flow Practice #9

Every week for a couple months now, Vermont rapper Teece Luvv has been posting one-minute videos called "Sunday Flow Practice." The short runtime may not seem to auger anything special, but you can do a lot in a minute (Tierra Whack's album of one-minute songs topped a number of 2018 year-end lists, for instance). Far from being half-baked tossoffs, these generically-titled songs offer a host of ideas in a tight package. Take this month's ninth installment, which has a killer hook, sample, beat, and rhymes in under 90 seconds. He's packaged the first ten as a Bandcamp album.
Timothy G Taylor – A Soft Start

I don't typically have much patience for ambient synth music. What's meant to be relaxing can counterintuitively prove stressful (just do something already!). But I quite like this new track from producer Timothy G Taylor. He writes, "I sought out something…visceral and layered that I could actively or passively sit with through repeated listens." And, for any of you synth-heads, he says he used modular synths including Mannequins, Moog, Make Noise, and Monome.