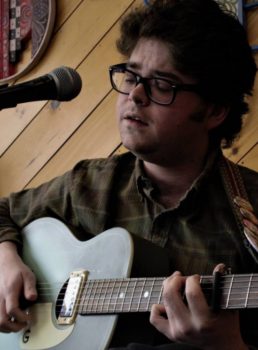 The night Leonard Cohen died, Vermont songwriter Sam Morris wrote two songs. Heartbroken at the passing of his favorite songwriter, Morris channelled his grief into lyrics that recall Cohen's earliest albums.
"He has been number one in my book for quite a while," Morris says of Cohen's death. "It was a lot like getting kicked in the face. I went on a binge for about a week afterwards, listening to nothing but New Skin For the Old Ceremony and Songs of Love and Hate. I wrote the last two songs the night he died, with the first one nagging at me for a few more days."
Titled Songs to Help You Sleep – a nod to Cohen's early album titles – Morris's new EP offers a musical balm to those similarly mourning the loss of one of music's greatest songwriters. The Cohen influence is clear throughout, but Morris's songs stand up beyond mere homage (for one, he has way more "gift of a golden voice" than Cohen ever did). Standout track "Left the Candle Burning" channels Cohen's gift for blending darkness and light, Leonard-esque lyrics like "I touched the clouds of murky night / From which the day is born / I left the candle burning / As the beast tore off its horn" segueing into a softly melodic sing-along chorus.
Listen to Songs to Help You Sleep below, then download it for free on Bandcamp.
Click here to discover more of the best new folk music in Vermont.