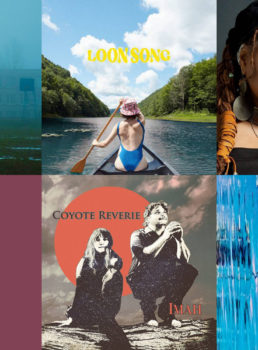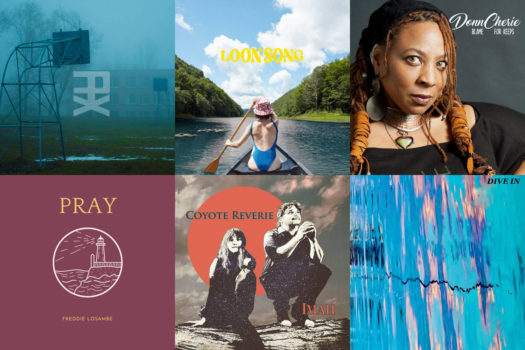 Alice Damon – Treetop Winds

In 2013, revered reissue label Light in the Attic dug up an obscure artist named Alice Damon for their compilation I Am The Center: Private Issue New Age In America 1950-1990. They drew the track "Waterfall Winds" from an album she'd recorded in the early '80s in northern Vermont and, apparently, never released. She died several years ago, but her album, Windsong, is finally getting its four-decades-delayed release next month. The breathy, wordless vocals sound like Juliana Barwick long before her time.
Bilé – New Kid

Quoting British theologist Alan Watts talking about Carl Jung to open your rap song seems like a flex Drake might make. "New Kid" echoes streaming's reigning champion musically too. Bilé's debut album INSULT TO INJURY just came out in April and he seems to have already taken it off streaming services, so better listen to this song now while you still can.
Chris Weisman – The Orange Car

You know that old line about listening to someone sing the phonebook? Bedroom pop musician Chris Weisman practically does sing the phonebook. He puts out god knows how many albums a year – I can't keep up – and at that pace, I can't imagine he's spending that much time fine-tuning the lyrics. But he sounds great, even when he's singing about a GPS ("The Orange Car") or Tracy Chapman ("I Need a Broom").
Coyote Reverie – Piranhagon

"Piranhagon" is what lyric videos are made for. Hip-hop/pop/trip-hop duo Coyote Reverie have a ton of fun playing around with language right from the opening lines ("It's the lion, the witch, and the warship / The penguin is mightier than the swordfish"). Meadow Eliz sings and Stresselbee raps and the combination is mesmerizing.
Dharma – 90's Baby / Blue

Thanks to Night Doll's virtual music festival for cluing me in that Dharma Ramirez, who used to front the great indie rock back The Snaz, has returned with a solo project. She's released a few singles, all great, and you watch hear her play a couple in this live video.
DonnCherie – For Keeps

Adam Rabin, whose songs I've posted a few times, is a wild prog-rock experimenter. But he's clearly got a light touch as a producer, as the two new songs he produced for DonnCherie McKenzie follow her lead entirely. And what a lead it is, with soulful but restrained vocals that draw on gospel and R&B.
Flypaper Scissors – Modern People

Flypaper Scissors, the rechristened, easier-to-Google moniker from the artist formerly known as Obq, starts new album Life After Tomorrow in epic fashion. In the first moments of "Modern People," you think you're in for a sparse synth ballad. Then the backing vocals and handclaps join in. But it's still not done, with a funk bass riff soon sashaying along. A fiery guitar solo roars in not long after. Did I mention this all happens in well under three minutes?
Francesca Blanchard – Loon Song

Depending on your age and scene, the phrase "loon song" might conjure up visions of Bon Iver or Tom Green. For those unfortunates in the latter camp, any memories of Green putting his bum on things should be wiped (no pun intended) out by Francesca Blanchard's new synthpop song, which channels the energy of Lorde's effervescent Solar Power summer.
Freddie Losambe – Mercy

Freddie Losambe's EP Pray sounds like Kanye West's new album Donda at – quick napkin math – 1/20th of the run time. Like Kanye, Freddie draws from hip-hop, gospel, and a wide array of unexpected influences ("Mercy" starts off like the Beach Boys). But he's a keener editor, delivering a wealth of ideas in barely five minutes.
Kin – A Year Old

Easily the corniest rap song about fatherhood since "Just the Two of Us." Thing is, just like Will Smith's hit of yesteryear, it is extremely effective. Or maybe it's just that I have a one-year-old daughter too. Your mileage may vary.
Peg Tassey – Queen of Flowers

The title "Queen of Flowers" sounds like something from Hair – you know, flower-power – but Peg Tassey's gritty new single is more like a '60s pop song covered by a '70s punk band at CBGB.
Phantom Suns – Cordyceps

"Riffy" is the first word of Phantom Suns' Bandcamp bio, and it's also the first thing you notice in "Cordyceps." In the brief interlude when the guitars stop riffing during the intro, a bass riff pops up to take their place. Eventually vocals come in and the riffs subside, but they can't be kept at bay for long.
Shrimp Mash – Riding on My Bike

Vermont-California duo Shrimp Mash write about their almost-self-titled debut album Shrimping & Mashing, "This album represents the body of the Knee-scraped 10 year old, who dreams of exploring the world." That is, obviously, a metaphor, though a title like "Riding on My Bike" makes said knee-scraping almost literal. Layers of vocals and synths soar as high as the bluebird they sing about, bringing in touches of neo-soul and indie-pop.
Voronda – Dying Solar Winds

"Dying Solar Winds," off Voronda aka Etienne Tel'uial of Falgar's ambient-synth EP The Pagan Summer, is both majestic and spooky. It moves slow – real slow – changing tones like a glacier melting. I was going to say the haunting wordless vocals brings a touch of humanity, but now I'm wondering if those vocals are just a synth that sounds like a person. If this is the sound of the robots taking over, I say bring it on.
Wool Drive – Soak It Up

Though Anders Magnus' musical moniker starts with "wool," I keep wanting to write "woozy." That's the feel of "Soak It Up," an inviting slice of wistful bedroom pop. The haze and far-away sound doesn't hide the fact that this is a killer song; for people who've been reading this blog since the early days, it reminds me of Violet Ultraviolet.