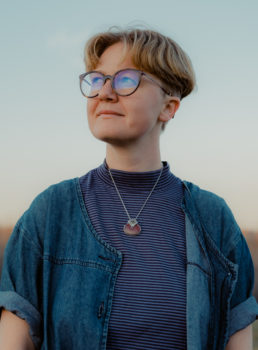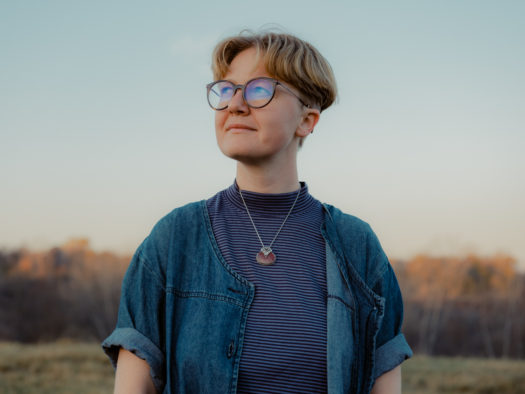 For a minute there, the band Julia Caesar was hotly tipped to be Vermont's next nationally-known musical export. But it wasn't to be. After one terrific EP (and a recorded-but-never-released album), the group disbanded and frontperson Katy Hellman moved to Philadelphia.
Well, now Hellman is back in Vermont, and her new band Ruby picks up where Julia Caesar left off. When touring resumes, maybe they'll be the group to break through on the national stage. Ruby describes themselves as "apocalypse folk rock," but from the early evidence the sound leans more dream-pop with shades of Mazzy Star and Cocteau Twins (some live stuff is folkier).
Ruby's new single, the title track off their upcoming album, is called "Marrow." The title, Hellman says, "originates from an understanding that teeth and bones are about as permanent as we can get, taking the longest to decay. Yet, though these take the longest to decay, they will also eventually be returned to the earth." But the song isn't just a morbid lesson in biology. She relates the concept to an Octavia Butler novel:
"Marrow" also explores the ways in which dominant culture positions itself as solid and unchangeable and the ways in which curiosity and courage leads one to discover that it is possible to change and it is possible to grow beyond that which is now. Change is the only constant and we do not have to just be subjected to change we can be agents of change. This concept was inspired greatly by Octavia Butler's parable of the sower.
The video, meanwhile, builds on the Kate Bush-inspired dance moves Hellman debuted with Ruby's first single last year. Hellman explains:
I wanted the video to have 4 very distinct parts, reflecting the theme of changing form and mirroring the content of the lyrics. The first part of the video which involves a group of people emerging from the earth, moving and stretching, is intended to symbolize a birth. The interchanging of the people on the screen represents this changing form. The video then moves into a scene with the water which is sort of like a rebirth at this moment of choosing to walk away, to re-submerge into the mystery. The third part of the video in the woods is intended to have a more eerie feel as the lyrics explore the shadowy part of being curious. Inevitably our curiosities lead us to confront our own shadows as a part of this process. The final scene is a celebration of play and life. After emerging from the depths with new perspective and more freedom.
Watch "Marrow" below and keep an eye out for Ruby's debut album.