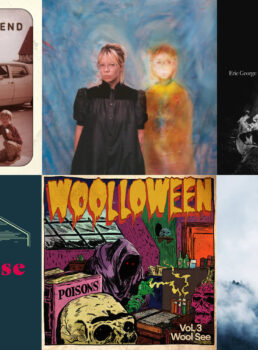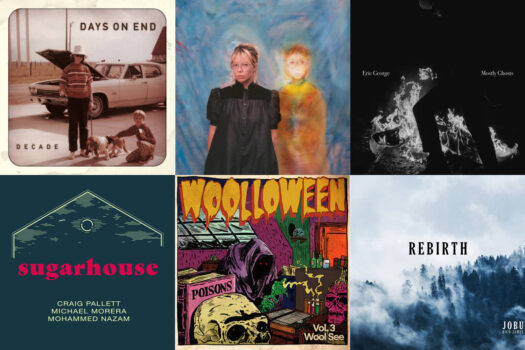 Abby Sherman – The Weight

Take a load off, Abby… Wait, wrong "Weight," sorry. This "The Weight" is an original song by Vermont singer-songwriter Abby Sherman, a heartfelt acoustic ballad with nary an appearance from Miss Moses or Crazy Chester. Sherman's been dropping another killer single every few months for a while now, presumably (hopefully!) leading up to another record.
Coyote Reverie – Lotus Leaf

Hip-slash-trip-hop duo Coyote Reverie's debut album Imah is positively stuffed with quotable lines. But, to pick out one that just jumped out at me, from the song "Lotus Leaf": "I solved the riddle of the universe once / And I got it done before I served lunch."
Craig Pallett – Light in the Sky

The album Sugarhouse (very Vermont title) offers a slice of energetic and adventurous jazz from composer and trumpet player Craig Pallett alongside guitarist Mohammed Nazam and saxophonist Michael Morera. The second track, "Light in the Sky," sees the guitar and sax take center stage in an aggressive duet that veers into hard-rock territory, with keyboards and the occasional synth burble in the background.
Days on End – Carved Away

The title Decade sounds like a greatest hits record (perhaps because, for someone else, it was a greatest hits record). But for pop-punk trio Days on End, it's a new EP, and an extremely catchy one at that. For fans of so-called "emo revival" bands like Modern Baseball who want something new to make your voice hoarse screaming along to, Days on End will fit right in.
Eric George – Joe Hill

Folkie goes punk…again. Singer-songwriter Eric George usually operates in a Woody Guthrie vein, but, for the second time in recent years, he's turned to the Bad Religion template. His political passion hasn't changed, though: He's still singing about folks like union organizer Joe Hill, who also inspired songs by Phil Ochs and Joan Baez. His take is currently just much louder than theirs.
Jobu & Rico James – $ Vs Earth

On "$ Vs Earth," rapper Jobu goes hard against climate change obstructionists and capitalism in general. Near the end, he even glancingly echoes the knocked-up-the-earth opening of Funkadelic's "Maggot Brain." When world leaders meet in Scotland for the climate summit in a couple weeks, it's probably too much to hope they'd keep some of these messages in mind.
Lightcrusher – Coursing Through Black Veins of Earth

Would you believe me if I told you "Coursing Through Black Veins of Earth" by the band Lightcrusher was a peppy folk-pop song inspired by Taylor Swift? Yeah, it's not. It's extremely heavy and tormented metal by the sort of band whose name is so stylized on their logo as to be almost illegible. But the guitar riffs are furious, the drummer plays like he's outrunning the devil, and the lyrics – well, who knows what exactly he's shrieking, but it sounds cool.
Lily Seabird – Bug

"I'm just a bug underneath your shoe," Lily Seabird (real name Lily Seward) sings on "Bug," off her terrific debut album Beside Myself. The melody jumps around in surprising leaps – I imagine this would be a tough karaoke track – but Lily carries it through all its twist and turns, leading to a wonderful Dinosaur Jr.-esque squalling guitar solo.
Wool See – Hail Ratmaa

The first of a couple Halloween-themed selections, "Back To The Lodge" comes from Wool See's spooky new beat tape Woolloween Vol. 3. As he writes about his first no-vocals album, "'Tis the season for mischief and mayhem and beats! Woolloween Vol. 3 is a fully instrumental album to smash squashes and horde gourds to." Extra kudos on the best cover art of the month.
The Young Love Scene – Psychology

The Young Love Scene's Gordon Goldsmith channels the great monkey band Lancelot Link and the Evolution Revolution (unintentionally, perhaps) in his new Halloween-themed music video for "Psychology." The music, though, sounds less like '60s-rock chimps and more like Jimmy Eat World meets The Ramones, catchy rock with a strong sense of hooks.