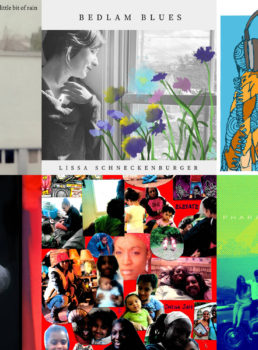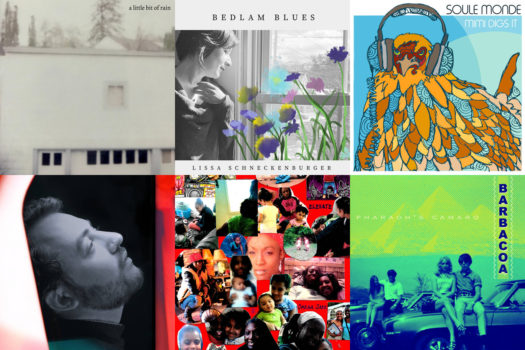 Babehoven – Bad Week

No, indie-pop duo Babehoven "Bad Week" isn't a play on R.E.M.'s "Bad Day." "Bad Week" is a moving electro-shoegaze dirge about fighting through depression. As singer Maya Bon sings, "It's hard to talk about it being a bad week / When it's been a bad week / For so many weeks now." She elaborated:
This song is a hand reached inward to the swelling and amorphous cavities of grief. As time keeps moving forward, I have found that it can feel as if the 'bad days' keep going, growing into 'bad weeks,' 'bad years,' into new levels of struggle that are hard to move through. Though this realization can feel staggering, it can also feel like an honest admission to self: these times are very hard and yet I want to move forward, I want to feel, I want to grow. 'Bad Week' is my attempt to commit to myself in these feelings.
Barbacoa – Staten Eye

Veteran Vermont surf-rock band – yes, you read that right – Barbacoa returns with their first album since 2014. Surf-rock has not been in vogue since The Ventures (who were way bigger in their day than you might expect – 38 separate albums landed on the charts!), but Barbacoa keep the tradition alive with a healthy added dose of spaghetti-western grandeur
Ben Watson – 502

As the Bandcamp description puts it, "Some acoustic guitar I recorded in the past few months. I hope it makes you feel something." It does! You have to be deeper in the American Primitive world than I to pinpoint the differences among the many John Fahey acolytes, but if you're looking for some pleasant finger-picked instrumental music that never gets new-agey or boring, Ben Watson's new EP is a good bet.
Couchsleepers – Creature Comforts

"LOUD-quiet-LOUD" was the Pixies' mantra for the dynamics of their songs. "Creature Comforts" is more like quiet-quiet-quiet-quiet-LOUD-quiet. Harrison Hsiang holds his punches for when they'll really count, this gentle ballad suddenly exploding in quick dramatic bursts before burbling back under again.
Eastern Mountain Time – A Little Bit of Rain

Big Dylan-in-the-'60s vibes on the beautifully melancholy "A Little Bit of Rain," with some imagery that sounds like a "Visions of Johanna" outtake. For example: "June retires to the attic / pulls the moon into her chest / while Miss Q's speech starts slurring / smoking all my cigarettes." I assume from there Miss Q went off sniffing drainpipes and reciting the alphabet.
Guthrie Galileo – Ethylene

"It's such a perfect day out my window," Guthrie Galileo begins "Ethylene." Sounds like a real positive song! Then the kicker: "But I wouldn't know." The emerging-from-quarantine hesitancy feels strong, even if it's never explicitly stated. "I'm scared to death that I might suffocate if I leapt out of my fishbowl," he sings. And after hearing the smooth R&B groove, it will not surprise you to learn that Guthrie Galileo moonlights as an Usher covers singer.
Lissa Schneckenburger – Bedlam Blues

Lissa Schneckenburger's last single, "Labor On," was a fiery environmental protest song. Her follow-up "Bedlam Blues," keeps things far more personal, a pretty folk song that at times almost could pass for an old Child Ballad.
Omega Jade – MommiEbonics

It's no coincidence that Omega Jade's new EP Elevate dropped May 9. This year, May 9 was Mother's Day. It's a hip-hop, tribute to motherhood and all its the joys and struggles, never more so than on the witty and moving "MommiEbonics." As the hook goes, "I love my kids, but they get on my nerves."
Remi Russin – I'm Trying

"I'm Trying" only has a few lyrics, but, for a veteran of great post-rock instrumental band Plastique Mammals, a few lyrics feels like a lot! Remi Russin describes the song's origins: "Somewhere in that middle ground between young adulthood and vanilla adulthood, you suddenly become cognizant of everything you've built for yourself, and the things you have to lose. At the same time, life's still unstable and feels like it could fall off the rails with a single unforeseen event. It's only a couple lines long, but when you're feeling that weight, clawing out of the overwhelm for just a second to ask for help can be a feat in itself."
Soule Monde – Strut

Soule Monde's Ray Paczkowski & Russ Lawton play in Trey Anastacio's solo band, but for the jam band-averse (present company included), don't worry. Their instrumental drums-and-organ blend percussive jazz with Booker T. funk. Aimless noodling not included.
Trapper Keeper – Half Past Midnight (Motown R&B)

Trapper Keeper blends a lot of genres on their new album. This can be said for many bands, but most aren't so explicit about it. Trapper Keeper literally includes the genre name in the song title. So you've got "In Front of You (Garage Punk)" followed by "Every Moment Matters (Dream Folk)" followed by "Paved with Good Intentions (Hip-Hop)." I like his Motown pastiche best.
Xander Naylor – Export For Screens

Xander claims everyone from soul giant Isaac Hayes to electronic duo Autechre as influences, and sure enough you can hear some of each on "Export For Screens," with some freeform jazz energy mixed in too.