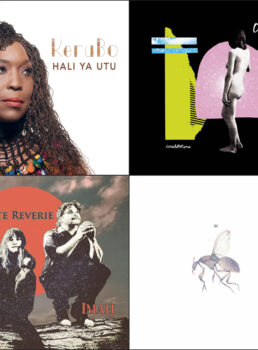 20. Narrow Shoulders – Now Be Here
Spare and haunting, the debut release from Narrow Shoulders' Zach Pollakoff does a lot with a little. Ambient noise, synth tones, the occasional pluck of guitar string, or a simple drum beat get layered just so to create an immersive instrumental world. The fact that Pollakoff works for A-list pop producer Ariel Rechtshaid (Haim, Vampire Weekend, etc) in his day job is no surprise. Though the genres couldn't be more different, Pollakoff clearly knows to to construct a soundscape.
19. Jack O' the Clock – Leaving California

The only progressive rock I have much use for is Jethro Tull and Jack O' the Clock's new record scratches that folksy itch nicely (the band name even evokes a Tull song). No, there's no flute solos, but a whole host of other instruments make appearances, from violin to harp to sudden bursts of choir – and that's just in one track! Then the next song opens with a clarinet solo. It's not a flute, but close enough.
18. The Faux Paws – The Faux Paws

The rustic setting. The three beardy dudes. The guitar and fiddle. All signs point to your traditional old-time folk music combo. And the Faux Paws grow from deep roots there, to be sure. But there's a twist: The third instrument is not the expected banjo, mandolin, dulcimer, etc. It's a saxophone. It brings a surprising new sound into their otherwise very traditional music. I'm christening the genre "blue-brass."
17. Amy Anders – Flea at the Opera

Flea at the Opera is a killer album title, though it does have the unfortunate side effect of making me picture Red Hot Chili Peppers at the Met. Thankfully, the album sounds very little like the album's accidentally-titular bassist. Big Thief is the more obvious touchstone. Anders delivers slightly off-kilter folk-rock songs that take strange twists and turns, piano cabaret at one moment ("You Lose") and a woodwind-guitar duet the next ("Great Life").
16. Hellish Form – Remains

Props to Hellish Form to committing to the genre. Everything about their album seems as metal as possible, from the metal band name (Hellish Form) to the metal album name (Remains) to the metal song titles ("Your Grave Becomes A Garden," "Ache," "Shadows With Teeth," and "Another World"). Okay, they lost the thread a little with that last one, but the hooded-figure-in-graveyard cover artwork more than makes up for it.
15. The Wet Ones – The Monster of Jungle Island

An instrumental concept album is a tough trick to pull off, and doubly so when the concept is as specific as The Monster of Jungle Island. Luckily, Vermont surf-rockers have a trick up their sleeve to help the narrative: A B-movie style video, filmed on what looks like a budget of $20 and a hell of a lot of fun to watch. As the band's Amy Wild wrote, "Never did we think our +35-year-old selves would be running around Burton Island with a paper mache monster head and machete, but here we are."
14. Kris Gruen – Welcome Farewell

"This is the sound that brings broken hearts back to life," Kris Gruen sings on the opening track of Welcome Farewell. It's a lofty promise, but one could easily picture him getting the sort of devoted Americana-world following of a Tyler Childers or Billy Strings. He's capable of surprises, too, as on the folky cover of punk icon Johnny Thunders' "You Can't Put Your Arms Around a Memory."
13. Wool Drive – Dive In

Though Anders Magnus' musical moniker starts with "wool," I keep wanting to write "woozy." That's the feel of the chillwave-y Dive In, a slide of hazed-out bedroom pop that is so chill it might take a second to realize these songs are catchy as hell.
12. Father Figuer – Jack of All Fruits

Good thing I was running behind on this list this year, or I would have missed Father Figuer's Jack of All Fruits, which came out December 10. The trio's Bandcamp bio simply reads "taking our time," and that's exactly what they do on this album. The almost-nine-minute-long opening track runs over three minutes before a single word is sung. The journey to get there shows what makes them so great though. It's the most gradual of builds, spacey vocals and instruments gently layering up, to the point where, when the sound finally bursts open six minutes in, it comes as a jolt. No other songs are quite that long or epic, but that mix of music, slightly withholding while you await the big burst that may or may not ever arrive, remains steady.
11. KeruBo – Hali Ya Utu

The title of Kenyan-American singer KeruBo's debut album Hali Ya Utu translates to "state of humanity." It, like many of the songs on the album is in Swahili. A great Seven Days feature breaks down what many are about: "Hakuna Lolote" about the plight of New Americans during Covid. "Inga Obwanchani," in the language of Kisii, addresses children begging for money on the streets of KeruBo singer Irene Webster's native Nairobi. Knowing the stories enriches the songs, but you don't need to do any homework to enjoy Hali Ya Utu, an upbeat blend of African rhythms that, for westerners, will most immediately recall Angelique Kidjo.
10. Zachary Melton – Northland

The acoustic-guitar fantasia or Northland draws on the so-called "American primitive" greats like John Fahey and Glenn Jones – not to mention a whole new crop of talented artists. Zachary Melton crafts a lot of sound with just six strings and some fancy finger-picking.
9. Eric George – Mostly Ghosts / Valley of the Heart


I'm cheating a little bit here, but I couldn't pick just one of Eric George's two 2021 albums to include. Though they're not a double album, they work as one: One side folk, one side punk. The folk "side," Valley of the Heart, finds a killer roots band spicing up his Guthrie-esque songs with brushed drums and twangy guitar solos. The "punk" side, Mostly Ghosts, finds him turning the volume way up, channeling Bad Religion and The Black Keys as he lets it rip. But the boundaries may be more porous than they seem: He covers punk-in-spirit John Lennon on the folk album and sings about folk hero Joe Hill on the punk one.
8. Ivamae – Tender Meat

Tender Meat certainly wins the longest-awaited album award. When I first wrote about her debut EP, I figured a full-length was forthcoming. And it was…five full years later. "I'm a total workaholic," Mae explained to Seven Days. "I push myself, and I crash. That's why the album took so long, I think: I'd push, then crash, then repeat. I had to learn to let go of how I wanted it to sound." The result sounds like the product of all that much work, but only in the best ways – dense and innovative, yet never overthought. Her crack band and inventive production touches serve the songs, never obscuring the real star of the show: her stunning voice.
7. Madaila – Good Lord Nancy

Good Lord Nancy is a concept album. And not a concept album like "all the songs are about a breakup"; a real, old school, prog-style concept album. The genre is new-wave though, mixed with indie rock and Americana. The concept is too long to compress in a blurb (you can read it here), but every song traces the titular Nancy's journey to the City of Sin. One way it differs from many similar albums though is that it's compact, eight songs, every one catchy as hell with not a moment wasted. What a concept.
6. Patrick J Crowley – All Was Set Fair

Patrick Crowley has popped up here in a couple different guises before – Deep River Saints, Quasar Valley Band. He makes music of the cosmic-Americana sort, using traditional country-rock instruments to go to some weird places. Fitting that the album cover is a picturesque log cabin…that's on fire.
5. Clever Girls – Constellations

Clever Girls songs thrive on tension. At any moment, they sound like they're about to explode. Sometimes they do, usually in a roar of distorted guitar noise. But just as often, they hold something back, gliding along on frontperson Diane Jean's mesmerizing vocals. Who knew "And I'll get arrested by the neighborhood watch" could be such a catchy sing-along line? Inspired in part by Jean coming out as queer and gender-nonconforming, Constellations mixes big rock hooks ("Remember Pluto") with quieter moments ("Come Clean"…quieter that is, except for the the really loud parts) for a set that makes a hell of a calling card as they begin to play bigger stages.
4. Coyote Reverie – Imah

Coyote Reverie, the new hip-slash-trip-hop duo combining singer Meadow Eliz and rapper Stresselbee, stuff their debut album Imah with quotable lines. To pick out one that jumped out at me, from the song "Lotus Leaf": "I solved the riddle of the universe once / And I got it done before I served lunch." Or one more, from lead single "Piranhagon": "It's the lion, the witch, and the warship / The penguin is mightier than the swordfish." Of course, no rhyme would be worth savoring if the music didn't match up, but they collaborate with a number of different underground producers to create beds that boost the clever rapped verses and the earwormy sung choruses.
3. Lily Seabird – Beside Myself

"I'm just a bug underneath your shoe," Lily Seabird (real name Lily Seward) sang on "Bug," the lead single off her terrific debut album Beside Myself. The melody jumps around in surprising leaps – I imagine this would be a tough karaoke track – but Lily carries it through all its winding turns, leading to a wonderful Dinosaur Jr.-esque squalling guitar solo. Her album mostly leans on the quirky indie pop side of things, channeling Warpaint or Fiona Apple, but will occasionally explode into a pedal-to-the-metal rocker like "Fire Song."
2. The Burning Sun – Marrow

In April, the album Marrow came out under the band name Ruby. I gave my post the Clash-pun title "Ruby Can't Fail," but, apparently, they could. In the age of the internet, singer Katy Hellman soon released Ruby was un-Googleable – she found over 80 other artists named Ruby on Spotify – and changed the moniker to The Burning Sun, after the album's second track (personally, I think she should have picked track title number four, "Carnivores," and make everyone think it was a militant hardcore band). Either way, Marrow is a mesmerizing album, Mazzy Star by way of Dirty Projectors. It doesn't matter what they call themselves. To misquote Shakespeare, a Ruby by any other name smells as sweet.
1. Black Fly – 01
Bedroom electronic artist Joseph Rittling aka Black Fly brings a lot of influences into these ten tracks. He cites inspirations from experimental composer Gavin Bryars to '50s pop star Connie Francis to re-learning to play piano after an accident that cost him part of a finger (ouch). And that's all just for a single song ("No Fool"). His must-watch music videos, too, contain multitudes, placing these tracks in an eerie sci-fri dystopia like something David Lynch would dream up. But, high-concept as the songs' origins may be, the results are immediately accessible, catchy piano-electronica that recalls M83 at one moment, Jon Hopkins at another.
Best Songs is here and Best EPs is here. In an effort to broaden the lists and avoid redundant blurb-writing, every list this year has a totally unique group of artists.
Note: This will be the last County Tracks post for a while. To get updates when/if the site returns, follow @CountyTracks on Facebook or Twitter. Until then, thanks for reading.