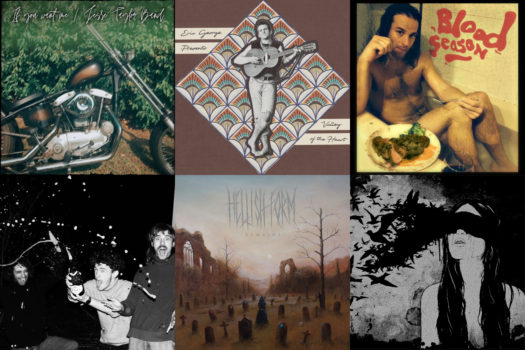 Black Fly – Sign 2

Over a propulsive synth hook that recalls M83's "Midnight City," Black Fly's Joseph Rittling delivers a catchy electro-post-punk song that grows and grows into something epic.
boys cruise – The Owls

On "The Owls," punk trio boys cruise deliver an homage to Twin Peaks twice as loud as anything David Lynch and Angelo Badalamenti put on the soundtrack. Read the lyrics at Bandcamp if you can't make 'em out through the distortion to see how many Peaks references you can catch (with a side of Edgar Allen Poe thrown in for good measure).
Bow Thayer – Earthling
Bow Thayer moonlights in a Sun Ra tribute band, so no surprise he's talking about Zen and Earthlings. Recordings under his own name don't veer too near Sun Ra's freaky jazz, but, in their own folk-rocking way, they are plenty cosmic.
Dave Richardson – Apology to Mouse (Recently Deceased)

A chipper folk song by a bearded dude about a mouse sounds a lot like Raffi. Except Raffi wouldn't have killed the mouse. "Apology to Mouse (Recently Deceased)" is equal parts humorous and earnest, with verses like: "If I could talk and you could listen / I would have tried employing reason / But there's just no getting through / I took no joy in ending you."
Eric George – Blue Plate Special

Singer-songwriter Eric George's jaunty "Blue Plate Special" probably isn't a deliberate bid to get himself booked on the roots-music NPR show of the same name, but, if it is, it's not a bad gambit! Then again, the BoDeans released a song called "Jay Leno" some years back and, try as the publicist might (ahem), it did not in fact get them booked on Jay Leno. The fact that the song was about a horrible murder probably didn't help.
Fate – Sierra Leone

The "oh-whoa-whoa"s that underpin this track remind me of "Viva La Vida." And there's where the Coldplay comparisons end. Fate delivers a dark and claustrophobic electro-industrial production that sounds like it should soundtrack some paranoid-dystopia movie trailer.
Giovanina Bucci – Go Easy

Giovanina Bucci channels a slow southern-soul groove on "Go Easy." Dusty in Memphis feels like an obvious sonic touchstone, and, as if hitting those marks wasn't impressive enough, she's a visual artist too, painting an impressive mural in the music video.
Glenn Weyant – first

The first of a couple of solo-guitar pieces in this month's playlist. The second is quiet and meditative. This one, most decidedly, is not.
Hellish Form – Shadows With Teeth

Props to Hellish Form to committing to making everything about their album as metal as possible. I don't mean the music itself – thought satan knows it certainly is – but everything from the metal band name (Hellish Form) to the metal album name (Remains) to the metal song titles ("Your Grave Becomes A Garden," "Ache," "Shadows With Teeth," and "Another World"). Okay, they lost the thread a little with that last one, but the hooded-figure-in-graveyard artwork more than makes up for it.
Ivamae – The Reality of It All

Ivamae brings some powerful Sinéad O'Connor energy on her new single, from the spare and mesmerizing vocal to the occasional noisy eruptions all the religious imagery in the music video. Vermont music fans have been waiting on Ivamae's debut album for years and this, the first single off it, sounds like it will be worth the wait.
Jesse Taylor Band – If You Want Me

Jesse Taylor's last EP Ever-changing featured song titles like "Disaster," "Come Down," and "Blue, which tells you the general lyrical mood. One song bemoaned a failed long-distance relationship, another detailed a streetside confrontation with an ex's new partner. Things are looking brighter on new single "If You Want Me," on which she puts the '90s rock sonics to the side for a sprightly acoustic number.
Kat Wright – Take Me With You

"Take Me With You" is about wanting to run away and join the circus. And not just any circus. Wright and her two compatriots are singing about the beloved hippie institution Bread and Puppet Theater, based in their home state of Vermont. So when you hear Wright suddenly harmonizing about "slick capitalism" and "slippery rhetoric," the connection might make more sense.
Lowell Thompson – Blood Season

"How many fingers are you willing to give up?" singer-songwriter Lowell Thompson asks in his new single "Blood Season." It's a very Neil Young and the Stray Gators vibe (minus the honeyslides…I assume), country-rock with some real grit. Love the guitar-and-piano duet coda.
Ula Blue – Hang Up the Phone

This jazzy Lana Del Rey-esque piano ballad comes with a powerful story, via Ula's Bandcamp:
I started 'Hang Up The Phone' on a flight from someplace I can't remember to Ottawa, Ontario. I had just gotten off of the phone with my dad for the last time. He was unable to talk or move after complications with stage 4 stomach cancer, so my mom put the phone to his ear. In that moment, any words I could say felt meaningless and all I could tell him was to 'hold on and be strong' like so many times he had told me.

As I sat crying with my face pointed out of the window so as not to disturb the stone clad businessman sitting next to me, I pulled out my keyboard and looking out at the land and sea disappearing into transient shades of pink, purple, and blue, I recorded the piano part that you hear as the intro to this song.

It would take me over another year to finish it as I have poured so much of my grief into its expression. Now that it's done, my grief will shapeshift and mold itself into my next project. I don't want to rely on songwriting to allow me to feel, but I come to recognize that it is in so many ways a gift and not a burden. It is a way of showing the beauty in the most heartbreaking moments of life. It is my form of acceptance.
Zachary Melton – Northland

Do you still need something to come down from that distortion assault of the first solo guitar piece? Well here's the second, and it is much more calming, drawing on the greats like John Fahey and Glenn Jones – not to mention a whole new crop of talented artists – as does his entire album of the same name.
Zesty – Tarantino Flick

"Tarantino Flick" brings some Outkast energy, especially when Zesty switches into an Andre 3000-esque affected drawl.