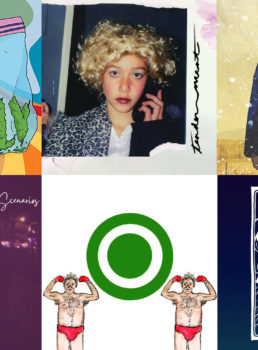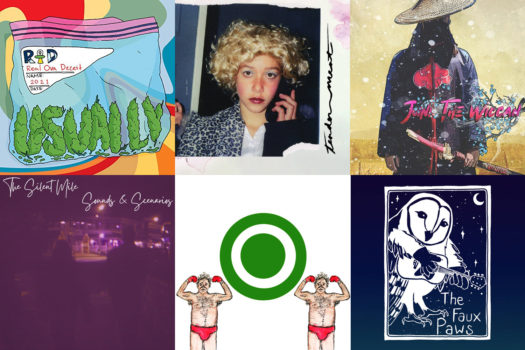 Bull's Head – When He Speaks

No idea what the opening verse means, but I dig this creepy David Lynch energy: "When he speaks it's all poetry / And he claims that his words are free / But under the table he's / Got a gut and it's full of bees"
Couchsleepers – Just a Minute

Indie-pop band Couchsleepers have been releasing songs from their upcoming EP Monsters for months now, and "Just a Minute" might be the best yet. High energy and catchy, the song works in blasts of Booker T organ and '80s guitar-hero squalls around Harrison Hsiang's buttery vocals.
The Faux Paws – The Road from Winchester

The rustic setting. The three beardy dudes. The guitar and fiddle. All signs point to your traditional old-time folk music combo. And the Faux Paws have deep roots there, to be sure. But there's a twist: The third instrument is not the expected banjo, mandolin, dulcimer, etc. It's a saxophone. It brings a surprising new sound into their otherwise very traditional music.
Francesca Blanchard – Free (Willverine remix)

A lot of remixes feel like movie sequels – it works better if you've seen the original. Willverine's remix of Francesca Blanchard's "Free" requires no such prep. This version stands on its own as a catchy electro-folk ballad that blends Blanchard's ethereal vocals with electronic production touches that give the song a little extra juice without ever overwhelming it. Once you get into this, though, you'll probably want to go back to compare it
Ivamae – Nope

Primary-colored rollerblading and a succession of wild wigs give Ivamae's second music video promoting new album Tender Meat a throwback vibe, even if the fact that most roller-dancers are wearing masks sets it squarely in the present. Similarly, the music brings in touches of modern hip-hop production behind soaring vocals that sound like an old torch song.
Jack O' the Clock – You Let Me Down

The only progressive rock I have much use for is Jethro Tull and Jack O' the Clock's new record scratches that folksy itch nicely (the band name even evokes a Tull song). No, there's no flute solos to "You Let Me Down," but a whole host of other instruments make appearances, from violin to harp to sudden bursts of choir. It also features truly bonkers verses like this: "Death came up like a bubble in the night and it popped in my face / What a mess. No picnic! ' Do you want me to tell you how I cleaned it all up? / Well, I can't! You missed it!"
Juni The Wiccan – Still Here

In the space of a couple lines, Juni The Wiccan compares himself to both Jimmy Neutron and a crouton. The joy-of-wordplay goofiness recalls Lil Wayne at his most delirious (still a classic: "real G's move in silence like lasagna").
Phil Henry and Nick Grandchamp – Les Paul

"Folk-punk" typically evokes the genre-smashing likes of Violent Femmes, but on "Les Paul," the combination is literal, with a longtime folk signer (Phil Henry) pairing up with a punk vet (Nick Grandchamp). Sonically, the music leans more towards folk, but lyrically it brings in the punk experience, reminiscing about a lost black jean jacket covered with patches – not to mention the titular Les Paul itself, the guitar favored by punk legends like Johnny Thunders and Steve Jones.
R.O.D. – Usually

"I wrote this song to speak on the issue of generational wealth and to be a good influence for young people of color in manifesting it," said rapper R.O.D. aka Real Ova Deceit, a Florida-to-Vermont transplant. His flow is extremely catchy and, if he spits too fast, the video helpfully comes with emoji-packed subtitles.
The Silent Mile – Better Days

The extremely catchy "Better Days" brings a healthy dose of Blink-182 pop-punk with surf-rock drums and a self-deprecating sneer. Some killer lines too, both funny and honest about struggling with depression, starting with the opener: "I'm fucking crazy, but not in a fun way."
Western Terrestrials – Space Cowboy's Got the Blues (Live)

No, this "Space Cowboy" isn't a cover of Kacey Musgrave or Sly & The Family Stone. For a recent livestream from Rutland, Vermont's A Sound Space, the UFO-obsessed honkytonk band twanged their way through one of the catchiest songs on Back in the Saddle of a Fever Dream, one of my favorite albums of 2020.