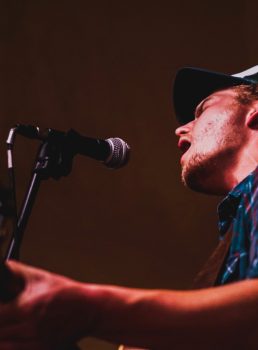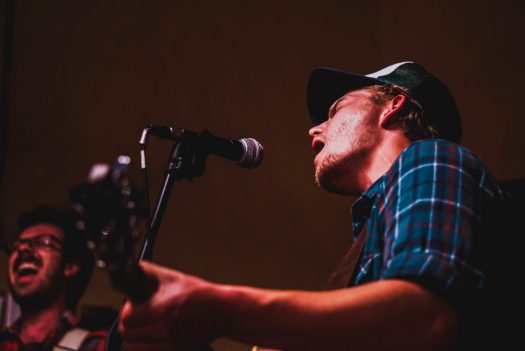 The opening notes of Erin Cassels-Brown's new album signal his Dylan-goes-electric moment.
A former street busker, Cassels-Brown has spent the last few years building a reputation around his Burlington, Vermont home as a folk singer and guitar-strummer around town. But on Dreamin' on Overdrive, he joins the long lineage of former folkies who plugged in and amped up. While it's hard to imagine Pete Seeger swinging an axe to cut the cable, it shows Cassels-Brown deliberately shaking off his local acoustic-troubadour reputation, and opening himself up to a broader national audience.
Opening track "Classic Records" lays down the gauntlet, his tight backing band injecting energy and muscle as he pushes his voice on the yell-along chorus. It's a far cry from his former life; few street buskers boast songs someone could conceivably pump a fist to. There's even an honest-to-goodness guitar solo.
"I love quiet folk songs, and I am sure I will always revisit that side of things in my writing over time, but I wanted the chance to rock out a little bit," he says in an email. "The records I listened to growing up and the ones that I keep coming back to were, for lack of a better word, the louder side of Americana."
He cites an obvious inspiration, and a historically relevant one given the mid-'60s Dylan comparison: The Band. He adores the heartbreaking vocals of a ballad like "It Makes No Difference," he says, but appreciates them balancing that tenderness with a level of wildness. "Levon Helm had an amazingly athletic playing style behind the drums and he drove their live shows with an almost frenetic energy," he says. "The music that I love the most can bring both of those elements together. Sweat and tears."
Of the equally catchy and high-energy title track – the single, with a music video forthcoming – he writes: "When I hear the opening notes of the song I feel like it's time to roll the windows down and try to remember that feeling of childhood wonder when you hit a baseball and start running for first base like nothing else in the world matters."
Even the slower songs seem more the product of full-band camaraderie than a singer-songwriter's singular vision. "Great Divide," for instance, has grown from a solo guitar song he was performing a couple years ago to a driving organ ballad channeling Garth Hudson (the song title surely another Band nod). And "Heavy Heart," understated though it is, benefits from a tight rhythm section, beautiful backing vocals, and little guitar licks.
Cassels-Brown says that song was inspired by the least rock-and-roll meal of them all: breakfast.
I wrote this in Portland, Oregon when I was on tour there a while back. The friends that I was staying with (a couple) had just cooked breakfast in the other room. They burnt the toast but were laughing about it and seemed so happy to be sharing the same kitchen. It really made me miss home and my partner and a sense of melancholy set in…

I have a tendency to compare my life and career to people who are incredibly famous and successful and sometimes get down on myself in comparison. But in that moment I had the realization that I didn't really care about looking at my life through the lens of a music autobiography or trying to figure out how and when I would feel successful in my career. I just wanted to be home cooking breakfast.
Click here for more of the best new rock music from Vermont.