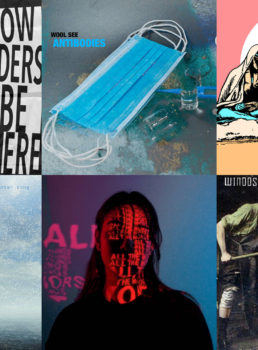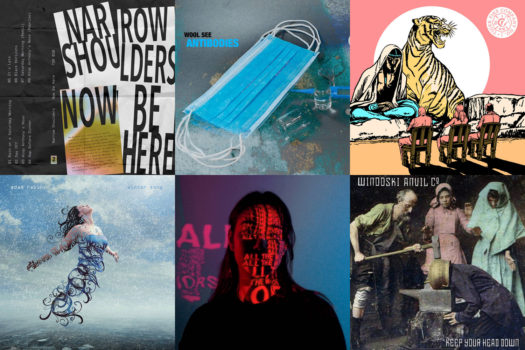 Adam Rabin – Winter Song
Prog-rock veteran Adam Rabin's "Winter Song" sounds pure Jethro Tull. All that's missing is a flute solo. Oh, wait – there it is.
Chipmunk Economy – Would You Sacrifice
Band reunions are typically premised on reigniting existing fan groups, but I'd never heard Chipmunk Economy during their first run. By the sound of their comeback record Ten After Ten – that's ten new songs after ten years away – I missed out.
Clever Girls – Baby Blue
The latest preview of Clever Girls' upcoming album Constellations, hotly tipped to be among the year's best, "Baby Blue" sounds claustrophobic, a contained storm just waiting to explode. Songwriter Diane Jean says, "I wrote Baby Blue about three years ago and we recorded it in early 2020. Now, it reminds me of the darkest stages of the pandemic – the days where everybody in the music industry was holding out hope for their fall tour dates. I spent all of May of last year, while Vermont was still very much on lockdown, in complete isolation with the exception of my cat, Hank. It was exactly the type of experience that the song was born out of in the first place – feeling isolated, and cut off from the world even when it was still turning – if not on fire – outside of my door."
Couchsleepers – All the Worst Things
I was going to write that "All the Worst Things" is the most straightforwardly poppy song in Couchsleepers' growing catalog, but that was before the guitar explosion that sounds like that tone that never ends. It's like Robert Fripp crashing an Ed Sheeran song. Couchsleepers' last album was inspired by the frontman's insomnia – no wonder he's having trouble sleeping if these are the sounds he's listening to!
Dave Richardson – It's Gonna Be OK
Dave Richardson seems like an optimistic guy. In mid-December, during an extremely bleak stretch, he released a song called "It's Gonna Be OK." He's not naive, but each verse shows him trying to keep a positive mental attitude. "If I didn't work and I didn't try / I would worry the time away / So I'm going to work and I'm going to try / And it's gonna be ok."
Derek O'Kanos – So It Goes
Derek O'Kanos' new EP On the Sleeve dips its toes into blues and folk, but "So It Goes" expresses its pure pop-punk heart. It's a two-minute-fourteen-second blast that, Ramones-like, never lets up or wears out its welcome.
The Eschatones – Just Walk
The Eschatones is a garage band, but you wouldn't know it from their debut release. After playing shows for seven years, the trio hoped to finally, belatedly, record an album in 2020. Then 2020 actually happened. So frontman Kai Stanley recorded the songs himself. Even if these recordings do turn out to be just demos in the long run, the acoustic style works (and he can still get pretty loud even by himself).
Henry Jamison ft. Darlingside – The Parting Glass
Bob Dylan fans may recognize the melody of the old Scottish folk song "The Parting Glass"; Bob borrowed it for his '60s song "Restless Farewell." On his new all-but-a-cappella collaboration with Darlingside, Jamison resurrects the very auld original for the new year.
Jade Relics – With You
My main gig is covering cover songs, so I appreciate a song that shouts out "Nina Simone covering Bee Gees" (that's the 11th Best Bee Gees Cover Ever, in case you were wondering). A new production trio from three veterans of Vermont's hip-hop scene – Elder Orange, IAME, Rico James – "With You" brings some freak-funk vibes, like some old Stevie Wonder sample. Maybe someone will cover this soon.
Jesse Taylor Band – Ever-Changing
I already tackled one song on Jesse Taylor Band's great new Ever-Changing EP, so here's another, the title track. The video, she says, is an only lightly fictionalized recreation of a real breakup and, months later, sidewalk confrontation. Taylor says of the story behind it, "One day I see him with a new lover and the dog that we got together. I freak out, pull over the car, and run to them. I cause a scene, I yell, I cry, long story short – she was leaving that day anyway to go back to her home state out west and after that my ex and I talk and reconnect and are back to the beginning of what do we do from here."
Leon Ampersand – These Blue Skies, They Are a-Callin'
The title "These Blue Skies, They Are a-Callin'" sounds like an outtake from Oklahoma!. The actual song, an inviting slice of breathy Britpop, very much does not.
Maple Run Band – Hangin' Round
Lou Reed fans might recognize the look of Maple Run Band's new single art; it mirrors Reed's 1972 album Transformer. Sure enough the single is a cover of a song off it. They don't pick one of the better known tracks – "Perfect Day," "Walk on the Wild Side," "Satellite of Love" – but go for the relative deep cut "Hangin' Round." They turn it into a twangy honky-tonkin' country song.
Michael Chinworth – I Don't Follow
The music video, such at it is, simply shows Michael Chinworth changing lightbulbs. It reminds me of Frank Ocean launching his new album by building a staircase. It's similarly sparse and meditative, helping you zone out and focus on the soothing music.
Milk Weed – Use a Stencil
A lot's been written about bands adapting during the pandemic. Here's something more unusual: Bands forming during the pandemic. The trio of Milk Weed began over the phone in 2020, three childhood friends reconnecting even though they now live far apart (two in Vermont, one in Colorado). They managed to record an entire debut EP without this band ever having been in the same room.
Narrow Shoulders – Day Off
Spare and haunting, the debut EP from Narrow Shoulders' Zach Pollakoff does a lot with a little. Ambient noise, synth tones, the occasional pluck of guitar string or simple drum beat get layered just so to create an immersive instrumental world. The fact that Pollakoff works for A-list pop producer Ariel Rechtshaid in his day job is no surprise. Though the genres couldn't be more different, Pollakoff clearly knows to to construct a soundscape.
Nate Gusakov – Coming Apart
On "Coming Apart," banjo player Nate Gusakov sounds like an old blues singer growling over an outtake from Mark Knopfler's Sailing to Philadelphia. That's his dad on the fiddle, too.
Nodrums – La La La I Love This Song
The title "La La La I Love This Song" sounds like a Pixies songs, but that's where the similarities end. A strange and silly talking blues about, among other things, L. Rob Hubbard, "La La…" sounds like if Tenacious D if Jack and Kyle were into old county music instead of metal.
Omega Jade – Miss Simone
If you missed the documentary What Happened, Miss Simone?, rapper Omega Jade delivers a pretty solid overview of Nina Simone's life and career in under two minutes, "Thanks to Miss Simone, I know I'm young, gifted, and black," she says.
The Pyros – King of the Internet
"King of the Internet" is not just about the internet – it sounds like the internet. A rock band temporarily taking cues from chiptune, the sonics recall the MIDI soundtracks of pre-YouTube Flash videos.
San Mateo – Sorry Doesn't Dry These Tears
San Mateo lead singer Craig Mitchell moonlights as a Prince tribute act, and you can hear that influence in his buttery-smooth vocals. "Sorry Doesn't Dry These Tears" has definite R&B slow jam vibes throughout, aided by wonderfully eerie slide guitar accents just this side of Morricone.
Tiger Fire Company No. 1 – Be Together
Tiger Fire Company No. 1 call themselves "Northeast Vermont's Premiere (only?) rap trio." They'd surely be the best even if there was more competition for the title. Tight and inventive, they deliver clever lyrics and hooks aplenty. "Be Together" adds a touch of punk edge, evolving into a Fucked Up style shout-along by the end. (And, because the album cover already features people sitting in chairs, you better believe it's been Bernie-memed).
Ula Blue – Carry On
Ula Blue's debut single "Carry On" sounds like the work of a much more experienced artist. Though she plays in alt-country-leaning band Chazzy Lake, her solo work is all swooning electro-dreampop, splitting the difference between New Order and Mazzy Star.
Winooski Anvil Co. – In Search Of
Like Tom Waits meets Black Flag, "In Search Of" brings some weird and old-timey imagery – it's the sort of song that rhymes "rune stones" with "whale bones" – to a loud sonic assault that splits the difference between punk rock and doom metal.
Wool See – Antibodies
Wool See, aka IAME from the aforementioned group Jade Relics, delivers a downtempo coronavirus anthem, working in a nod to the late MF Doom. Songs quite so topical usually have a short shelf-life, but he blends the timely ("I got the vaxx and the antibodies," an extremely 2021 boast) with broader concerns.