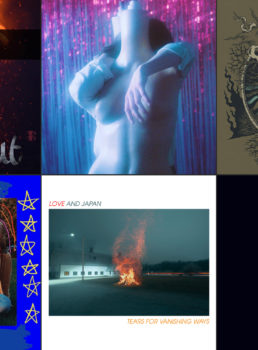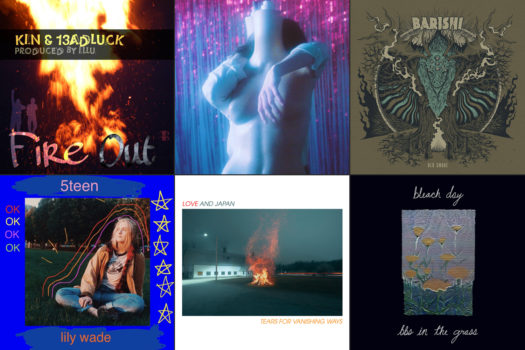 Bad Rat? – Transitional Forest

"Transitional Forest" is billed as the lead single of Bad Rat's upcoming album This Time Around The Sun, but it's almost two singles in one. The first half is a bit of a feint, a meditative meander that doesn't predict the drop to come. With little warning, Marc Kamil's mellow ballad becomes thudding  post-punk, little more than a shared guitar line connecting the two halves.
Barishi – Blood Aurora

I'm pretty sure the opening line of Barishi's ten-minute song "Blood Aurora" is "Lord of the darkness," but singer Graham Brooks is growling so ferociously I can't quite make it out. Does that sentence offer enough clues what genre we're talking about? For their first album in four years, the Vermont metal titans worked with Inter Arma producer Mikey Allred and it shows. Though hardly easy- or even medium-listening, "Blood Aurora" has enough going on to potentially sell non-metalheads (present company included) while providing plenty for the death metal kids to thrash to.
Bent Muffbanger – No Ordinary Day

Carl Sheperd's voice reminds me of Tom Petty, and he manages to blend two Petty eras on "No Ordinary Day: "Wildflowers" folk-rock on the verses, "Don't Come Around Here No More" synth-pop on the choruses.
Bleach Day – bbs in in the grass

If you follow certain music writers on Twitter, "indie jam" was all the rage last year. Vampire Weekend got real noodly on their new album, and trippy acts like Chris Forsyth and Cass McCombs managed to get weird while still attracting as many hipsters as hippies. Bleach Day's "bbs in in the grass" continues the trend. They're not a jam band by any stretch, but they're psychedelic enough you could imagine them blissing out on this song for ten minutes live.
Chris Weisman – No New Hampshire

"New Hampshire has an illness in its heart," begins this diss track dedicated to an entire state. Though Weisman now lives in Vermont, he hails from New Hampshire, so he knows of what he speaks. This came out a week before the NH primary, so that may have been part of the frustration (though his current-home-state senator ended up winning it). These disses go down easy though, as the prolific Weisman layers vocals and guitar for a beautiful ballad that offers a lot more than interstate rivalry.
Francesca Blanchard – Ex-Girlfriend

The killer opening line "I just spent an hour stalking your ex-girlfriend on the internet" sounds like a Lily Allen song. The entirety of Francesca Blanchard's great new single recalls Allen, in fact – not one of her big poppy singles, but a more mellow album cut. Blanchard told Billboard "I wanted [the video] to feel like a never-ending scroll through Instagram, perfect snapshots of strangers living their lives. To capture that icky feeling I get after accidentally spying on people for hours. But I can't help it, because everything looks so damn pretty on a screen." She even impersonates Siri at one point.
Jessica Rabbit Syndrome – Thelma and Louise

Given that they named their band after one movie (earning a recent shoutout from the character's creator), no surprise that goth-garage trio Jessica Rabbit Syndrome named a song after another. They haven't properly released much since I wrote about them a couple years ago, but this new track came out via a live-on-radio album by New England radio host Tim Lewis (the third in the series, I wrote about the previous installment here). It's dark and murky, with the bass distortion turned way the hell up.
Kin & 13aDLuck – Fire Out

In 2007, hip-hop producer AmpLive released an album remixing every track on Radiohead's new album In Rainbows with underground rappers. It was a hit or miss project (shocking), but at its best, a song like "Video Tapes" provided a fascinating and unexpected sample for someone like Del Tha Funky Homosapien to rap over. I don't know what the sample is on this Kin & 13aDLuck, but it reminds me of that.
LILABET – Mercedes Bends

Take riot grrrl energy, filter it through '80s synth pop, and add a killer guitar solo. You've got "Mercedes Bends." That more or less describes Sleater-Kinney's last album, too.
Lily Wade – I Don't Wanna Be 5teen

"I don't want to be fifteen," goes the opening track on Lily Wade's debut album, and good news: She's not. Just turned 16 last week. But as I noted in my longer piece on the album, she doesn't sound her age. The "teenage indie rocker" is a good narrative hook,  but a catchy bedroom pop song like this would stand out no matter how many years the musician had been working.
Love and Japan – Spider Rain

Love and Japan's new EP sounds like the lighter and darker sides of '80s pop blended together – Men at Work meets Joy Division. I don't know what "spider rain" is, but I'm frankly shocked it's not already the title of a Cure song.
Michael Chinworth – There You Are

The lyrics to these songs were written by playwright Quincy Long, who must be doing something right – one of his plays was directed by William H. Macy and starred Felicity Huffman. This comes from another, The Huntsmen, for which the New York playwright worked with Vermont musician Michael Chinworth to compose songs. It's not a musical, but rather "a dark, deep and hilarious piece about a murderous teen that borrowed from old thrasher flicks and after school special tropes." It apparently uses these old doo-wop sounds to juxtapose against the on-stage violence and mayhem. Sounds like Tarantino should direct the movie adaptation.
S.T.L.A. – Do You Know Yer Curses?

The album cover looks like Blair Witch Project meets The X-Files, and the eerie music follows that lead. Experimental musician Henry Birdsey works like an ambient electronic producer, but with analog instruments: lap steel, pedal steel, microtonal organ, fiddle, hammered dulcimer. None of them sound remotely like what you think they should sound like, but it creates a magnetic and slight unnerving stew.
Troy Millette – Runaway (Live at Higher Ground)

I liked country singer Troy Millette's 2019 debut EP, but his new live version of "Runaway" takes the song to another level. More muscular than the quieter studio version, Millette's gruff voice and a knockout country-rock band turns the song into a beers-up southern-rock anthem. There's polished Nashville country in his songwriting, but there's Allman Brothers rawness in this delivery.