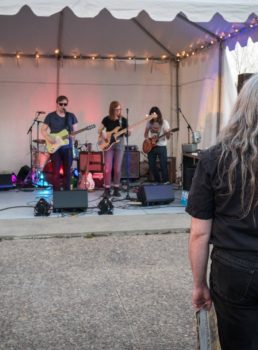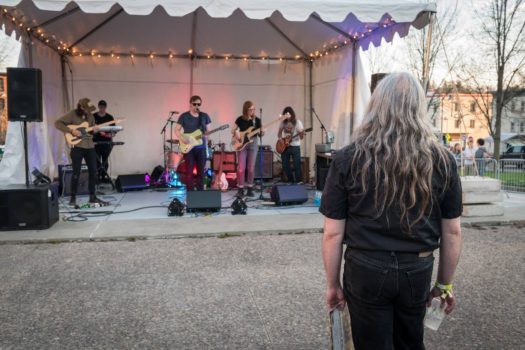 The new compilation album Live from Robot Dog Volume Two serves as an excellent introduction to the best of Vermont's independent musicians. But it also chronicles a deeper story, one of grief and healing for the man behind it.
Local Vermont music superfan Tim Lewis hosts a weekly show on WBKM, bringing a band into Robot Dog studios every week to record a short live set. The detailed notes he posts online tend to be as good as the music, and for this batch of shows (a song from almost every session he recorded in 2018), his notes revealed a story listeners wouldn't hear on air.
"2018 was a tough year for me," he begins the liner notes. His mother had gotten sick in the fall of 2017. Her health quickly declined. She moved into hospice care by February, and passed away two months later.
A son's grief goes without saying. Throughout the heartbreaking journey, though, Lewis found some solace in the music he was recording. Though not widely known outside of Vermont, these local bands brought moments of joy during a terrible time. For instance, he writes about a January set by post-rock band The Mountain Says No, "Their powerhouse music filled my soul, which was needed, since my mom was not recovering as expected. I remember being so happy that day."
The music he recorded (alongside studio engineer Ryan Cohen) also provided moments of connection with his mother in her final months. Lewis describes a beautiful moment visiting his mother in hospice and showing her a video of his latest session, with electronic duo Bad Smell. "I'm not sure mom liked it," he elaborates in an email (he says she preferred classical and country music), "but she liked that I did and helped make it happen. In the middle of the song, one of the nurses came in and said something about us having a jam session. [The nurse] seemed to really like the music, and mom just sat back and smiled. It was one of the many lovely days I had with her until late March when she really turned."
One night in March, minutes before a session booked with 9-piece cumbia band Mal Maiz, the hospital called to let him know to prepare for the worst. "I'm sure I cried a little, then took a breath and walked into a room of people playing joyous music," Lewis says. "I think I had done so many previous Robot Dog sessions that I was able to fall into my role of staying out of the way, chatting with the bands, and doing the interview. I was able to focus on the event and let everything else go. It was so nice to get away from it for that couple of hours."
Carol Lewis passed away on April 2nd, 2018. The next band Tim brought to the studio was metal quartet Doom Service. "The heavy loud melodic music became a focal point that I could hold on to," he writes, elaborating in an email: "Having Doom Service let loose some rock fury a couple of days after she died was cathartic."
The entire Live from Robot Dog Volume Two – with Tim's liner notes – is available for free at Bandcamp. Top photo by Brittain Shorter.