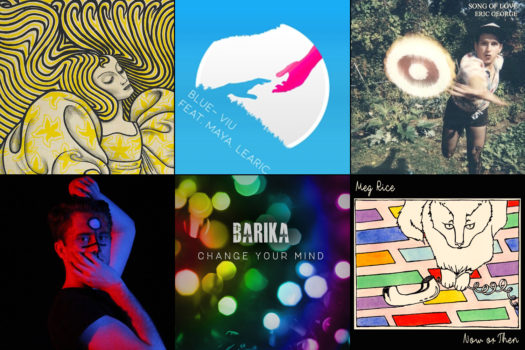 Barika ft. Erica T Bryan – Change Your Mind
Barika typically operates in the world-music space (leader Craig Myers plays West African string instrument the n'goni), but "Change Your Mind" points to an intriguing new direction for them. The funk and soul points more towards New Orleans than New Guinea, and the electronic production makes it sound modern, avoiding the relics-of-history feel of so much that gets marketed as "world music" these days.
Blackmer – Flash Flood

Singer-songwriter Sam DuPont has appeared here before in his Everlys-channeling folk duo The DuPont Brothers. Well, the DuPont Brothers are no more (the lowercase-b brothers are just fine though), and while their new indie-rock band gets underway, they've been working on solo projects. Zack DuPont's new EP was a highlight of last year, and now Sam follows it up with the beautiful Rinse.Repeat, released under his middle name Blackmer.
Dana and Susan Robinson – Shine

How's this for keeping it local? Dana and Susan Robinson's new album celebrates Vermont minutiae great and small, from the states law banning billboards ("No Billboards") to its first post-Revolution days as an independent republic ("Shine") to Harry's Hardware in Cabot ("Alibi Bag Rag"). If it sounds like way-inside-baseball, good news: you needn't get a single reference to enjoy Dana's inventive songwriting and the pair's beautiful performances.
Eric George – Song of Love

I've compared Eric George to Woody Guthrie more than once. Woody's would not be the first name that comes to mind on George's new EP, though. On Song of Love, the folkie radically switches genres to gritty garage-punk. It sounds like an awkward fit on paper, but George wears the new sound surprisingly well. A raucous band allows him to break out of the Dust-Bowl-balladeer mode for a high-energy set that boasts his trademark tight and witty songwriting in a very different context.
Fever Dolls – Adeline

Fever Dolls' forthcoming debut is shaping up to be one of the best albums of the year. Songwriter Evan Allis's quote about this song says everything you need to know about this band: "[Singer Renn Mulloy] and I spent years playing in different bands with people that wanted to make Radiohead's Kid A, while we were trying to make Disney's The Kid."
The Fobs – Pest

Pretty much every song on The Fobs' Golden Thread has a sing-along hook. They're usually wordless, and ideally accompanied by fist-pumping. One even channels Tom Petty with some "Oh yeah! All right!"s. That raucous energy never lets up on this manic blast of garage-punk power. Every song on this album sounds like it should end with an instrument being destroyed.
Meg Rice – Now or Then

I earlier mentioned above how longtime folkie Eric George moved away from folk music on his new EP. Well, he sticks closer to his roots on Meg Rice's new EP, which he produced and got additional liner-note nods for "bass, banjo, mandolin, drums, all around street cred." Rice, also of great indie-rock band Julia Caesar, emerges as a clear star here. On the title track, her writing is smart and funny (best line: "I've been on the loose, doing what I pleases / Staying up all night, eating drugs and grilled cheeses"), with a clever nod to Johnny Cash's "Ring of Fire" worked in too.
Michael Chinworth – Good As It Gets

There's a big pop-radio hit buried in Michael Chinworth's "Good As It Gets." Actually, there might be five or six. Half pop ditty and half sound collage, the song packs a lot of ideas into six minutes. If you told me this was an experimental composer's remix of a Passion Pit hit, I'd believe you.
Obq – One Wish at a Time

When I first stumbled upon E.D. Friedman, he was recording post-rock under the name Erda. The name has changed, and the genre a bit too. His new album as Obq incorporates '70s metal and progressive rock influences. What hasn't changed is his talent, playing every instrument on this complicated music (except synth-bass on the opening track… yes, this is the sort of album that has synth-bass).
Plastique Mammals – Intro

When I last wrote about instrumental duo Plastique Mammals, I focused on their inventive song titles. Their new EP doesn't disappoint there. "She Found She Had Grown Antlers" sounds like some lost fairytale, and "Tiger Woulds" is a pun just dumb enough to work. Yet the standout track for me is the benignly-titled "Intro." Even that title, though, misdirects a bit. For one, this so-called "intro" is the second-longest song on the album. And it's no mere place-setting, but rather a fully realized composition that invites you into the band's mediative world.
The Sweet Remains – Music Fills The Spaces

There was a music-Twitter thread recently shouting out songs where a band says their own name. My nomination was the Hold Steady's "Positive Jam" (or "The Swish," or "Killer Parties"… they say their name a lot). Add the new song by long-running Americana trio the Sweet Remains, now spread out across the country (Burlington, NYC, Phoenix), to that list.
Troy Millette – Magnolias

Millette's new EP Living with a Ghost offers an array of moods. "Home" offers a country-pop love song you could hear a Nashvegas star having a hit with. Even better is the subtler and most singer-songwritery "Magnolias." It's less likely to be a modern country radio hit and more like something you might stumble across on a beat-up old John Denver LP.
Viu ft. Maya, Learic – Blue

I can't find much info about this song (Google doesn't do well with all these one-word names), but I do know that Learic is a longtime Vermont rapper who, with The Aztext, recorded one of the best songs of 2018. "Blue" is a good electro-pop banger like a less-obnoxious Chainsmokers, if that's not too much of an oxymoron.
Zak Kline – I Will

Vermont pop singer Zak Kline offers a David Bowie quote on his website: "It's terribly dangerous for an artist to fulfill other people's expectations. If you feel safe in the area that you're working in, you're not working in the right area." The face-painting on his new single cover channels Bowie too, as does the boldness of his new sound. Genre-wise, though, it's closer to empowerment Bon Iver than Bowie. Beautiful layers of vocals, violin, and percussion cascade around what will inevitably be one of the finest songs of the year.