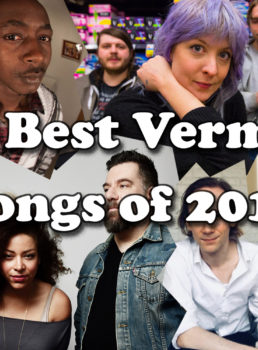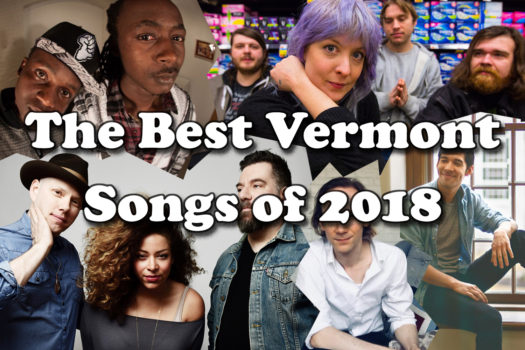 I tried to discern some overarching theme with this year's Best Songs list. One has to write something in these intros, after all. I never came up with one (other than that the songs are all, you know, good). But maybe that diversity itself offers a narrative thread.
The only thing many outsiders seem to associate with Vermont music is jam bands. Mostly one jam band, really. Now, I'm sure learning that Vermont has other genres wouldn't surprise any outsider. But learning that the music being created in those genres is equally vibrant – and equally supported by the local music scene – might.
This particular insight will not be news to anyone who lives in the state. But I hope non-Vermonters who've stumbled across this list will discover a new favorite among the wide array of sounds being produced in the state. The VT Top 40 [update: It's now a Top 41, because it turns out I can't count] below span hip-hop to folk, indie rock to bedroom pop. Every genre except, really, jam band. Though, at risk of perpetuating the stereotype, a couple do veer close.
41. Deep River Saints – Saved By the Asphalt
The sepia-toned cover of Deep River Saints' new album seems to place it firmly in the Americana realm, but Patrick Crowley's band has some surprises up its sleeve. Album highlight "Saved By the Asphalt" starts with ambient pedal steel and what sounds like rhythmic intakes of breath, before gradually transitioning into what sounds like a pop song played by a bluegrass band with a prog-rock guitarist sitting in.
40. Willverine – Oh Beauty
Willverine's elevator pitch has always been straightforward: synth-pop, with a trumpet. But that description always implied a novelty ceiling the songs rose above. On previous releases, Will Andrews worked prominent trumpet lines into fully-realized pop productions. His new single, though, breaks the formula. Despite the cover art, I don't hear any actual horn. And that's only a loss for the elevator pitch. Assisted by a wonderful female vocalist, "Oh Beauty" presents one of the most memorable songs in Andrews' career, bringing elements of folk music and dub into the pop sphere. BYO trumpet.
39. The Rear Defrosters – Gentleman Farmer
"Gentleman Farmer" sounds like an old-time country hoedown, the sort of thing Hank Williams might have written, or that Levon Helm might have goofed around with in the Woodstock barn. The similarity is no accident. The Rear Defrosters began as a country covers band, honky-tonking through Jimmie Rodgers and Dwight Yoakam tunes for beer-drinkers. Any material they wrote themselves would need to slide seamlessly into their sets. To do so, frontman Michael Roberts channeled Grand Ole Opry star Little Jimmy Dickens for a track gently poking fun at his own farming abilities.
38. Abby Sherman – Wanting to Run
A jaunty mandolin and catchy chorus makes "Wanting to Run" the high point off Abby Sherman's debut album Finding Hope. It must have gotten stuck in my head a dozen times since the album dropped in July.

37. Zack Dupont – Grace Morrow
Wonderful acoustic duo The Dupont Brothers are no more. Or, rather, they've morphed into the apparently more indie rock-leaning SoundBrother. For those folk fans missing the old sound, one Brother dropped a beautiful EP that nudges the train back toward the singer-songwriter side of the tracks. Don't let the modest Bootlegs Vol. 1 title deceive you. Despite implying half-finished sketches, these songs sound fully polished to me. "Grace Morrow" proves the standout track, with a melodic chorus that gently works its way into your head.
36. Princess Nostalgia – Gestalt Switch
Singer-slash-songwriter-slash-producer-slash-college-student Lilian Traviato grows with each song. Her latest, only a few weeks old, might be her most realized production yet. Certainly her catchiest.
35. Eric George – Gentrification Rag
They say no one writes protest songs any more? Tell that to Eric George, whose "Gentrification Rag" sounds like Phil Ochs transported to the 21st century. "The streets are cleaner but the people are meaner, trying to make the fake grass look greener," he sings in this funny but pointed ode to an oblivious yuppie trying to "improve" their new neighborhood.
34. PREECE – Girl in My Bed
PREECE cites Social Distortion, The Descendents, and Bad Religion as influences, and you hear every one of them in his band's music (the latter especially). But they equally incorporate subsequent waves of punk bands, the poppier sound that reigned in later years like Fall Out Boy and Blink-182. Though not totally goofball like Blink, "Girl in My Bed" incorporates a silly side that would fit right in one of those albums. The punk sound may be raging, but not without a smirk.
33. Chazzy Lake – A Stranger Time
Charlie Hill writes an anthem for local musicians everywhere constantly dragged to their peers' basement concerts. After some funny sing-speaking verses that channel Lou Reed (with the Randy Newman-esque touch of backing singers who criticize the singer), "A Stranger Time" climaxes in a chorus of musicians' catharsis: "I'm not gonna go to your shooowwwwww!"
32. Old Sky – The Right Mood
The first new song in two years from guitar-and-fiddle duo Andrew Stearns and Shay Gestal rocks a little harder than anything they've done in the past, electrifying their sound just enough to not offend the Americana purists. Gestal's fiddle remains a highlight, working wonderfully with the more uptempo rhythm. The pair's harmonies remain the core though, just rough and ragged enough, channeling Helms both Levon and Amy.
31. Eastern Mountain Time – Darker Now
Sean Hood released a full-length album as Eastern Mountain Time only last year, but he's already returned with several new singles (and a George Strait cover) this year. They find him moving beyond the Americana box, with hints of a more expansive palate channeling The War on Drugs reverb-rock. The Doors-y organ on "Darker Now," the best of the bunch, adds a nice psychedelic flair.
30. Josh Brooks – The Devil Taught My Mama How to Pray
A murder ballad about slowly murdering yourself, "The Devil Taught My Mama How to Pray" sounds like the spiritual sequel to Townes Van Zandt's "Waiting Around to Die." It took me a few listens before I realized Brooks himself clearly made that connection; one verse includes the nod "Started putting needles in my arm. Seemed better than just waiting around." Brooks says he imagines an alternative version sounding like the White Stripes, but this spare and haunting performance offers plenty of passion with minimal instrumentation.
29. Seth Yacovone Band – The Weary Oar
Blues-rock vet Seth Yacovone primarily earned his reputation on killer live shows. His albums provide fodder for extended jamming and furious soloing in concert, with the original recordings sometimes seeming like mere templates for further exploration. "The Weary Oar," though, emerges fully realized. This sailors' drinking song sounds like something that could slot right into the next Pirates of the Caribbean movie.
28. James Kochalka Superstar – Parking Lots and Mountain Tops
In my writeup on cartoonist James Kochalka's new album in January, I highlighted a number of the funnier selections: "Queen Latifah's Teeth," "I'm So Woke," etc. The song that became my favorite over the course of the year didn't jump out at me immediately though. There's no obvious joke with "Parking Lots and Mountain Tops" beyond a general whimsy. It's a love song, and a heartfelt one. Turns out this humorist can do that too.
27. Bow Thayer – Looney Brook Road
"Looney Brook Road" pushes Bow Thayer outside his typical bluesy-Americana lane. Ambient and spacious, this sonic tour de force takes its meandering time getting to anything like a lyric. When words finally arrive, they sound like the Beatles at their trippy late-period peak, part Sgt Pepper and part White Album and part Paul side-eyeing Yoko in the corner.
26. The Filters – Learning to Go Underwater
No other album this year had three separate songs vying for this list. I ultimately picked the title track due to its chiming guitar lines, propulsive rhythm section, and vocal hooks I couldn't get out of my head, but you should listen to "Time & Again" and "Arms of the Ocean" too. Better yet, just get the full album.
25. Ballroom Sofa – Cool Kids
"Cool Kids" channels Mazzy Star by way of Smashing Pumpkins, wrapping wonderful dreampop melodies around touches of country guitar and ethereal choral harmonies. It's the sort of subtle blend that, in lesser hands, wouldn't add up to more than pleasant background music. But, through tight writing and impeccable production, Ballroom Sofa crafts a track that unostentatiously draws your attention in.
24. The Giant Peach – Want
An art-rock band from a small New England college? It's worked before. And like the Talking Heads, The Giant Peach have ambition in spades. The eight songs on their debut album Pulling Teeth feature 14 credited players, including a saxophonist, trumpeter, and five separate backing vocalists. It pays off on lead single "Want," a massive, triumphant explosion of sounds.
23. Kelly Ravin – Break My Stride
As with most Kelly Ravin albums (including the one that gave this blog its name), plucking just one song out of context can prove challenging. Opener "Leo" grabbed me first, but "Break My Stride" eventually stood out due to an arrangement that extends beyond Ravin's usual country-rock barebones basic. Lyrically and musically, it's up with Ravin's moving and harrowing best. The wordless and haunting backing vocals on the chorus, a sound I'd never heard in his music before, push it over the top.
22. Guthrie Galileo – Wishes
When we last heard from producer and singer Guthrie Galileo, he was creating political electronic music with samples of a Trump rally. He brought a lighter touch with his new single "Wishes," a sensual jam in the vein of Miguel or Maxwell. He's released a couple more singles since then, all swirling and swooning electronic slow-burns, boding well for whatever longer project he's working on.
21. Cole Davidson – Hold Me Down
Former Navytrain frontman Cole Davidson's tender slow-burn "Hold Me Down" incorporates his trademark funky fingerpicking into a wonderfully layered production. It would take a sonic surgeon to pick apart all the different elements at work here.
20. A2VT – Faas Waa
Under the names Jilib and MG Man, African refugees Said Bulle and George Mnyonge blend English, Swahili, and Jilib's native Maay Maay for a catchy dancehall bounce. The music video's opening moments offer the perfect metaphor: a traditional drum collective, the sort of tasteful world-music group you can imagine performing on all sorts of respectable American stages. Then A2VT busts through the door and the rowdy electronics kick in. It reads as a cheeky repudiation of a "world music" so reverent to its own history that it can't move forward, from a band that won't be bound by tradition.
19. The Smittens – Love Is a Word
If the title recalls Joan Baez's Bob Dylan-penned "Love Is Just a Four-Letter Word," the sentiment couldn't be more different. Where that was a typically caustic take on romance, the Smittens' twee gem brings more optimism. Singer and songwriter Missy Bly delivers a pure little nugget of catchiness, offering a bit more uplift than Bob and Joan.
18. Henry Jamison – Boys
No matter how well-intentioned, an album investigating toxic masculinity sounds, frankly, exhausting. But if anyone can pull it off, we expect it's Henry Jamison, the singer-songwriter who deploys a subtle wit and sympathetic touch to every story he tells. We won't know for sure until Gloria Duplex drops in February, but the single "Boys" bodes well. Over plucked strings and ethereal harmonies, Jamison sings about young men's anger from a place of empathy, not scorn. "Sittin' at a boardwalk bar drinkin' a whiskey, feeling all the rage of a modern man," he sings. "We used to feel our rage just like the sea, now we get it on an installment plan."
17. Aviation – Invisible Boy
In 1980, Queen delivered one of the great superhero theme songs of all time with the bombastic "Flash." If the Invisible Boy were a superhero, Aviation gave him an equally epic theme song. Over six minutes, piano crescendoes, scorching guitar solos, and canned applause build to a whimsical glam-rock triumph. Despite the grand title, he's not a superhero, though. In fact, as you discover over the course of the song, he's just a lonely kid who sits by himself at lunch. Maybe lonely kids deserve theme songs too.
16. Zeus Springsteen – Your Funeral
When I wrote about Zeus Springsteen's new album, I focused on the song about the sexual assault-avenging robot (because, how could you not?). But equally impressive, if less head-spinning, is post-punk rocker "Your Funeral." The lyrics are sharp and witty, occasionally hilarious and sometimes edgy. There's a radio edit for this song, but it's more than curse words that might not fit on the FM dials. Take this cheery sentiment: "When you die, I'll sing at your funeral / And I will woo and bed your hottest friends / And when I close my eyes, I'll picture you up in the sky / Looking down on us and crying."
15. Doom Service – Miner Forty-Niner
This short blast of pure punk power channels the likes of Thursday or The Juliana Theory. And in the tradition of those bands, the volume only abates for brief choruses of fists-in-the-air, shout-along catharsis. Tooth & Nail Records celebrated 25 years in 2018 and, musically, "Miner Forty-Niner" sounds ripped straight from their catalog.
14. Bison – Arkansas
Post-punk trio Bison topped our Best EPs of 2017 with their debut Get In. Sadly, one year later, they got out. They retired with a bang though on final single "Arkansas." Following in the lineage of Interpol or, reaching back further into music history, Gang of Four, the trio winds intricate guitar and bass riffs towards a holler-along chorus.
13. The Aztext ft. Xenia Dunford – Everyday Sun
On rap duo The Aztext's new single "Everyday Sun," Americana songwriter Xenia Dunford (more from her in a minute) proves herself a perfect hook singer. The blend producer Rico James creates with her voice and an infectious horn line sounds like a '70s Stevie Wonder jam. Rappers Pro and Learic unfurl a clever sunrise/sunset metaphor in their verses, and Dunford's hook brings the hopeful uplift fitting the music.
12. Why Nona – Masks and Cults
The emo revival is alive and well in new quartet Why Nona, which channels everyone from relative O.G.s Jimmy Eat World to young guns Modern Baseball. Catchy as hell, "Masks and Cults" builds hook upon hook to narrate a dream imagining what it would be like to date a movie star. The dream isn't as happy as you might think. This is emo, after all.
11. Nina's Brew – Don't Tell Mama
Nina's Brew's debut EP Don't Tell Mama opens with confidence, the instantly catchy title track belying the fact they haven't even been a band for a year. But the three members have plenty of individual experience, with singer Giovanina Bucci putting out several solid folk-pop albums over the past decade. She shines brighter in this full-band context though, allowing a more muscular side of her voice to blast forth. It's swampy roots-rock that channels Hurray for the Riff Raff or Alabama Shakes.
10. Dave Richardson – Waiting for the Sunrise
On an album with ambitious songs using metaphors of squids in museums and foxes eating field mice, the simple folk song "Waiting for the Sunrise" doesn't force its way into the spotlight. But over repeated listens, the beautifully lilting melody and wonderful call-and-response harmonies between Dave Richardson and Liv Baxter make it stand out. And, though those two steal the show, shoutout to the wonderfully understated rhythm section Mali Obomsawin (bass) and Ariel Bernstein (drums) who perfectly propel the song forward with subtle jazz touches.
9. Madaila – Where Do We Go from Here?
"Where Do We Go from Here?" Madaila asked at the beginning of the year. The answer, as it turned out, was nowhere. The biggest band to emerge from Vermont in the last couple years sadly broke up this fall. Other recordings apparently sit in the can, but it remains unclear whether they'll ever see the light of day. If "Where Do We Go from Here?" becomes Madaila's swan song, it's a fitting one, a melancholy protest song that incorporates the band's best tricks – tight dance-pop production, inventive arrangements, and Mark Daly's knockout falsetto – while pushing them in some slightly different directions.
8. Ben Patton – Maybe I Live to Make You Happy
Ben Patton's new album Meaning What blends dozens of genres – often all within the same song. Try and count how many he pulls from in the brief "Maybe I Live to Make You Happy" alone. I hear doo-wop, Broadway musicals, and a barbershop quartet. There are longer and arguably more ambitious songs on Meaning What. But the harmonies and melodies in the largely a cappella opener prove impossible to shake.
7. Dwight & Nicole – Wait
"Sometimes I hear a song and go, ahh I wish I wrote that one," said none other than Melissa Etheridge, when she joined Dwight & Nicole on stage to sing "Wait" earlier this year. The praise is earned, and the connection is clear. Nicole Nelson's showstopping vocals do indeed channel Etheridge, particularly when she belts that chorus. First posted on YouTube last year, the song finally got proper release on the band's new Electric Lights, which supposedly teases their first full length in five years.
6. Richard Ruane and Beth Duquette – Ellie Brown
"Ellie Brown" sounds like an ancient folk tune, something Joan Baez might have covered in her Greenwich Village days. So much so, in fact, that I spent a minute Googling the lyrics to see where the song came from. Straight from Richard Ruane's own pen, it turns out. Beth Duquette's warm harmonies fill out the sound beautifully. It's not too late to record this for your next album, Joan.
5. British Isles – Hold Your Horses
I named the lead single from Josh Panda's last album the best song of 2016, so it was with some regret I read he's ditching that band, and most of those songs too. But the silver lining is his new band, British Isles, which pushes his latent glam-rock tendencies to the fore. The band's first (and, as of now, only) song, "Hold Your Horses" boasts storming drums, a killer guitar riff, and Panda's soaring vocals. Bonus points for the steampunk-y video. This must be the loudest song this ballet company has ever danced to.
4. Reid Parsons – Charlie
This harrowing short story packs years of a troubled young man's life into four minutes, switching narrative perspectives several times like a sonic The Sound and the Fury. Parsons chooses every word carefully, the few details she provides painting a dark picture. The final line of the first chorus – chillingly emphasized by the music suddenly dropping out – says it all: "But Charlie never listens / He's not like our other children / And if I had to tell you the truth / I don't love him at all."
3. Xenia Dunford – Happy
"She will love you good, give you all I never could, and you will be happy," goes the chorus to the love-gone-sour finale to the first of two EPs returning singer-songwriter Xenia Dunford dropped this year. It's a hell of a groovy soul song, like some epic deep cut you'd find dusting off an old 45. Dunford's voice is the star, but props also to the incredibly tight band backing her.
2. Fever Dolls – Gennifer Flowers
I considered Iron Eyes Cody's debut in 2016 the best album of that year. It marked an auspicious start, and showed a hell of a lot of promise for a baby band. Turns out, it also marked the end of Iron Eyes Cody. Luckily, they've returned under a new moniker, but with the same sound, catchy and whimsical folk-rock with the occasional blaring sax solo. "Gennifer Flowers" is the first song from the rechristened Fever Dolls, a joyous holler-along jolt through some unlikely subject matter. If they remain at this level, Fever Dolls' debut album might live up to Iron Eyes Cody's.
1. Clever Girls – Loom
The quiet verse/loud chorus formula has existed in rock music since forever, but in the last year or so several young women have made the biggest marks of their careers pushing that combination to its holler-along limits (check out Mitski's "Your Best American Girl" & Lucy Dacus's "Night Shift"). Clever Girls' "Loom" offers only a shaker and occasional bass note backing its understated first verse, making it that much more powerful when the drums and massive reverbed guitars crash in for a cathartic chorus: "I would die for you / Any way you want me to."
Now check out the Best Vermont Albums and Best Vermont EPs of 2018.