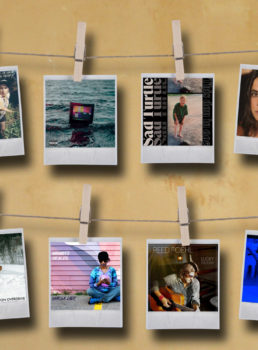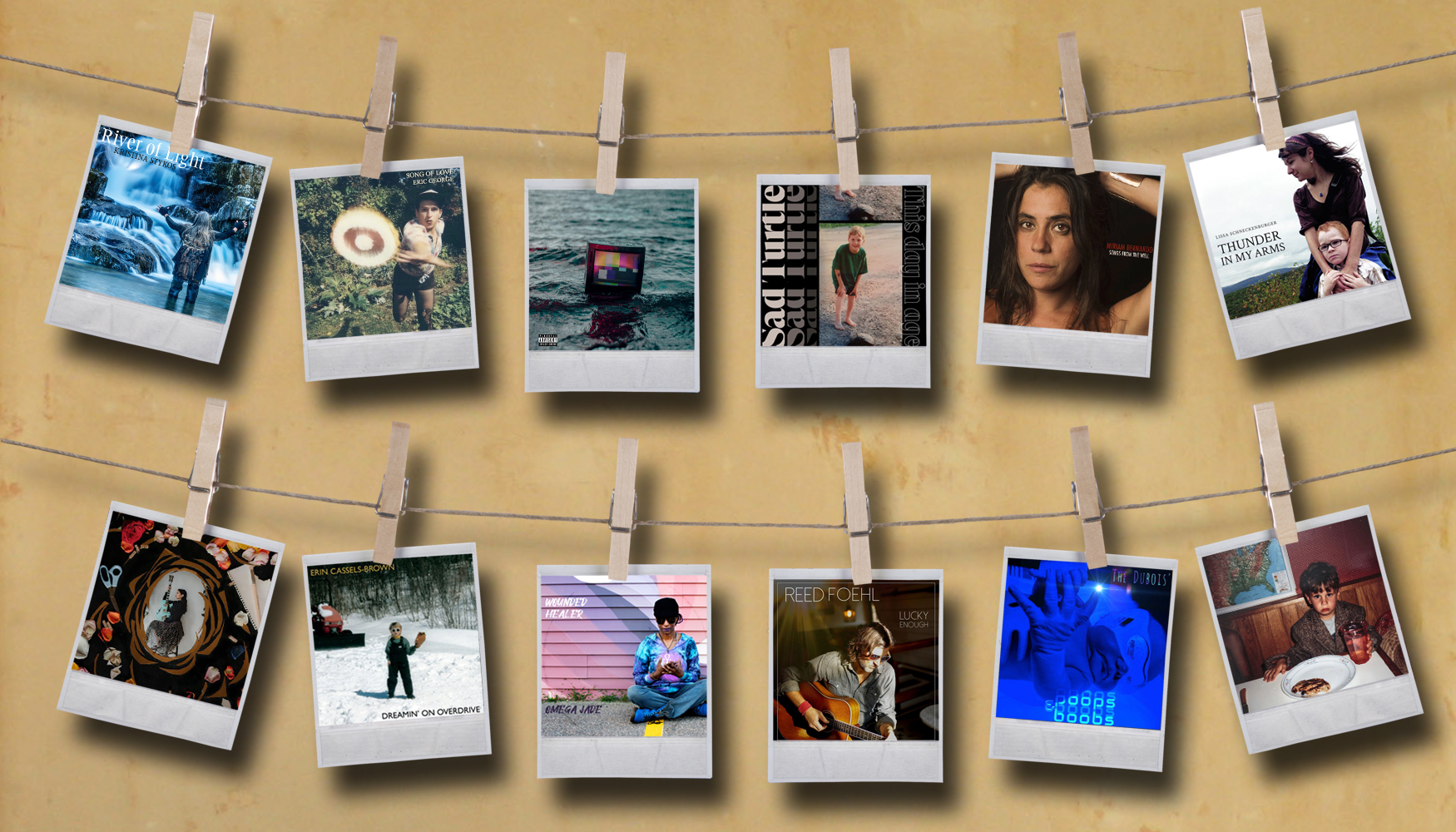 Critics of ranked lists like this see it as a bug that they're entirely subjective and somewhat arbitrary. I see it as a feature. There's not really any difference between #12 and #13. Frankly, there's not all that much difference between #1 and #25. But my feeling has always been, everyone gets that. No one actually thinks you can mathematically rank works of art. But the trying offers a wonderful opportunity for music nerds to look back at the best of the year, and for the sort of vigorous debate on which such nerddom rests.
This year's list was a blast, full of internal debates and the full range of emotions: joy at relistening to my favorite albums and a little heartache at cutting some great stuff (I can only write so many blurbs). I'm sure many people reading this live in Vermont, but if you don't, forget that detail and just think of it as a year-end list that looks very different from every other year-end list you've seen (Spoiler: Lana Del Rey isn't at the top of this one). There's a lot of great music to discover. Hopefully this entirely-subjective-and-somewhat-arbitrary format offers a way in for outsiders, and an opportunity for debate for insiders who already know enough to be outraged by my selections.
25. Expected Guest – Upon Arrival
I first stumbled upon Logan Patnaude's music a couple years ago with a beautiful EP released under the name Dawnlander. It alternated vocal sections with long stretches of ambient guitar noise. With his new project Expected Guest, Patnaude ditches the former and goes all in on the latter. It's also entirely improvised – but don't confuse that for boring or uninspired. Upon Arrival meanders in the best way, the guitar passages layered with drones and field recordings to create a small sonic world.
24. The Dubois – Poops and Boobs RPM #10
An album titled Poops and Boobs does not inspire much confidence. But those expecting an endless stream of potty humor might be surprised. Poops and Boobs is sung by a new parent. And when there's a newborn in the house, poops and boobs are a simple fact of life. So sure, there's still potty humor, but it's informed potty humor, in the service of a funny and irreverent look at the indignities of parenting. This scattershot collection doesn't entirely hold up as an album; Daniel Johnston is a cited influence, which tells you all you need to know ("Baby Noises and Guitar" is exactly that). But some pretty catchy songs lie buried beneath zany sound effects and noise. Just don't expect much sentimentality. "Don't Cry, Little Baby," for instance, sounds like a heartwarming message until you get to the next line: "You're bugging the shit out of us."
23. Katie Trautz – Passage
Over the past decade, violinist Katie Trautz has recorded ten albums, both solo and with other bands. But none contained her own songwriting. She spent that time honing a body of work, and finally released some of it this year. The compositions on Passage hardly sound like the work of a novice. The title track, written in the three grief-stricken weeks between her mother's death and giving birth herself, blooms with imagery of healing and perseverance. "We Don't Ask" builds from a banjo-plucked ballad to a life-affirming horn reverie. "Same Old Town," meanwhile, reads like a scene in a one-act play. One surprise on the album, given her past experience: There's little violin. She's been doing that for a decade. Time to try something new.
22. 99 Neighbors – Television
A few months ago, Warner Records and Chance the Rapper's manager announced they'd signed hop-hop collective 99 Neighbors. A day later, the group released its first song on the new label via Zane Lowe's Beats 1 radio show. So perhaps this hip-hop collective is already moving beyond the album they released at the top of the year. The follow-up will no doubt boast bigger production and splashier features. But on Television, they prove they can do it all themselves.
21. Eric George – Song of Love
I've compared singer-songwriter Eric George to Woody Guthrie more than once. Woody's would not be the first name that comes to mind on this EP though. On Song of Love, the folkie radically switches genres, to gritty garage-punk. It sounds like an awkward fit on paper, but George wears the new sound well. A raucous band allows him to break out of the Dust-Bowl-balladeer mode for a high-energy set that delivers his trademark witty writing in a very different sonic context.
20. Princess Nostalgia – Thank Heavens 4 Opposable Thumbs
Since her last album two years ago, Lili Traviato's been dropping a steady stream of polished-perfect singles that have generated glowing attention in her new hometown of Burlington, Vermont. Not bad for a college student. She rounds up some of those loosies and adds a bunch more on the just-released Thank Heavens 4 Opposable Thumbs. Ever restless, she even tweaked some of those earlier singles with new arrangements and effects. One thing hasn't changed: She does it all herself, from the writing to production to the impressive artwork.
19. Spencer Lewis – Riffs on a Broad Reach
Across 27 or so albums (!), Vermont contemporary composer Spencer Lewis sometimes gets tagged as new age music. You wouldn't know it from his latest though. Though instrumental, Riffs on a Broad Reach is more folk-rock than anything (Lewis rechristens the genre "folkthatrocks"). It makes for beautiful background music, but offers enough riffs, melodies, and intricate full-band performances to grab ahold of for more active listening too.
18. The Bubs – Golden Thread
Every song on The Bubs' Golden Thread has a loud sing-along hook. They're usually wordless, and ideally accompanied by fist-pumping. Live, this enormous collective has a half dozen singers strictly on "holler-along" duty (they jump a lot too). That raucous energy never lets up on this manic blast of garage-punk power. Every song sounds like it should end with an instrument being smashed.
17. Sad Turtle – This Day in Age
The song titles on Sad Turtle's 2016 debut were all Seinfeld references ("The Marble Rye," "Feats Of Strength," etc). But the songs weren't explicitly about Seinfeld. They weren't explicitly about anything, in fact – that's what happens when you're an entirely instrumental band. But don't think ambient or background music when I say "instrumental." Even without words, Sad Turtle demands attention on their followup. Their freewheeling but intricate constructions pull from those hyphenated rock genres like math- and post-.
16. Omega Jade – Wounded Healer
"This ain't no gangster shit," Omega Jade rhymes on a song titled "G That I Am" (she soon clarifies that "G" stands for Goddess: "That tops gangster, fam.") You'd be forgiven for thinking it is after a cursory listen to the rapper's debut Wounded Healer. But the album's many disses and lyrical barbs are directed less at other rappers than at no-good men in her life and, above all, at herself. Coming from a background in standup comedy, she brings a savage wit to songs she's been workshopping for several years. But, like many standups, the humor comes in the service of getting real – about parenting, about her own flaws and insecurities, and about trying to be better today than she was yesterday. She can be funny, but she's dead serious.
15. Erin Cassels-Brown – Dreamin' on Overdrive
After an earlier EP in a folkier vein, Dreamin' on Overdrive presents a proper band album of full-throated roots-rock -emphasis on the rock. From barrelhouse piano on "No Good Man" to the shred-your-voice chorus of "Classic Records," Cassels-Brown channels various facets of The Band, putting his quiet folkie side square in the rearview.
14. Sabrina Comellas – Sabrina
The Vermont-via-Long Island songwriter delivered a stunning set on her assured debut, tackling subjects from Shakespeare ("Romeo") to protest ("What the World Looks Like"). Her vocals take center stage – she was recently nominated for Best Vocalist by her hometown paper, and deservedly so – but listen close to catch her guitar work, inventive licks and finger-picks that gently nudge the songs forward.
13. Reed Foehl – Lucky Enough
Songwriting veteran Reed Foehl has had a couple years of geographic instability. After living in Colorado for almost two decades, he planned a big move to Nashville in 2017, to capitalize on new opportunities opening up after country icon Lee Ann Womack recorded a song of his. On his drive down, though, his mother called. She had lymphoma, and needed him at home in Massachusetts. He turned the car around, and spent the next year and half there caring for her. After she passed, he headed to Austin to record the songs he'd written during that time, then moved to a barn in the tiny town of Pownal, Vermont. It's a stark journey, reflected in the songs on his moving fifth album Lucky Enough, recorded with roots favorites Band of Heathens as his backing band.
12. Matthew Mercury – Matthew Mercury
You can trace the entire lineage of post-punk through Matthew Mercury's self-titled debut album. The dark and thundering "Contessa" sounds like Joy Division or The Cure, while the peppier "Dark City" brings in elements of Duran Duran. Frontman Ezra Oklan kept the production all analog to emulate those '80s touchstones. The results don't come off as an exercise in nostalgia, though, as much as a modern homage. Oklan's longtime collaborator Matthew Dublin writes the lyrics but doesn't perform with the band – he's the Bernie Taupin to Oklan's Elton John. Dublin's enigmatic lyrics can be hard to pin down, but convey a slightly wry angst (very post-punk!).
11. Blackmer – Rinse. Repeat.
Singer-songwriter Sam DuPont has appeared here before in his Everlys-channeling folk duo The DuPont Brothers. Well, the DuPont Brothers are no more, and while their new indie-rock band SoundBrother gets underway, they've been working on solo projects. Zack DuPont's new EP was a highlight of last year, and his brother followed it up with the beautiful Rinse.Repeat, released under Sam's middle name Blackmer.
10. Miriam Bernardo – Songs from the Well
Miriam Bernardo's debut record took her five years. It was worth the wait. A close collaboration with producer friend Peg Tassey – her name's not on the cover, but she's otherwise everywhere here – the album sees Bernardo pulling songs from a long list of friends and bandmates. Most notable among them is perhaps recent Tony-winner Anais Mitchell, who said Bernardo "seems to sing from a deep place in her body, [like] there's a pure, direct line between her voice and spirit." Her voice is certainly the star, and couldn't have a better musical bed on which to lie, with inventive arrangements and production that sit back where necessary, but burst forth with swooning accordion ("Just One Taste") or jittery percussion ("Contraption") when the moment calls for more.
9. Henry Jamison – Gloria Duplex
Describing Henry Jamison's album makes it sound like a term paper, well-intentioned but tedious. The press release describes it as "a musical journey towards understanding the role of straight, white, middle class American men in – and their larger responsibility in undoing the deep-seated patriarchal aspects of – modern-day society." And it is that, to be sure. But Jamison's finesse with a melody and Thomas Bartlett's quirky productions make the straight talk stick. Far from a lecture, Jamison points the finger inward first, interrogating his own actions and impulses.
8. Strangled Darlings – American Pageant
The sounds that Strangled Darlings make seem like cousins to many artists, siblings to few. For instance, there's a good bit of Tom Waits in their unruly arrangements, but their voices are far prettier. Amanda Palmer comes to mind too, but this duo veer more towards folk than cabaret. The closest I've come up with is Tim Fite – and that's a useless comparison, because no one knows who he is. They have one song about Harvey Weinstein, and another about a supporting character on Justified. Truly, this strange brew is all their own.
7. Lissa Schneckenburger – Thunder in My Arms
The second in an extremely micro trend this year: Traditional violinists recording their own compositions with minimal violin (see Katie Trautz above). And not compositions that sound like old reels and jigs either, but contemporary folk-rock songs that sound like the 21st century, not the 17th. In Schneckenburger's case, she brings in horns and strings and other vocalists to channel jazz-tinged pop singers like Norah Jones ("I Need Us Together") and Regina Spektor ("I'll Stick Around"). A concept album in a loose sense, Thunder in My Arms centers around parenting. "In my attempts to be a better parent, I found plenty of invaluable books and workshops that got that point across, but no songs," she writes. "I set out to write songs that would resonate with other parents like myself. Songs about loneliness, exhaustion, beauty, abandonment, love, loss, and above all, hope."
6. boys cruise – Jerry
Like early Best Coast or Ty Segall, boys cruise packs a lot of pop smarts in a sloppy package. Their debut album sounds like Motown songs as performed by one of those one-hit '60s garage bands on Nuggets. Also like Motown songs, the sonics can conceal some unexpectedly moving lyrics. Silly party-rock energy masks minimalist bummer poetry. Ask them about it, though, and the mischief returns. Turns out the whole thing was inspired by their dead rat Jerry.
5. Ernest – I'm Gonna Do It (Anyway)
Mark Daly almost called his debut solo record Pop Song Playbook. That's more or less what it is. As a writing exercise, he studied pop songs, figuring out the sonic tricks major chart-toppers employ. Then, with tongue only partly in cheek, he brought them to his own songs. It's hard to believe he needed the help – his recently-resurrected band Madaila featured some serious pop hooks without the homework. But it pays off on this sprawling double album, an upbeat electronic first half followed by a quieter acoustic second half. No matter the sound, his pop instincts remain sharp. The next curious songwriter should just study him.
4. Cricket Blue – Serotinalia
Few bands entered 2019 with as much ambition as Cricket Blue. And this is, bear in mind, an acoustic-guitar folk duo – seemingly the simplest of setups. But they don't do simple. Every line on this mesmerizing record was honed to perfection over months or years, as Laura Heaberlin and Taylor Smith craft short stories in miniature (or not so miniature, in the case of 12-minute epic "Corn King"). That level of attention to craft could easily lead less careful players to an overstuffed mess, but part of their skill comes in paring back. Though many songs feature complex orchestral arrangements, they prove just as impressive on a simple folk song like "Little Grays."
3. Tom Pearo – I Am a Mountain
Though guitarist Tom Pearo's album has no lyrics, I Am a Mountain tell a very specific story. Think a coming-of-age road journey as told by J.R.R. Tolkien. The phrase "39-minute instrumental guitar piece" will send many running for the exits without a little hand-holding, so Pearo offered an exhaustive guide to the "plot" of his album. Like in any movie, there's a cast, in this case made up of the instruments (very Peter and the Wolf). The Earth is portrayed by the bass, The Wind by the strings, The Rock by the drums, and The Path by Pearo's guitar. The plot is too intricate to summarize here, but you'll hear it in the music – wandering, but never aimless.
2. Kristina Stykos – River of Light
Kristina Stykos' songs of the earth and of freedom remind me of Buffy Sainte-Marie. Her voice, on the other hand, sounds almost the opposite of Buffy's tremolo belting. In 2017, the veteran singer, songwriter, and producer lost her voice due to a neurological disorder. It never fully came back. So Stykos, who's been singing since the 1970s, had to adjust. In some ways, with a weaker voice, her singing has never been stronger. Like Leonard Cohen, she compensates for limited range with a powerful understated delivery, almost spoken word at times. Frank and passionate, her voice draws you in and her songs keep you there. Far from the sound of a singer struggling to overcome a handicap, River of Light ultimately celebrates life and living. In both the music and the lyrics, it chronicles fighting through tough times with grit and determination and never, ever giving up.
1. Hallowell – Hallowell
Joseph Pensak, the man behind Hallowell, may be a a Presbyterian pastor singing spiritual songs, but his music wouldn't fit on any modern Christian rock playlist. The obvious comparison point is Sufjan Stevens, both for the light religious touch and the baroque instrumentation (20 musicians deep on this album with strings and horns and more). The two also share a mentor: the leader of the adventurous and experimental band Danielson, who years ago released Stevens' seminal Seven Swans album. Just as Stevens has alternated his own songwriting output with many Christmas albums, Pensak mixes his own compositions with new arrangements of centuries-old hymns, like "Pass Me Not, O Gentle Savior" – practically a Lumineers song in Pensak's reimagining.
Now check out the Best Vermont EPs and Best Vermont Songs of 2019!