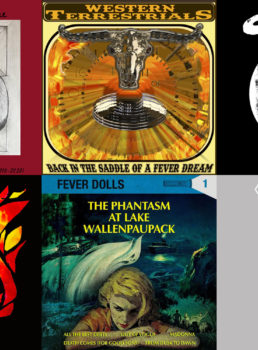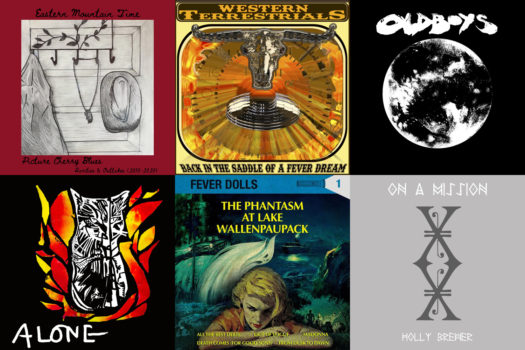 We're back! After a summer away on paternity leave (can a blog take paternity leave? well, we did), County Tracks returns with a supersized roundup of everything that went on while we were away.
This is, as always, "we" in the proverbial sense. It's really just me, Ray Padgett. And I have my second book out this week! It's about music, of course. Specifically the history of tribute albums, as told through the fascinating story of one in particular (1991's I'm Your Fan: The Songs of Leonard Cohen – which, even if you don't realize it, is the reason you know the song "Hallelujah"). It's in the great 33 1/3 series of small books on specific albums. Hope you'll check it out! Preorder links and more info over here.
Now, onto the music…
Abby Sherman Band – The Road

"The Road" is the first song on Bandcamp that Vermont singer-songwriter Abby Sherman has billed as being by the "Abby Sherman Band." A minuscule rebranding, but one that feels significant. Whereas her best song last year was a stripped-down dirge, "The Road" features a muscular alt-country backing group giving her melody some heft. Special props to whoever played the country-Mark-Knopfler guitar solo.
AHKUBA – Rise

The band name and dark-woods album cover make AHKUBA (all caps, of course) seem like a metal band. But their five-years-in-the-works album Be Good to YourSelf – very un-metal title – draws more from free jazz and prog rock. Primarily led by Ryan Berg's drums and Greg Hesselton's bass, with sprinklings of guitar almost as a garnish, songs like opener "Rise" do get heavy-metal loud at times, but never at the expense of losing their weird prog-jazz edge.
Bent Muffbanger – Harmony

Fuzz boxes to 11! Bent Muffbanger's song "Harmony" does indeed feature some of its namesake harmonies, but they're buried beneath a joyful noise. You expect a J Mascis solo to break out at any moment. Should have been called "Distortion."
Bishop LaVey – Everything Will Be Fine

You know that viral cartoon of the dog sitting in the middle of a burning room saying "This is fine"? The wildfire on the single cover of doom-folker Kane Sweeney's "Everything Will Be Fine" evokes a similar contrast. He rages far louder on his death-metal side project OrphanWar, which also released an album this summer, but this is more of a low simmer.
Bison – What (Live)

Vermont's greatest post-punk band (there's more competition than you might think) didn't last long; just a couple EPs before they went their separate ways. So a new song, debuted posthumously on a live album, is a cause for celebration. Too bad it never got a proper recording.
Eastern Mountain Time – The Arcades

The title line echoes, perhaps unintentionally, "I Want to See the Bright Lights Tonight," but the sound is far bleaker. Maybe if Richard and Linda Thompson had recorded "Bright Lights" for their divorce album a few years later. "I wonder if my best friend would like me now," Sean Hood moans at the end. From the way he says it, you already know the answer.
Fever Dolls – From Dusk to Dawn

After dribbling out killer singles for over a year, art-pop collective Fever Dolls finally release a long project, the EP The Phantasm at Lake Wallenpaupack. "From Dusk to Dawn" leans a little folkier than their earlier singles, but retains the band's typically astute sense for an earwormy hook. One other thing remains the same: A fantastic video.
Francesca Blanchard – Like a Hurricane

No, "Like a Hurricane" is not a Neil Young cover. But then again, the lead single on Francesca Blanchard's new album Make It Better was titled "Baby," and that wasn't a Justin Bieber cover either. (Though I'd like to hear the covers album that tackles both Bieber and Young – after a few minutes looking, the closest I found was Florence and the Machine, who has covered them both live). Blanchard's "Like a Hurricane" sounds nothing like Neil's, but, in it's quieter way, it's just as turbulent.
Good Morning Gils – Stay Afloat

Though the following song on their EP is called "September Vibe," "Stay Afloat" evokes summer. Echoey guitars and the low level of haze settling over the track recall Surfer Blood and The Pains of Being Pure at Heart. It's the sound of hanging at the beach and bumming around with your friends. So hang onto it until next summer when those are hopefully things again.
Holly Brewer – On a Mission

If Trent Reznor ever collaborates with Ani DiFranco, it might sound like "On a Mission."
Jewelry Company – West 71st

The band's name is Jewelry Company and the album cover is a bunch of pills. That pairing of living the high life on the outside while being pretty torn-up on the inside echoes The Weeknd or Drake, and indeed those are two obvious touchstones on this EP. It's hip-hop in the broadest sense, sung as often as rapped, but over lusher beats than Drake might use to the same ends.
The Lounge Wizards – No Strings Attached

"No Strings Attached" is simply a statement of fact. The instruments in question – saxophone and various forms of synth and drum programming – indeed don't have strings. Part free-jazz exploration, part dark-'80s video game, "No Strings Attached" starts far out and only gets farther over its extended runtime.
Maple Run Band – Keep On Truckin'

In an email, Trevor Crist of Maple Run Band told me one of the 12 songs on their album was a classic country cover. "Keep On Truckin'" sounds so much like an old Waylon tune or something, I wondered if this was it. It isn't (the answer turns out to be Roger Miller's "Engine Engine #9"). "Keep On Truckin'" is an original, but some classic-country artist would do well to cover this.
McAsh – Oi (Dang)

A few of these songs have Covid-19 echoes, but this one is less like an echo than someone shouting it directly in your ear. Jokes about bored Googling and supermarkets running out of supplies abound, but one line really sums everything up: "Goddamn you 2020!"
Oldboys – Die to Defy

I don't know what "moon music" is – it appears to involve a lot of cello – but Oldboys' debut album stands just to the side of traditional bluegrass. Aforementioned cello adds a twist to the typical formula of fiddlin' and mandolinin' (of which there is still plenty).
Pons – Subliminal Messages

I remember when, as a kid, I discovered the great Camper Van Beethoven song "Take the Skinheads Bowling" had lyrics that didn't actually rhyme. It sounded like a catchy alt-rock song, only slightly off kilter, and the fact that none of the words rhymed didn't scan as odd. This wasn't Gil Scott-Heron, after all. Pons' "Subliminal Messages" pulls of a similar feat, though drawing from Devo and Kraftwerk more than college rock.
Reid Parsons – Alone

"Alone" is a timelier song that Reid Parsons intended. Though the title screams "lockdown," she first began recording her "bristly, bluesy anthem of self-reliance" in January, and actually completed it just before quarantine began. That's probably why it has a killer band feel; they, all together, recorded a song about being alone. Sure enough, a couple weeks later, it felt like everyone was.
Pro – DanBonics

Last year, the Dubois' came out with an album about infants called Boobs and Poops. It's provided several songs that have soundtracked my new fatherhood this summer (sample lyric about diaper changing: "Please hurry up 'cause my butt is shitty / And I just want to get back to that titty"). Rapper Pro's offers a hip-hop soundtrack for parent life a few years further along.
Rough Francis – Panthers in the Night

"Panthers, in the night / Exchanging glances…" Wait, sorry. Wrong song. "Panthers in the Night" is a raging protest by Vermont's preeminent punk band for the Black Lives Matter era. The instrumentation is credited as "Axe," "Thunder," and "Smash." Sounds about right.
Ian Steinberg – Three Wishes

"Three Wishes" is a more literal title than you might expect. The song has exactly three lines of lyric, each repeated a few times. Each is a wish of a sort: "Carry on without me, it's okay." "I'd love to see you on a brighter day." "Can't these dreams be memories, and these memories dissipate." Like that famous Hemingway six-word story (which I just learned was probably not in fact Hemingway), it says a lot with very little. The ambient guitar and electronic textures gently carry Ian Steinberg's words along.
Rob Voland – Hush Hush

Woozy and weird, Rob Voland's distorted debut sounds like a War on Drugs cassette that's been copied a few too many times. Lyrics? Good luck making them out. But a song like "Hush Hush" is all about vibe, perfect for the lazy, hazy days of summer.
Western Terrestrials – Space Cowboy's Got the Blues

Western Terrestrials has some real old-school country bonafides. On new album Back in the Saddle Again, they duet with Dean Miller (Roger's son) and Georgette Jones (you-can-guess-who's daughter, with Tammy Wynette). They even recorded it down in Nashville. But there's a side story running through too: outer space. No surprise from their band name, I guess. Songs like opener "Space Cowboy's Got the Blues" and "Ethan Alien," which posits that every famous person in their native Vermont is an alien, make the connection clear. And, nodding to the history of the space-obsessed-country-star, they cover Billy Lee Riley's Sun Records classic "Flying Saucers Rock 'n' Roll."