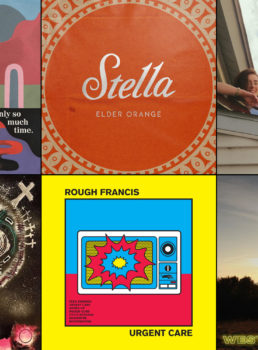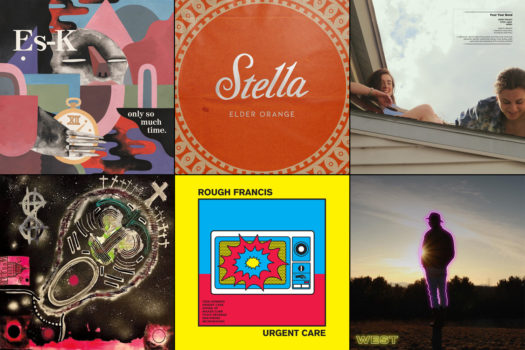 Elder Orange – Stella

Matt Scott, aka Elder Orange, wrote his new EP Stella inspired by his '71 Stella parlor acoustic guitar. But despite the acoustic guitar-influence, singer-songwriter music this isn't. Scott's a producer and composer who builds immersive instrumental soundscapes incorporating that guitar here and there, but not beholden to it. In this case, he says, "Stella is a blend of a lot of my favorite sounds; dusty 60's funk rock laced with boom-bap alt-latin vibes and gritty electro-fusion."
Emily Dumas – It's a Wealth

More folk songs should include jaunty trumpet solos.
Eoin Noonan – Yesterday

This song shares a title with a Beatles song and quotes Meredith Brooks (inadvertently perhaps), but doesn't sound much like either. Noonan wrote on Bandcamp, "This song came out of thin air. It was beautiful but then it went away. This song came back months later and it was quickly recorded in a spare bedroom. Then the world got really crazy. That uneasiness somehow subconsciously seeped into this song. Real natural like."
Es-K – In Due Time

Es-K calls himself a beat-maker. That's true technically, but somehow seems to undersell it. None of the "beats" on his album Only So Much Time feel like they're only half-complete, waiting for a rapper to rhyme over them. In fact, some of them, like the flute-flourished "In Due Time," it's hard to picture anyone rapping over at all. They feel like finished work as is. No words necessary.
Falgar – Ritos en la cueva

At first listen, you might think this was Gregorian chant music. But the songs are in Spanish, not Latin. And Falgar aka. Etienne Tel'uial brings in instruments and sounds you might hear in his native Puerto Rico, which contrast beautifully with the soaring cathedral melodies.
George Nostrand – A Million and One

This song's been kicking around for over twenty years. Nostrand says he first recorded it in 1996, shortly after a summer working on Martha's Vineyard: "I had just gotten off the boat and was planning on staying the summer and working there. I said something about playing the guitar and this guy quipped, 'You and a million other people on this island.' Being a brash 19 year-old at the time I responded, 'I guess now it's a million and one.'"
Guest Policy – My Side, Your Side

A smooth-as-silk heartbreak ballad that blends indie-rock and R&B. It could almost be a Drake cover. Killer rhythm guitar too.
Guthrie Galileo – Repeat

It starts out sounding like music they might play at a massage place, but stay with it! Producer Guthrie Galileo, known around Vermont for falsetto skills so strong he fronts an Usher tribute group, dispenses with vocals entirely for an engaging instrumental that reminds me of Icelandic folk-electronica groups like Múm. Video comes with bonus weaving footage.
Ivamae & Dan Bishop – Interwoven

The 28-track charity compilation MUSIC to feed the SOUL offers a pretty good sample platter of the singer-songwriters and bands coming out of Vermont right now. I've written about a number of the tracks on it already, but it comes with some new stuff too, including a jazz-soul collaboration between singer Ivamae and bassist Dan Bishop that sounds like Sade meeting Esperanza Spalding. Buy the album and support the Vermont Foodbank!
Madaila – You Won't Be Alone

Mark Daly started his career in the successful Americana band Chamberlin, then pivoted a few years later to the dancier project Madaila. Now he's kept the name of the latter but returned to the more folk-rock sound of the former. One thing hasn't changed: His ear for a catchy pop hook. Or his falsetto.
Matt Valentine Preserves – Been There for You

"Trippy" hardly begins to describe Matt Valentine's music. It sounds like there might be a pretty pop ballad luring somewhere within "Been There for You." But the many strange sounds he lays on top make it far weirder. More interesting too.
The Pilgrims – Nantucket

Fair warning: The opening of this video might trigger your videoconferencing PTSD. But it's a great song from a band that always makes funny videos – even under quarantine. Half the screens are the band members themselves; half are more like blink-and-you-miss it comedy bits (I didn't even notice the thumb with a face the first play through). Bonus points for the subtle change to the Zoom tag in the upper-left corner.
Rivan C – Rewind

College-student rapper Rivan C. claims influences from Lil Uzi Vert to Sam Cooke, so no surprise he works in shoutouts to Rolling Stones and Elvis songs in the infectiously catchy opening song from his new EP Teenage Apollo Vol. 2.
Rough Francis – Teen Zombie

Bandcamp says "Teen Zombies" was released in 1991. That's an error; it was 1981… I'm kidding about that last bit. It's new, like everything here. But the verses sound straight out of the post-punk playbook, bass-led with just a shimmer of guitar. Joy Division wouldn't have gotten so righteously loud on the chorus though.
Strawberry 3000 – Program A

I've tried Shazam-ing Strawberry 3000's sound collages. It never works. I assume these are all samples, from '80s soundtracks it sounds like. But they're so thoroughly manipulated that they morph into their own weird little universes, like a cheesy '80s movie melting before your eyes.
Ulrike Mod – la cave rouge

Christian Puffer calls these "embellished piano improvisations," but don't think classical or jazz. It's more like ambient music that occasionally veers into ominous soundscapes soundtracking the part of a horror movie leading up to the big scare.
Western Terrestrials – King's Highway

Western Terrestrial's upcoming album has country music in its DNA. That's not just a metaphor; Roger Miller's son produced it and George Jones' daughter sings on it. It's country music through a classic-rock filter though.  I hear as much Warren Zevon as Waylon Jennings.
Zodiac Sutra – Sick of Living

A fuzzy garage-rock ripper, "Sick of Living" kicks off the excellently-named album Bored Under a Bad Sign. A second single, "Oklahoma," consists of an acoustic guitar ballad – but even fingerpicking can be fuzzy, like folk music as played in your dingy basement.