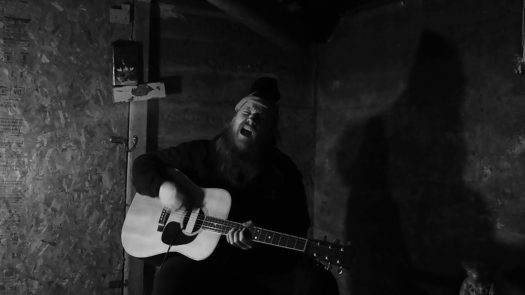 On March 26, two days after Vermont governor Phil Scott issued a Stay-at-Home order, a video appeared on local blues guitarist Seth Yacovone's dormant YouTube page. Titled "Seth Yacovone's Quarantine Video Single #1: 'Welcome'," it featured his own song of that name and what he called a "surprise B-side." The surprise was – spoiler alert – a cover of the timely Pink Floyd song "Nobody Home."
Since then, Yacovone has posted a new video a day – today's will be #44 – and they are among the best of the many live-from-home performances I've watched. Yacovone is best known in the jamband worlds; he's guested with Phish, and Trey has even sat in with his Seth Yacovone Band. But, a couple Dead covers aside, his acoustic videos aren't particularly jammy. He's long played solo acoustic gigs on the side, including a decade-long residency every Friday night at Burlington, Vermont's Phish mecca Nectar's. Presumably that's where he honed some of these covers.
Yacovone calls each video a "virtual 45," pairing his own song as the A-side with a cover as the B-side. He never announces what the cover is, but the two songs usually share a connection. In one video, his "OK" precedes Black Sabbath's "It's Alright." In another, after his own "Little Richard Will Rise Again," you can guess who he covers. And, in one of the most memorable, he follows his "Somewhere There Is a Home" with Clarence 'Frogman' Henry's immortal "Ain't Got No Home." And yes, he does the voice that gave 'Frogman' his nickname:
"Once it was obvious live music was going dark for awhile, I watched as social media lit up with musicians everywhere sharing music with people," he says over email. "I don't own an intelligent device that would allow me to live stream so I needed a way around it. Making youtube videos seemed the best way I could still share my music and scratch my need to perform and play songs. Seeing the bulk of performers playing in front of their bookshelf, in color, looking down at their phones, made me want to find a unique view. Black and white, locked down in a basement, seemed to speak more to the mood of the current times."
Seth mostly sicks to the classic singer-songwriter cannon (with some soul and blues on the side), but rarely picks the songs you'd expect. For Van Morrison? "These Dreams of You." Johnny Cash? "Unchained." He's done three Neil Young songs so far, and I don't think you'd call any a greatest hit: "Tired Eyes," "Ambulance Blues," "Walk On." At one point, he even did one song for each Beatle over four consecutive days: "Yesterday" (Paul), "All Things Must Pass" (George), "Isolation" (John), and "It Don't Come Easy" (Ringo).
In every case, he seems to reach deep within himself to access the depths of the song's lyrics, whether that calls for a guttural moan, a falsetto yelp, or some fancy – but never flashy – picking (even mostly playing acoustic, you can tell why he's long been considered a local guitar god). They sound less like the typical upbeat live-from-home set, more like some forgotten Delta bluesman hollering about death and decay from beyond the grave. Few can better channel a Howlin' Wolf song than Yacovone.
"It's been great that people have responded and been enjoying the series," he says. "I didn't think I'd be approaching video 50 when I started. I was kind of being hopeful that'd we'd be back live by now."
Check out many more at Seth's YouTube (my other personal favorites: his Zappa, Cohen, Kinks, and Waits cover pairings), and subscribe for a new one every day. He's accepting tips to help as gig money has dried up; his Venmo is venmo.com/Seth-Yacovone-1 or Paypal botchalism@yahoo.com.