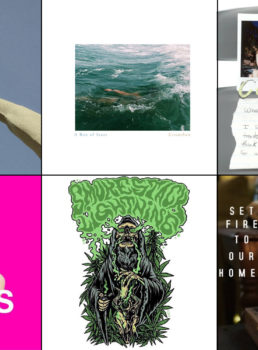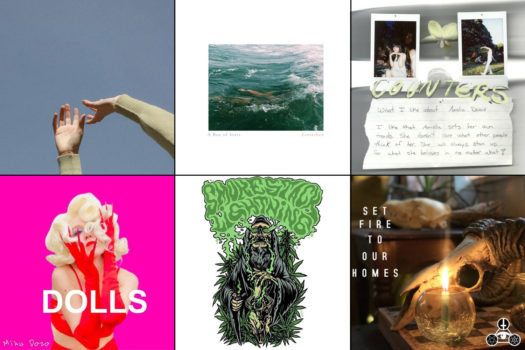 Amelia Devoid – Counters

It's not clear if this song was written in our current self-isolation, but even if it wasn't, lines like this have a new resonance: "I've been wiping down counters / and counting down hours / 'til i can lay in the flowers again".
Anachronist – Prop Plane

Shades of Uncle Tupelo dot this roots-rock quintet's new album. More than shades at times. Like their alt-country forebearers, Anachronist mostly keep it loose and relaxed, but can get loud when necessary.
Bishop LaVey – Set Fire to Our Homes / Ghosts of Royalton


Bishop Lavey's bio says he has "a style unlike his peers in the Folk scene." That's an understatement. "Set Fire to Our Homes" sounds like Motörhead if some roadies swapped out all their instruments for acoustic guitars. His other new single, "Ghosts of Royalton," is maybe a little folkier, but in a American-gothic sort of way, like Howlin' Wolf bellowing a murder ballad.
A Box of Stars – Leviathan

A Box of Stars' tracks sound so fragile that a stiff breeze might knock them over. Whispered vocals and just-so layers of guitars and synths create sonic Fabergé eggs you get more out of every time you listen.
Bow Thayer – It's Time to Wake Up

The opening line here nods to "Subterranean Homesick Blues": "Mama's in the kitchen mixing up some pharmies." But where Dylan's song soon veers away into other surrealist images, Bow stays with this story, digging into a hard-luck family spiraling into gun-buying paranoia and "the dark side of the net."
Brand New Luddites – The Internet Took My Baby

"The KKK Took My Baby Away," goes the Ramones song. And where are all those virulent racists hanging out nowadays? 4chan! So "The Internet Took My Baby" is an appropriate update.
Cordless – Anna's Dressing Room

A lot of cordless's debut EP is mellow electropop vibes, but "Anna's Dressing Room" sounds like a cover of an '80s Madonna hit run through the duo's blissed-out Mazzy Star filter.
Couchsleepers – Good to Be Alone (Theo Katzman cover)

Couchsleepers' Harrison Hsiang has been posing the occasionally live-from-home performance publicly on YouTube. But, more importantly, he'll do a live-from-home performance just for you. He's spearheading a program called Donation Jukebox where, if you donate $10 or more to Covid relief, he'll sing you a Couchsleepers song of your choice. Request "On Your Mind" to really make him work for it – it's the longest one.
Dead Man from Mars – I Am Baby Back Bitch
"I Am Baby Back Bitch" reminds me of Nine Inch Nails. And not the poppy, Johnny-Cash-covered Nine Inch Nails. The most abrasive parts of an album like The Fragile, rage-fueled and distorted and almost hard to listen to. Dead Man from Mars' new song is entirely without vocals though. If Trent was making his instrumental Ghosts albums in his angrier '90s, they might have sounded more like this.
Eastern Mountain Time – On the Carolina Wind

I already wrote about the uptempo opener on Eastern Mountain Time's new album Seven. But the album is mostly slow country weepers, and here's a perfect example. Blending pedal steel pulled straight from a George Strait ballad and backing vocals that sound more like Warpaint, "On the Carolina Wind" looks to the past without falling into the "retro" trap.
Francesca Blanchard – Happy for You

After teasing her album for the better part of a year with big-production indiepop singles, Blanchard finally announced it – Make It Better, June 12- with a comparatively quiet folk song. "The song is about choosing to be happy for someone who is happier without you," she said.
Henry Jamison – Atlantis (Demo)

Though it's labelled a demo, "Atlantis" sounds pretty close to a finished product, complete with layered vocals and subtle backing instrumentation. For the true demo feel, watch him play it to his cat on Facebook.
Levi Barrett – Thoughtless Word

Poetry buffs might recognize the lyrics; Barrett borrowed them from poet Olivia Ward Bush-Banks's poem "Regret." Barrett wrote, "when I read it, I felt that it was begging to be sung and accompanied with a solemn guitar part." His arrangement is very Simon and Garfunkel, except his voice is about an octave lower than Simon's (and about a dozen octaves lower than Artie's).
Lissa Schneckenburger – Labor On

The title and lyrics to "Labor On" sound like a Woody Guthrie song – maybe one of those hundreds of unrecorded lyrics people keep setting to music. But it's an original, and inspired by a more recent struggle: The 2019 protests at Merrimack Generating Station, the last large coal plant in New England. Though Schneckenburger's sound is nothing like Guthrie, the fight remains the same.
The Matter Men – Pareidolia

Jazz trio The Matter Men's "Pareidolia" is improvisation times two. While testing out a new studio, two of the bandmembers improvised the bones of it on bass and piano. The following day, they switched instruments and brought the third member in and improvised over the previous day's improvisation. Improv upon improv. It all makes sense in the recording.
Miku Daza – Dolls

Miku Daza calls herself "the queen of nightmare pop." You get a taste of that in the single cover for "Dolls," which sounds at times like a punk band covering the Go-Go's. You get the full dose in a Lynchian live version.
Nick & Brayden – Sinaloa

The album cover and title (Just Two Friends / Nothing Sexual) remind me of the pre-SNL Lonely Island video "Just Two Guyz" (which, if you haven't seen it, click away and then come back). Those two would-be dudebros would probably hate this mellow DIY electro-indie-rock song. That's a compliment. You wouldn't want to listen to whatever they like.
Pattern Addict – Idlewild

No, "Idlewild" isn't a cover of Outkast's barely-remembered final album. It looks a decade further back than 2006, to the '90s indie-rock boom, loose and raggedy like Pavement with a piano player.
Smokestack Lightning – Lungbuster

If the album cover doesn't give you the idea, the release date will: 4/20. Like Sleep did a few years ago, Smokestack Lightning dropped a deeply stoney album on the stoniest day of the year. It's heavy and sludgy and features Bandcamp reviewers saying things like "Chugs a nug straight to the underworld."
The War Turtles – Rising Waves

The War Turtles says "Rising Waves" is a single off a forthcoming EP, but, at almost 12 minutes, it's basically EP-length itself. And it goes on a journey to fill that runtime – like shoegaze at one minute, experimental minimalism the next. He says he recorded it at Ponzi Scheme Studios, which I'm pretty sure isn't a real place but absolutely should be.