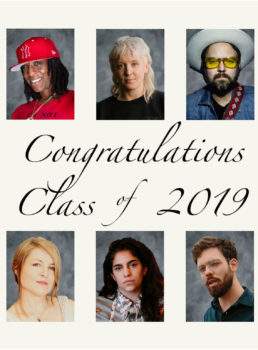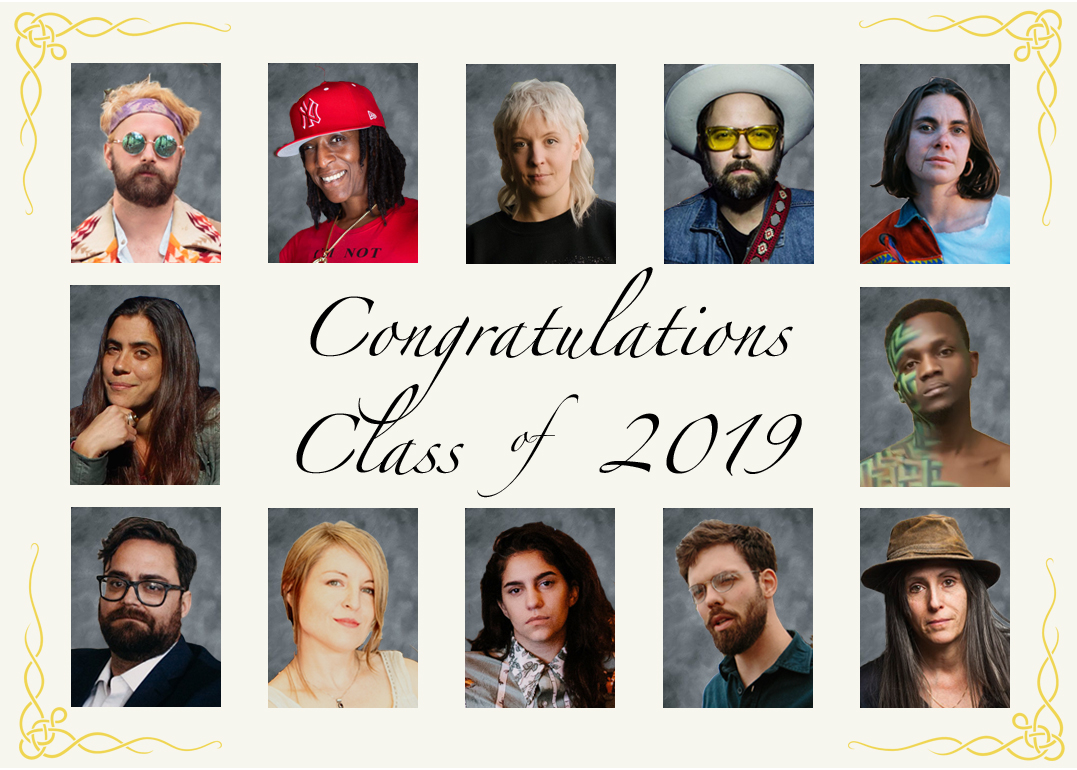 This Top 40 looks nothing like the actual Top 40. None of these songs charted, and I don't think any of them aspired to. That is no knock against them, which probably goes without saying here – anyone reading music blogs knows that much. The adjectives "great" and "popular" occasionally attach themselves to the same track, but not often enough.
So just think of this as an alternate history of 2019 singles. It has no horses, and no town roads. It doesn't teach love, patience, or pain, and isn't 100% that anything. It also, as the headline says, only includes artists from one rather small state. But this wildly subjective, somewhat arbitrary survey of the past 12 months should serve as a small introduction to the wealth of talent in one community on the geographic fringe. There was a lot of wonderful music being made this year, much of it far from the big cities, or the Billboard charts. Duh.
40. Amelia Devoid ft. Bleach Day – Afraid to Touch Her
Clouds dominate the single cover, and it's hard to think of a more fitting image. This dreamy reverie seems the perfect soundtrack to staring into the sky and getting lost in your own thoughts. The electronic musician's last album tackled some heavy themes (for one: genocide), but the new single seems light as a breeze.
39. Allison Fay Brown – Summit
Like a good short-story writer, Brown offers just enough narrative details to intrigue while leaving plenty of gaps to fill in yourself. For instance…what's in that box on the doorstep??
38. Zak Kline – I Will
When I first stumbled across Vermont singer/songwriter/producer Zak Kline's personal-empowerment single "I Will," his gorgeous falsetto and intricate production immediately grabbed my attention. Like a Bon Iver song, it managed to sound intimate even buttressed by string sections, backing choirs, and huge crescendoing choruses. Compared to the earlier material I found on his Bandcamp, "I Will" leapt out. It seemed to indicate a bold new direction – except he's already moved on to other sounds. Hopefully he'll revisit this style, as he seems to still have a lot to offer.
37. Abby Sherman – Hand with the Devil
If the only Satan-themed violin song you've heard is "The Devil Went Down to Georgia," Abby Sherman's "Hand with the Devil" might throw you for a loop. Rather than rollicking fiddlin', Abby Sherman and violinist Katie Trautz – who we'll hear more from in a second – create something truly spooky, like the sort of Gillian Welch track you don't play in the dark.
36. Ionee – We Are More Than I
Electronic music producer and singer Ionee's latest music video features a lot of great visuals, but the first truly important shot is subtle: A map of the world with a lot of little dots coming out of Africa and heading to the Americas. As anyone who explored the New York Times' 1619 Project knows, this year marked the 400th since the beginning of slavery in America. The Times took a sober look at this history in a magazine supplement and podcast. Ionne, aka. Maurice Lajuane Harris, takes a very different tack on the same sad history, creating a haunting house track and a mesmerizing animated video.
35. Katie Trautz – Ghosts
Katie Trautz uses a little to say a lot. Each verse of "Ghosts" is only three lines of plain-spoken language (rare is the word that hits two syllables). But it paints an evocative portrait of a couple trying to find tranquility away from some unspoken darkness. Similarly understated, the music creates a tasteful Americana bed of slide guitar and brushed drums on which the lyrics can lie.
34. Blackmer – Flash Flood
The idea of "digital detox" has grown a lot of currency in the last few years. The New York Times seems to run an article a week about the importance of unplugging (and I always see them on my phone… hmm, they may have a point). "Digital detox" is a dry phrase, though. Sam Dupont brings more beauty to the concept on the meditative "Flash Flood." The narrator yearns to escape to Arizona's open skies, away from the news, away from all the LED displays. It's certainly a relatable feeling, and rarely expressed so poetically.
33. Chazzy Lake – Not Afraid of Your Crying Eyes
After post-punk band Bison broke up, Charlie Hill looked forward – while looking much further back. A far cry from post-punk, his single "Not Afraid Of Your Crying Eyes" channels Roy Orbison – and not just with a key word in the title. Though Hill doesn't have Roy's deep voice (who does?), the song's jangly sound and soaring melody line recalls the blends of country and pop that Orbison was stirring up at the dawn of the rock era. But, despite echoes of the '50s, "Not Afraid Of Your Crying Eyes" may actually be less retro than his post-punk band was. Hill veers well clear of any nostalgic trappings by melding these old influences with more recently-minted sounds like bedroom pop and chillwave.
32. Danny & The Parts – Misdirected Allocations
I couldn't for the life of me figure out what to write about this song beyond "it's really good." Then, after listening to it a few times in a row yesterday in search of inspiration, I found it got stuck in my head for the next 24 hours (and counting). Maybe that's all the recommendation it needs. Listen at your own risk.
31. The Grackles – Glitter
Despite the bird's name, the common grackle seems a relatively uncommon inspiration for a band name. But now there are at least two. There's Canadian duo Common Grackle, who a few years ago released the hilarious country ballad "[I Don't Want to Die] At the Grindcore Show." And now there's another duo, with a similar name but a very different style. Duffy Gardner and Ariel Zevon (Warren's daughter) released their debut album earlier this year, the high point of which is this poignant piano duet.
30. Hallowell – Another World
Hallowell's Joseph Pensak came early to the year's Mister Rogers-appreciation trend. He wrote "Another World" as a tribute to both his childhood hero and a second figure from the television show: François Clemmons, who played the neighborhood policeman. Pensak incorporated samples of the pair's dialogue from the show into this inspirational pop croon. Then he did one better, getting Clemmons himself to sing on the song.
29. The Pyros – Coffee
The Pyros cite 1950s rockabilly and Pulp Fiction as inspirations. The first you can hear in their single "Coffee," and the second you can see in its slightly crazed retro video (one of three on their "video EP" Christian Mingle). Like a Sun Records artist trying to make a big first impression on one side of a 45, they blast through the track in under 90 seconds, sending you right to YouTube's replay button.
28. Henry Jamison – True North
In a recent interview with Henry Jamison, the journalist compared narrative songs like "True North" to Mark Kozelek. Jamison gently pushed back – because who wants to be compared to Mark Kozelek in 2019? But if you jump back a decade in Sun Kil Moon's discography – when his songs still had melodies, and his persona wasn't full troll – the similarity makes sense. A beautiful retelling of a pedestrian experience that took on emotional significance, "True North" recounts Jamison driving down the great highway, talking to his girlfriend on the phone and mulling over past mistakes.
27. Omega Jade – Tricks Of The Trade (Petty With A Purpose)
"I write these verses to break generational curses," rapper Omega Jade rhymes on "Tricks Of The Trade (Petty With A Purpose)," the final track on her debut album. She passes on some hard-earned business lessons to her kids: "Follow your heart but take your brain with you / Not every damn friend is meant to work with you." She spits proverbial fire going after fake friends and slacker collaborators, grinding her way to the top.
26. Bishop LaVey – The Myth Has Broken
Bishop LaVey (aka. Kane Sweeney) describes his music as "doom-folk," a genre label that's pretty dead on. Over spare and echoing guitar, he hollers a deep guttural roar, bringing heavy goth undertones even when the instrumentation reads as Americana. And what heavier topic for a heavy sound than ancient mythology. Specifically: how the Judeo-Christian belief system effectively murdered the old gods.
25. Michael Roberts – Jolene
No, this ain't Dolly begging Jolene not to take her man. In Michael Roberts' version, some other man already took Jolene. Quite a while ago, from the sound of it. This regret-filled winter lament gets lifted by a perky horn section in a high point of Roberts' overall excellent debut solo album.
24. SoundBrother – Plastic Baby
The formerly-known-as DuPont Brothers become the newly-rechristened SoundBrother exactly 52 seconds into their debut single. When they first announced the name change in 2017, Sam and Zack DuPont billed it as a move to a new genre, from folk to indie rock. For the first almost-a-minute into "Plastic Baby," it's hard to hear the difference. Then pummeling drums come in, with echoing guitar on their heels. You can see why a new sound needed a new name.
23. Strangled Darlings – Buckets of Sand
Jess Anderly and George Veech spent three years on the road living in an RV before recording their new album, and you can hear those travels in "Buckets of Sand." To be honest, I'm surprised more of those years weren't spent in New Orleans. That's the location I hear most on this – less the city's famed jazz side, but its weirder Americana scene that birthed Hurray for the Riff Raff and Benjamin Booker. The song boasts a ramshackle DIY feel, with perfectly loose harmonies and an easygoing attitude.
22. Madaila – Clandestine Magic
When Vermont's dance-pop breakouts Madaila announced an indefinite hiatus last year, they had the better part of a new record in the can. I figured we'd never hear the rest, but, as indefinite hiatuses so often do, it finally came to an end. They haven't lost a step in their new-wave catchiness, and frontman Mark Daly's falsetto remains as soaring as ever.
21. Kristina Stykos – State Line Diner
Using a beaten-up Chevy as a metaphor for an aging narrator's resilience, "State Line Diner" would prove compelling no matter who sang it (in fact, someone like Emmylou Harris should cover it). But Kristina Stykos' sing-speaking delivery lends a weight to lines like "The day I surrender and lay my chassis down / and empty my compartments, and crumble to the ground / I'll still be full of living, 'cause I ain't done yet."
20. A2VT – Wave Your Flag
Refugee pop group A2VT released one of last year's best singles with "Faas Waa." The Burlington-based Said Bulle and George Mnyonge originally hail from Somalia and Tanzania, respectively, and their story infuses their music. Their follow-up single "Wave Your Flag" keeps the energy high, mixing languages over a colorful video. They've also added more members from Vermont's refugee community: guest singer Meax (Tanzania/Burundi) and dancers Mr. Oli (Tanzania/Congo) and Fantome J (Nigeria).
19. Princess Nostalgia – The Talking Drug
Lilian Traviato's "The Talking Drug" incorporates shades of Sade or SZA, arty R&B with some Nile Rodgers-esque funk guitar (by frequent collaborator Joe Leytrick). And, as with all her singles, it comes with an intriguing piece of visual art the college student does herself.
18. Mal Maïz – Pizuica
Maïz Vargas Sandoval, frontman for cumbia band Mal Maïz, says the band's new song was inspired by the Costa Rican folk take of Pizuica, the god of the underworld. Despite the scary-sounding name, a devil like Pizuica was considered a good spirit who helped scare off invaders, oppressors, and conquistadors. All of that is vibrantly depicted in the music video (slightly NSFW, though there's a lot of body paint).
17. Lean Tee – Expected
That terrific EP cover art (painted by Drew Parkinson) perfectly encapsulates the vibe of this melancholy song. The music meanders along, pleasant but slightly unsettled, for a couple minutes until an unexpected drum pattern kicks in.
16. Couchsleepers – In My Head
The band formerly known as The Giant Peach made both of our best of 2018 lists with a sprawling Talking Heads-inspired pop music. They've since changed their name, but show a similar ambition under the new moniker Couchsleepers. They've stripped down their sound a bit on their first new song – though stripped-down for them means one horn instead of a half dozen.
15. Reed Foehl – If It Rains
Singer-songwriter Reed Foehl teamed up with roots mainstays Band of Heathens for his new album, and the pairing works wonders. He brings the powerful and catchy songs, and they help bring a rich tapestry of sound, with just-so touches of organ and slide guitar blending together so well it can be hard to identify the individual instruments. Nowhere do both artists hit harder than on "If It Rains," which sounds like early Wilco or the sort of lush Americana record Dan Auerbach produces down in Nashville.
14. boys cruise – A Stupid Song for Stupid Me
"A Stupid Song for Stupid Me" is every bit as self-loathing as the title implies. But, to me at least, it reads as the sort of cathartic self-pity that can be therapeutic. Just a guy wallowing in despondency for a bit, knowing there's time to pick himself back up tomorrow. The vocals follows the lyrics; every line is basically an agonized moan. Until it amps up to an equally agonized holler, and the band explodes behind him. Bet he started to feel better after this dose of primal screaming.
13. Cricket Blue – Corn King
Looking at the track list for folk duo Cricket Blue's debut album Serotinalia, one song leapt out: "Corn King." It's not the title as much as the run time: 11 minutes and 57 seconds. On a folk album, one imagines a song this long must be an epic ballad comprising dozens of verses, their "Desolation Row" perhaps. The reality is much stranger. Though quiet and acoustic in its presentation, the song's structure leans more progressive-rock than folk. Add drums and a fretless bass solo and "Corn King" could be a Rush song. The duo bring a dream-logic approach to lyrics that wind as quixotically as the music, retelling an old myth of a ritual sacrifice.
12. Francesca Blanchard – Baby
"Baby" is not a song title that implies much backstory, but the simple name masks some complicated feelings. She wrote it after returning from five months in Ecuador hiking and teaching guitar. A relationship that started shortly before she left had fizzled in the meantime, and her return precipitated what she termed a "quarter-life crisis." "Baby" also continues Blanchard's transition from folk to a sound closer to indie-R&B, and has earned her some of the biggest acclaim of her career, including praise from NPR, which called it a track for "when you're crying in paradise" (I couldn't tell you what that means, but still think it sounds about right). 
11. Eastern Mountain Time – Different Tomorrow Night
All those artists supposedly "saving" country music often do so by bringing in non-country elements, from Sturgill Simpson's psychedelia to Kacey Musgraves' disco flair. But on new single "Different Tomorrow Night," Eastern Mountain Time saves country music by playing the genre right down the middle. A cry-in-your-beer weeper that George Jones could have sunk his teeth into, "Different Tomorrow Night" chronicles songwriter Sean Hood's breakup over appropriately mournful harmonica and slide guitar.
10. Lissa Schneckenburger – I'll Stick Around
I don't know whether Regina Spektor was a conscious influence "I'll Stick Around," but she's the obvious point of comparison. The similar lilting stutters on certain lines ("He hides in my daughter's smi-i-i-i, i-i-iiiile") comes off so beautifully you wonder why more singers don't do it. Just swap out Spektor's piano for Schneckenburger's violin.
9. Glorious Leader – Sweet Louisa
"Sweet Louisa" sounds like Kishi Bashi. I'd like to add another artist to that list for readers for whom a Kishi Bashi comparison means nothing, but no one else comes close (just Google him once you finish this list). I used to think Bashi's featherlight plucked-violin pop was singular, but now there's one more artist on this road less traveled. Kyle Woolard, who records as Glorious Leader, nails the soaring vocal leaps, xylophone choruses, and all the other accoutrement. In lesser hands, this would seem insufferably twee. In his, it works wonders.
8. Clever Girls – Remember Pluto
Emotions run high and guitars get turbulent in Clever Girls' "Remember Pluto," but the volume knob never turns above a 6. Imagine if Mazzy Star covered Nirvana, or if some sound engineer turned the vocals up and guitars down on My Bloody Valentine.
7. Fever Dolls – Adeline
Never short on ideas, Fever Dolls pack a lot into under three minutes. In this case, an entire piece of musical theatre written in miniature, plotted around a husband and wife both in love with the same woman. "[Singer Renn Mulloy] and I spent years playing in different bands with people that wanted to make Radiohead's Kid A," songwriter Evan Allis said, "while we were trying to make Disney's The Kid." Yeah, they give good quotes too. The madcap video stays true to that cinematic vision. The rest of the band serves as Mulloy's backup chorus, channeling musical-theatre tropes from Grease white tees to West Side Story finger-snapping over a country-cabaret singalong.
6. Dino Bravo – Pop Music
"All the songs are about addiction, the ocean, My Morning Jacket, party rocking, and my wife," Dino Bravo singer Matthew Stephen Perry said about his writing contributions to Dino Bravo's debut album. You can hear a bit of all that on "Pop Music." Party rocking and My Morning Jacket come through loud and clear in the roaring music. The others pop up in the lyrics. Just one exception: in this song, he goes home alone.
5. Miriam Bernardo – I Got a Well
Singer Miriam Bernardo's debut album has been a long time coming. In her many years performing around Vermont, she's connected with many of the local folk musicians, most notably recent Tony-winner Anaïs Mitchell. Mitchell even contributed a song to open Bernardo's album, the beautiful "I Got a Well." When they one day stage the Hadestown revival, this could fit right in.
4. Ernest – Wish I Knew
Off the 22 songs on Mark Daly's sprawling double album I'm Gonna Do It (Anyway), probably half were in contention for this list. He divided the set into electropop and Americana halves, and proves equally adept at both genres. From the former half, "Wish I Knew" doesn't bounce as much as some of its competitors, but the catchy ballad (is "catchy ballad" a contradiction? Not in Mark Daly's hands) showcases the inventive production touches and beautifully layered vocals.
3. Erin Cassels-Brown – Classic Records
Few street musicians boast songs a club crowd could pump its fists to, but former acoustic busker Erin Cassels-Brown amps the volume way up on the hard-rocking "Classic Records." His tight backing band channels a tight '70s rock combo (speaking of classic records), injecting energy and muscle as he pushes his vocal chords on the yell-along chorus.
2. Sabrina Comellas – Romeo
Despite Sabrina Comellas' background in Shakespeare (she graduated from Emerson in 2017 with a theater degree), her Romeo and Juliet homage doesn't center on either character. She narrates from the point of view of an invented third party looking to the doomed duo for answers. The unnamed protagonist, a hopeless romantic removed from the Elizabethan trappings, offers a relatable way into the narrative and avoids the song becoming a sonic CliffsNotes. Even if you know nothing about Shakespeare, the gorgeous melody and Comellas' big belting-to-the-Globe-balconies voice will draw you in.
1. Matthew Mercury – Contessa
"I am the worst singer in the band," Matthew Mercury's Ezra Oklan said. He is, as you may have guessed by my mentioning it, the band's singer. And, as you might have also guessed by this song's placement here, he undersells himself. Though perhaps his low croon wouldn't work in other genres, it perfectly fits this band's post-punk rumbles. A high point of the band's self-titled debut, "Contessa" piles killer vocal hooks and inscrutable lyrics atop pounding drums and an insistent bass line.
Now check out the Best Vermont Albums and Best Vermont EPs of 2019!