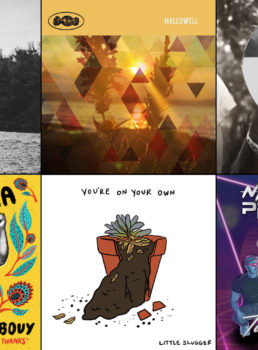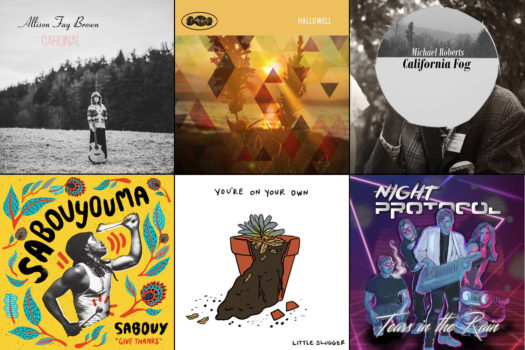 Allison Fay Brown – Summit

I'm going to try to write something longer about Allison Fay Brown's marvelous new EP later this week, so I'll just leave the lead track here as a teaser. Like a good short-story writer, Brown offers just enough narrative details to intrigue while leaving plenty of gaps to fill in yourself. For instance…what's in that box on the doorstep??
Andrew North – Go North

"15 years of music in about 30 minutes" is how Andrew Grosvenor describes his new album Lost City. Songs hail from as far back as his 2004 college band. Super-catchy album highlight "Go North" is more recent though, describing a post-law school "wanderlust, regret, and coming to terms with moving forward."
Count Hamilton – Lullaby

The first time we heard from musician Alexander Vitzthum, he was reimagining the history of Gregorian chant music through electronic music. Suffice to say, his tastes veer far from the mainstream. On his new single, he seemingly combines two other genres: jazz and jam-band. Not as far apart as chanting and electronica, sure, but he ably balances both on the easygoing "Lullaby."
Cricket Blue – Alicia from the Store

When I interviewed Cricket Blue recently, Laura Haeberlin described an extensive process of "pre-writes" that the former English major goes through for her songs. She has pages and pages of notes on the Alicia character, she said, which she boiled down to a couple poignant scenes from the narrator's summer job for this song.
Diskont – Esquina

Like a number of tracks on this instrumental album, "Esquina" starts mellow and ambient. Then the percussion kicks in. Like Wilco backed by a Yes cover band drummer, "Esquina" veers off kilter and stays there.
The Dubois – Don't Cry Little Baby

An album titled Poops and Boobs does not inspire much confidence. I almost didn't even click on it – but I'm glad I did. Rather than the endless stream of sophomore potty humor the title implies, Poops and Boobs is sung by a new parent. And when there's a newborn in the house, poops and boobs are a simple fact of life. The album offers a funny and ridiculous look at the many indignities of parenting, with some pretty catchy songs buried beneath zany sound effects and noise (Daniel Johnston is a cited influence, which tells you all you need to know). "Don't Cry, Little Baby," for instance, sounds like a heartwarming title until you get to the next beautifully harmonized line: "You're bugging the shit out of us."
Full Walrus – Windowsill

"Going into this, I wanted to make pop bangers," Full Walrus's Noah Schneidman writes on Soundcloud about his Songs for Other People EP. Did he succeed? I suppose it depends on your definition of a "pop banger." These songs won't be blowing up dance floors or Top 40 radio anytime soon, but that's not to their detriment. Recalling the chillwave craze or peak Animal Collective, the five tracks here sound like half-forgotten memories of pop songs, filtered through layers of haze and reverb.
The Grackles – Both Lean In

Despite their name, the common grackle seems a relatively rare inspiration for a band name. But now there are at least two. There's Canadian duo Common Grackle, who a few years ago released the hilarious country ballad "[I Don't Want to Die] At the Grindcore Show." And now there's another duo, with a similar name but a very different style. Duffy Gardner and Ariel Zevon (Warren's daughter) just released their debut album. It's great, but it's hard to top the live addition of goats in the video they just recorded for NPR's annual Tiny Desk Contest.
Hallowell – Another World

I already went deep on the stunning new Hallowell album, so for this list I'll keep it simple. I don't know whether this is my favorite song on the album, but it's definitely the one that's gotten stuck in my head the most.
JUPTR – Peace and Quiet

New neo-soul quintet JUPTR emerge strong on their debut Echo. No surprise, perhaps; the five members have logged time in a number of popular Vermont groups, including Madaila (RIP) and Smooth Antics. Steph Wilson's vocals steal the show, but don't overlook the incredibly tight rhythm section. Like a Motown session group infused with '80s synths, the band blends tight songwriting with inventive arrangements. They're already a supergroup in Burlington. Might not be long until they're one beyond it as well.
Little Slugger – You're On Your Own

The last we heard from garage-y indie rocker Little Slugger, they made both our Best Albums and Best Songs of 2016 lists (this site's first two posts, incidentally). Three years on, they've finally returned with this new single, off an album due in June. Worth the wait – and then some.
Mal Maïz – Pizuica

Maïz Vargas Sandoval, frontman for cumbia band Mal Maïz, says the band's new song was inspired by the Costa Rican folk take of Pizuica, the god of the underworld. Despite the scary-sounding name, a devil like Pizuica was considered a good spirit who helped scare off invaders, oppressors, and conquistadors. Sandoval writes: "This god-spirit reigned in the underworld and in the shadows, and walked on earth [to help prevent all manner of catastrophe like] droughts, floods, bad harvests and earthquakes." All of that is winningly depicted in the band's new video (slightly NSFW, though there's a lot of body paint).
Michael Roberts – California Fog

In the vinyl revival era, a bit of a gold rush has grown around reissuing undiscovered gems. Some curator often stumbles upon a private-press record in an attic or discount bin where the songwriter pressed 100 copies to sell to friends. Turns out, when given wider exposure, these guys could have been the next James Taylor or Neil Young. I was reminded of such records listening to Michael Roberts' "California Fog." Though it's a new song, it sounds old, like some scratchy record with a plain white cover you'd stumble upon in the Goodwill bin that might just change your lie.
Night Protocol – Time Is Running Out

If the "Take On Me"-style drawings on the cover isn't clue enough, the keytar should tell you: '80s revival band. And '80s revival bands invariably draw live crowds hoping to sing along to Duran Duran hits. Night Protocol, though, does the competition one better by writing their own songs in that guilty-pleasure style. If you told someone "Tears in the Rain" had been a Flock of Seagulls hit in 1986, they'd probably believe you.
Old Sky – Closer Than My Troubles

Saying something sounds "timeless" often seems to be a way of saying it really just sounds "old," but the wistful ballad "Closer Than My Troubles" genuinely seems to exist apart from time. The fact that it's brand-new isn't surprising, but if someone told you it hailed from the Dustbowl era, you wouldn't bat an eye.
The Pilgrims – Mimosa Man

The statement the Pilgrims posted about their new single sounds deeply pretentious. A small sample: "Our reliance on creating screens to mimic our countenance, is a rather particular human exercise in mendacity; the facebook, the instagram, the chatsnap – these communicative tools are more important than the message…" It goes on like that. Lest anyone thing they're serious, though, the video should clue in any doubters. Hard to keep a straight face around a dancing sock puppet.
Princess Nostalgia – The Talking Drug

Lilian Traviato hasn't released an album since 2017, but she's dropped enough singles since then she must be close to another. One bonus of going that route is each gets a fantastic piece of art the college student does herself. "The Talking Drug" incorporates shades of Sade or SZA, arty R&B with some Nile Rodgers-esque funk guitar (by frequent collaborator Joe Leytrick).
Sabouyouma – Konkobah

Seven-piece band Sabouyouma features your usual musical gear: guitar, bass, percussion. But floating above it all is an instrument much rarer: the balafon. Rare in America, I should say; this melodic percussion instrument (cousin to the xylophone) has been around Africa since at least the 12th century. Here it's played by the Guinean-born Ousmane Camara, who builds a world of sound with it. The sound integrates naturally with the other six players on raucous Afro-funk jams like "Konkobah."
SoundBrother – Plastic Baby

The formerly-known-as DuPont Brothers become the newly-rechristened SoundBrother exactly 52 seconds into their debut single. When they first announced the name change in 2017, Sam and Zack DuPont billed it as a genre change as much as anything, from folk to indie rock. Almost a minute into "Plastic Baby," it's hard to hear the difference. Then pummeling drums come in, with echoing guitar on their heels. You can see why they needed the new name.
Spencer Lewis – Reaching

Across 27 or so albums (!), Vermont contemporary composer Spencer Lewis sometimes gets tagged as new age music. You wouldn't know it from his latest though. Though instrumental, Riffs on a Broad Reach is more folk-rock than anything (Lewis rechristens the genre "folkthatrocks"). It makes for beautiful background music, but offers enough riffs, melodies, and intricate full-band performances to grab ahold of for more active listening.