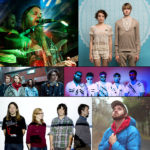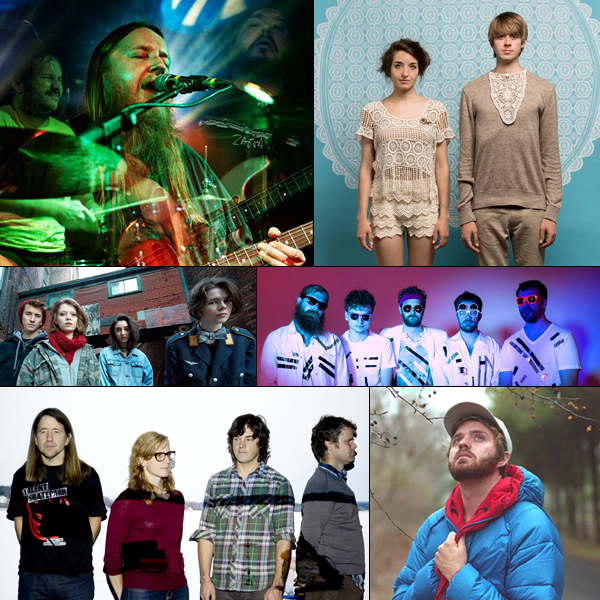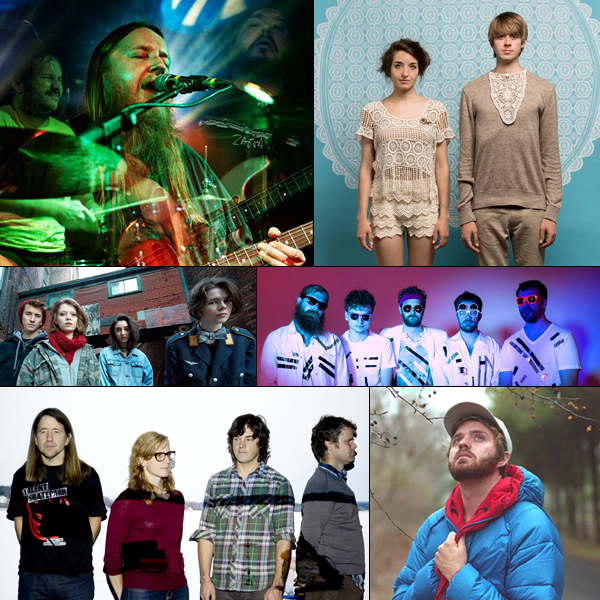 When I launched this blog last month, I kicked things off with The Best Vermont Albums of 2016. I said after that I'd move on to what's next, not just what already happened. Which I will, I swear (and I have a bit, highlighting great new material from Vultures of Cult (R.I.P.), The New Line, and 1881). But first, one final retrospective.
When putting together the Best Albums list, I realized many of my favorite 2016 songs were not on proper albums. They were from EPs, singles, preview tracks from 2017 albums, covers, or other one-offs. So, for one last look back, we're counting down our favorite Vermont-made songs of the past year. Then onto 2017. Promise.
20. The Smittens – Together Forever in Love

I admit I'd never heard of Rose Melberg until this year, but as a indie pop pioneer in the '90s, she was an obvious influence on longtime twee-poppers The Smittens (a band so cute each member has their own plush doll). For a recent tribute album, the band covered Melberg's adorable and earwormy song "Together Forever in Love," turning it from a scrappy DIY gem to a fleshed-out and irresistible production. The perfect thing to tide us over while we wait for new material from the band.
19. Lake Superior – Winter Song

Black Keys comparisons are often apt to this gritty blues-rock duo, but the best song on their recent album Demon Eyes was also the quietest. Their version of a gospel song, "Winter Song" is soaring and meditative, a prayer perfect for this season.
18. OC & LoKi – A World of Dreams

A collaboration between 19-year old rapper LoKi (aka Liam Corcoran) and 16-year old producer OC (aka Oliver Creech), "A World of Dreams" was recorded several years back but just saw release this year. Singer Katy Hellman sell the hell out of the catchy hook, while poet Rajnii Eddins joins for a verse of his own.
17. Eastern Mountain Time – Back Home

The state of Vermont never lacks for good singer-songwriter music, and one of the best songs to come out this year comes from Sean Hood, who goes by Eastern Mountain Time. Augmented only by guitar and the subtlest of cello, "Back Home" is a no-frills beauty. Produced by Wren Kitz (whose very different-sounding solo album was one of our favorites of 2016), "Back Home" shows you don't need anything fancy when the song is this good.
16. Cricket Blue – Angela Carter

Though they have yet to release a full-length, duo Cricket Blue's two EPs stand among the best folk music coming out of Vermont in the past few years. On 2016's Io EP, they stretched their wings a bit, bringing in trumpet and a string section for more lush productions that gently push the boundaries of Americana. The core though remains the pair's songwriting and delicate harmonies, as seen on this standout track.
15. J. Bengoy – All About You

Car Seat Headrest were one of 2016's biggest indie-rock breakouts, and J. Bengoy would do well to reach some of those fans (though with only one EP to CSH's 10 albums, Bengoy has a ways to go to catchup). Blending irresistible hooks with Local Natives-esq shimmer and shake, "All About You" is a tight power-pop nugget that you'll keep coming back to.
14. Swale – Black Boys on Mopeds

Indisputably the most powerful video of the year, Swale soundtracked a montage of black men and women killed by police to an utterly gorgeous Sineád O'Connor cover. Though the video is a must-watch, the song stands up on its own as a beautiful, heartbreaking cover featuring gorgeous vocals from singer Amanda Gustafson. Swale's Eric Olsen said, "Sinéad O'Connor was inspired by a particular killing in England almost thirty years ago and the fact that it still resonates today is frightening."
13. Blahvocado – Gold Park

Fans of the psychedelic folk-rock group Ambulance LTD (and if you're not one, you should be), rejoice. On "Gold Park," Blahvocado's Matt Pignatore appoints himself their spiritual successor. Trippy lyrics ("You looked golden all day long / In that ripe sun on fire / Now i'm right on time") give way to lush synth-and-guitar grooves, a warm bath of melody with just the slightest edge of darkness.
12. Seth Yacovone Band – Cavemen Guerrilla

Though often put in the jam-band bucket due to his longtime friendship with Phish's Trey Anastasio, guitar whiz Seth Yacovone can sing the blues like nobody's business. On his first album since 2008, Yacovone shows that he's more than just an all-star axeman with tight songwriting that no doubt will give him plenty of material to stretch out onstage (even on the record most tracks top five minutes). The high point in undeniably "Cavemen Guerrilla," a song loosely inspired by the shooting of a man who threatened police with a shovel. I'm not quite sure what "I've got the wherewithal of a neanderthal" means, but don't overthink it as you holler along.
11. Kelly Ravin – Bonneville

Speaking of good songs, Kelly Ravin can be relied on to churn out terrific country-rock gems at a rapid pace, both with Waylon Speed and his solo albums. After last year's magnificent set County Tracks (heh), he returned this year with eleven more. The title track of Bonneville is the record's centerpiece, a beautifully tragic tale of hard drugs bringing together two lovers from opposite sides of the tracks.
10. 1881 – Shortcuts

Yesterday we posted about 1881's third EP, and honestly a few tracks on there could end up on the next year-end list (also they've now gotten a cosign from The Zombies!). In the meantime, though, the strongest track on EPs one and two is the outrageously infectious "Shortcuts." They bring a heavy dose of Smashing Pumpkins on this one, blending '90s angst with '60s melodies.
9. The DuPont Brothers – Empty Cases

Though always top-notch, the songwriting of Sam and Zack DuPont has never been stronger than on this track from one of 2016's best albums. It's the sort of song that sneaks up you, starting as typical singer-songwriter fare but gradually adding sonic textures and the most beautiful harmonies we heard all year on the chorus.
8. Willverine – Wrote a Note

Electropop-plus-trumpet has always been Will Andrews' modus operandi and, as angles go, it's a good one. The key is that he writes songs good enough to not rely on the gimmick. When the horn eventually enters "Wrote a Note," it's just an added bonus. The song's already stuck in your head anyway; the chorus trumpet just adds a final grace note.
7. Little Slugger – Perfect Days

Some songs on this list are growers, tracks that take a few listens to truly sink their teeth in. Not so with "Perfect Days," which I was sold on before the vocal even entered. Mixing a little Motown vocals into a infectious slice of country-rock, the feel-good song builds to one of the rare wah-wah guitar solos that feels entirely essential. Though "Perfect Days" came out in December, it's a summer song if we ever heard one.
6. Henry Jamison – Real Peach

One of 2016's Vermont breakouts, "Real Peach" currently has 3.5 million streams on Spotify and deserves every one. With buzz on this year's debut EP The Rains from the likes of Vice and Consequence of Sound, Jamison enters poised to be the state's next national export. His lyrics read Decemberists with that English-lit vocabulary, but the smoothness of his delivery belies any hint of aloofness.
5. Wooden Dinosaur – Room for Love

On "Room of Love," Wooden Dinosaur frontman Michael Roberts and singers Katie Trautz and Julia Wayne channel Jason Isbell and wife Amanda Shires for a gorgeous duet (I realize three people is not technically a duet, but Trautz and Wayne's voices beautifully blend into one). Gorgeously performed and unabashedly sentimental, it's the sort of song that makes you remember everything great country music can be. There's a whole school of artists right now supposedly "saving" country music (your Stapleton, your Mugraves, your Sturgill). Though it's debatable whether country really needs saving, if that "real country" crowd discovers Wooden Dinosaur, we will happily climb aboard any and all make-country-music-great-again bandwagons.
4. The Snaz – Strung Out on Candy Bars

The narrative behind the Snaz has always been "rock and roll high schoolers," which is cute but fundamentally irrelevant (also surely they've graduated by now?). The band's tight rock jams would be equally impressive were they coming from grizzled sixty-somethings – though presumably they'd be strung out on something other than candy.
3. Iron Eyes Cody – Animal

The #1 song off our #2 album of the year, "Animal" showcases everything Iron Eyes Cody does best. Back-and-forth vocal duets, check. Massive, holler-along choruses like a folk-rock Hold Steady, check. Outrageously catchy, you better believe it.
2. Madaila – Secret

Recent Vermont breakouts Madaila indulged their jammy side a little more on second album Traces, but "Secret" proves their pop smarts remain intact. It's still trippy as hell – it opens with a distorted quote from Plato's Laws, for goodness sake – but perfectly blends their more experimental tendencies with the sort of insanely catchy harmonized dance-pop that first gained them a following.
1. Josh Panda – After the Smoke Clears

Songwriter-guitarist extraordinaire Josh Panda has been teasing new album Shake It Up since releasing same-sex marriage tribute "Stick a Fork in Me" in 2015. "After the Smoke Clears" has made us that much more impatient for it to finally come out. First teased in a terrific live video for NPR Music's Tiny Desk Contest, the song builds hook upon hook. The verse is catchy, the chorus is catchy, the bridge is catchy. Hell, even the guitar riff will probably get stuck in your head at some point. A perfect little nugget of power-pop goodness, it moves well beyond the Americana-soul grooves Panda plowed on previous albums. The finest track of a long career, and the best song of 2016.