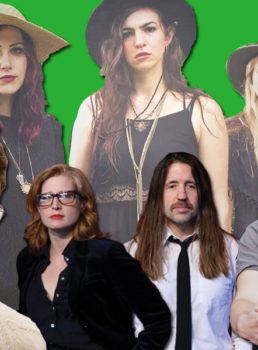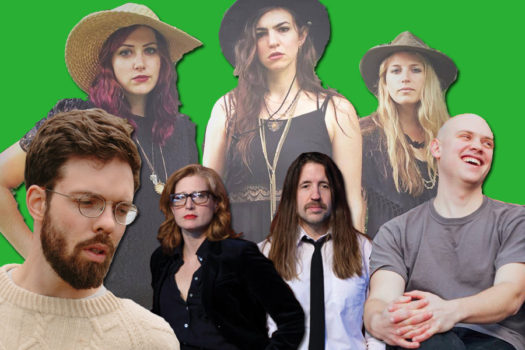 Holy moly, Vermont artists released a lot of songs this year. I'm just talking sheer quantity: a lot of songs.
This may seem a blindingly obvious observation, but here's why it struck me. When this site launched this past January, we posted Best Songs and Best Albums of 2016 lists to kick things off. The twenty selections on each were just things I'd come across in the preceding twelve months. This year, though, I made a more concerted effort to be thorough. All year I was trolling Bandcamp and Soundcloud and YouTube and Facebook, which drove the point home for me. I already knew Vermont musicians were prolific, but dear god. One songwriter alone released 36 double-sided singles!
The point being, narrowing this list down to twenty songs was brutal. That's a testament to the bounty of great music coming out of Vermont. Some of my selections come from bands known to any Vermont music fans; others are by musicians not really plugged into "the scene," off on their own somewhere releasing amazing stuff. There's no overarching theme, and in a different week, this list would probably change. But these are my favorite local songs of the year – today at least.
20. Kelly Ravin – Telescope
The most prolific artist on this list, Kelly Ravin has released four albums in as many years, every one a gem. The high point on the former Waylon Speed guitarist's newest, Engine, is this laid-back country rocker. And as with many of his songs, an easy-going sound hides layers of depth. What seems like a love song at first suddenly starts talking about 22-gauge shotguns and Maltov cocktails. Puzzle out the story behind the lyrics, or just choogle alone with the tunes.
19. Jessica Rabbit Syndrome – Vocal Fry
This is the first of two songs on this list about the very specific topic of millennial vocal tics – was there something in the air? Jessica Rabbit Syndrome rebrands the oft-mocked "vocal fry" not as a ditzy affectation but as a feminist rallying cry. "That's just how girls talk," they intone with a confidence that asks: what are you going to do about it, huh?
18. Blowtorch – Mirror
It took punk-rock lifers Blowtorch thirty years to finally record an album. A song like "Mirror" was worth the wait. Like a 1970s CBGB staple, they pack a mess of hooks and riffs in under two and a half minutes. Hopefully we won't be waiting until 2047 for the follow-up.
17. The Mountain Says No – I Know, Right?
The phrase "I Know, Right?" sounds like a valley girl cliché, a relic of the Clueless era. Somehow, though, I doubt Alicia Silverstone's character was listening to music like this. Stoner riffs collide in a heavy post-rock blast with furious guitar duels that build and build. If there's a '90s movie scene that really fits here, it's Wayne and Garth headbanging away.
16. Eastern Mountain Time – (If You're Missing Me) You Ain't Missing Much
When I wrote about Eastern Mountain Time's new album, I focused on the complex historical explorations of "Berlin After The War." But after more listening, this far simpler number has surpassed it as my favorite song on the album. Sean Hood writes a classic country crooner that could have been sung by Patsy Cline or Ray Price decades ago. It's cry-into-your-beer music of the best sort.
15. Bison – Everything You Say and Do
Interpol fans lamenting that they never again matched Turn on the Bright Lights would do well to turn to Bison. The trio emerged fully formed with this debut single, a monster jam that channels 1980s post-punk with a modern sheen. Hooks pile upon hooks; there's no question it will get stuck in your head, the only question is which part.
14. Jack Labbe – Plastic Rose
Many songs have been written about flowers over the years: "Wildflowers," "Kiss from a Rose," "Build Me Up Buttercup", etc. The flowers in question though tend to be, you know, alive. Labbe was inspired to write about fake flowers when he kept one after a party. "No one swoons over a plastic rose – real flowers are much more desirable," he told me, "but the plastic ones stick around."
13. Josh Panda – Drive You Home
Josh Panda can hit notes that would make an opera singer blush. For such a powerhouse, though, his songwriting can be surprisingly unflashy. "Drive You Home" is the simplest of love songs, but one executed to perfection. The car motif carries shades of Bruce Springsteen, but with a restraint and calm absent from the Boss's highway narratives. It's not a song that reaches out and grabs you; it just sits patiently as you return to it again and again.
12. The Pilgrims – The Millennial Whoop
Remember how I said there were two songs about millennial vocal tics? Here's the second. And like "Vocal Fry," the Pilgrims use the so-called "millennial whoop" to make a larger point. Theirs doesn't concern ageism rather than sexism. Narrated by a cranky boomer, the hilarious song defends the younger generation against their elders' clichéd attacks. "You'll never live up to the greatest generation!" the narrator yells, cheekily adding "We won all the wars! (The ones that we lost are not our concern)." It blows a raspberry at the idea that one generation can be "worse" than the next and nostalgia that keeps people living in the past.
11. Pete's Posse – Be the Light
Everything about Pete's Posse, from the name to the facial hair, screams old-timey. And this beautiful song, too, sounds like a folk staple that's been passed down by generations of plowmen. But it's actually an original, a new standard that will hopefully be passed along by generations to come.
10. jinxbox – Sun
The fastest song on Jinxbox's fantastic debut album barely reaches midtempo. Electronic music, maybe, but good luck dancing to it. A slow sway like Audrey in Twin Peaks might be more appropriate. And just like the moth-frog climbing into the sleeping girl's mouth, "Sun" will slowly but surely get stuck in your head.
9. Lewis Franco & the Missing Cats – Don't Fix It
Cell phones breaking sounds like the topic for a Dave Berry column, not a novelty jazz song. But the musicianship here is no joke. Blending a little Dean Martin with a little Richard Cheese, Franco crafts a catchy lounge-swing earworm complete with 1950s-style backing girls remarking on the lyrics. Even once you stop chuckling at the punchlines, you'll keep humming along.
8. J Bengoy – So Good (I Could Die)
I called this the song of the summer, but turns out it works just as well in December. So much in music and culture more broadly this year revolved around politics and current events. Worthy topics these days, no doubt, but occasionally it's nice to take a step back with a slice of optimistic escapism.
7. Henry Jamison – The Jacket
Like a good short story writer, Henry Jamison nails the little details that make his songs feel lived in. Take the opening of the second verse: "I was on my phone for half an hour and bleached in the white light glare / Sitting at the sports bar 'cause the game was playing there / And the hometown team was down by 10 / But I really didn't care / I just soaked up all the light from the flat screen." That simple scene says so much about the narrator's emotional state. A character study set to music, "The Jacket" makes every word count.
6. Vazy – The Field
To outsiders, Vermont gets stereotyped as some sort of bucolic hippie paradise. Brad Veysey tells a very different story in his rhymes. He describes how the opioid crisis has affected his hometown in no-holds-barred detail, blending hometown pride with a requiem for neighbors dying young. His old duo Causin' Effect explored some of the same themes, but with about as much nuance as song titles like "Redneck" imply. This is a much more incisive look at some serious problems.
5. Swale – Felon
Swale's There's No One Here is so wall-to-wall great, it was tough to pick which song to highlight. The furious punk "Drug Laws"? The #MeToo pop of "Elevator"? The epic guitar freakout "Every Last One of Us"? If I didn't limit this list to one song per band, they might all be in here. Ultimately, a quieter song snuck in as a favorite: Amanda Gustafson's tender "Felon." Like much of the album, it was loosely inspired by her marriage to co-frontman Eric Olsen. "Eric's been pretty open about his past, with drugs and alcohol and addiction," she told me. "When we got together, my friends weren't exactly high-fiving me. But my love for him went really deep, even in the midst of a difficult time, and that's what I wanted to write about."
4. Near North – Good About You
"Good About You" could have been inspired by pretty much any song you'd holler along to on classic-rock radio. But it actually derived from a very different genre. For a school writing assignment, songwriter John Nicholls was told to borrow the chords of a current pop song. He picked Anna Nalick's "Breathe (2 AM)." It's the best kind of appropriation, turning an insipid adult-contemporary hit into a massive rock-and-roll banger. Wonder what they could do with Demi Lovato.
3. Clever Girls – Crazy
"It ain't heartbreak unless we're both a bit crazy" sounds like a classic country line, something that could have come from Willie Nelson's "Crazy" rather than this one. But the real power comes in frontwoman Diane Jean's delivery, an open-throated holler that sure enough sounds a bit unhinged. You hear stories about Merry Clayton belting "Gimme Shelter" so hard her voice cracked; I can't imagine Jean was good for much chit-chat either after delivering this blast in the studio.
2. Sam Morris – Left The Candle Burning
A ton of musicians covered Leonard Cohen following his death, but no one wrote a new song that more embodied Cohen's spirit than Sam Morris. The fingerpicking on "Left the Candle Burning" sounds Cohen-esq even before the words start, but the comparison becomes unavoidable from the opening line: "I watched the moon unfold itself unto its fullest form." Trying to write a Leonard Cohen song would be a fool's errand for most, but against all odds Morris pulls it off. While Cohen went into fuller productions in later years, this sounds like a Songs of Love and Hate outtake – but by a singer who actually was "born with the gift of a golden voice."
1. Ghost Weapons – Auroras
"What if science has it wrong?" Gary Peters hollers on his final single under the moniker Ghost Weapons. Like a rougher-voiced Interpol, "Auroras" draws on post-punk history for a dark, anthemic blast. And like Joy Division, it uses those huge sounds to explore life's darker undercurrents – in this case, Peters' father's recent death from multiple sclerosis and his regrets missing out on his father's last good years. Heavy stuff, with heavy music to match. But cathartic, too.
Hear most of these songs collected in this Spotify playlist.
Check out The Best Vermont Albums of 2017 and The Best Vermont EPs of 2017.