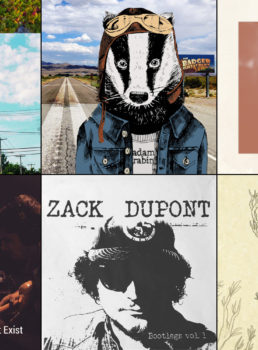 See previous monthly Best-Of lists here.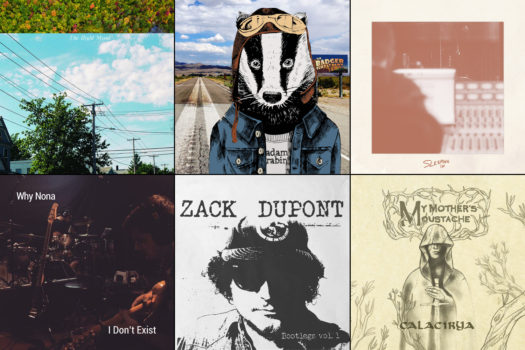 Adam Rabin – Trains That Never Come

Is progressive rock due for a comeback? The Washington Post's David Weigel released a well-reviewed book on the subject last year (I still gotta read that thing), which seems like it might auger a renaissance. But other than that… let's just say Pitchfork hasn't started reviewing Rush reissues. Adam Rabin, of proggers Elephants of Scotland, makes his own argument for the genre on new album The Badger Flies at Dawn. He brings in pop and orchestral melodies in sweeping arrangements that nod toward Genesis and… I suppose I'm part of the problem, as I have few other points of reference. If, like me, you need a genre introduction, "Trains That Never Come" offers an easily accessible place to start. No 7/5 time signatures required.
Jinxbox – Egotopia

Other than the title word, the song has few lyrics. But the lines that do creep in have some bite: "Is it a flutter of panic or a stab? Do you miss your mom or do you miss your dad? Why be a mother if beauty makes you sad?" Musically, the song echoes Mazzy Star into an ethereal, washed-out pop daydream.
Jonah Siegel – In Spite

Kicking off his half of a charming cassette split with former The Snaz drummer Zack James, Jonah Siegel's "In Spite" channels Mac DeMarco in its laidback, unpretentious indie rock. It's so relaxed that its appeal sneaks up gradually – but by the time it ended, I went back to play it again.
Josh Brooks – The Devil Taught My Mama How to Pray

A murder ballad about slowly murdering yourself, "The Devil Taught My Mama How to Pray" sounds like the spiritual sequel to Townes Van Zandt's "Waiting Around to Die." With harrowing lines like "I found Jesus, then I lost him again / Sometimes the devil is your only friend," it channels a dark spiral of inherited tragedy. Brooks says he imagines an alternative version sounding like the White Stripes, but this spare and haunting performance offers plenty of passion with minimal instrumentation.
Milton Busker & The Grim Work – That Person Aside You

Milton Busker describes his band's genre as suit-folk. What the hay is "suit-folk"? Let him tell you: "Suit folk is the people's music, all dolled up for a night on the town. It is an Appalachian ditty played by Cole Porter. It's a gospel song for heretics. It's hippie music for people that can't afford to drop out. It's love songs for the kids who couldn't get dates but still dress up for the dance."
My Mother's Moustache – Calacirya

Calacirya sounds like an artifact from Greil Marcus' old-weird America, spooky folk music that sounds pulled out of time. The album was recorded in an old brick church – one actually called The Old Brick Church – but at times it sounds more like it might have been recorded in a haunted barn or a graveyard. Though largely built around the writing and singing of Joe Sabourin, Calacirya boasts a secret weapon: multi-instrumentalist Matt Bean, who fills in the spaces with ghostly fiddle, mandolin, and concertina touches. If Sabourin is Bob Dylan recording "Desolation Row," Bean is flamenco-guitar player Charlie McCoy, the subtle sideman who quietly makes the song sing.
Nick Zammuto – Tonight We'll Go For A Ride

Nick Zammuto, former frontman for beloved electronic-rockers The Books, composed this soundtrack for Jeremiah Zagar's film We The Animals. I can't speak to how it fits the movie, but the first taste from the soundtrack album (out November 9) reminds me of Karen O soundtracking Where the Wild Things Are. It stands up on its own, a short, mesmerizing little song that channels Sigur Rós with undercurrents of darkness.
Old Sky – The Right Mood

The third in a series of color-themed EPs, Red Leaves Snowy Peak will follow 2016's I Miss the Blue and 2015's Green on Fire. What the duo lacks in prolific output it makes up for in quality control. Their first new song in two and a half years brings in a few rock and roll touches to Andrew Stearns and Shay Gestal's guitar-and-fiddle bluegrass mix.
Sleeping In – Wouldn't Mind

Slowcore and shoegaze – two ridiculous genre names that go great together on Sleeping In's sludgy, blissful new single. I can't tell you what it's about; just lay back and let the waves of distortion gently melt your eardrums.
Tongue & Cheek – Say Anything

The new University of Vermont quartet's debut single finds a band emerging fully formed. Polished and hook-driven indie-rock packs a lot of ideas into its four minutes, pulling from 2000s-era blog rock from the Strokes to Foals.
Why Nona ft. Paolo Cannizzaro – I Don't Exist

When I first wrote about Why Nona, I compared their emo pop-punk to Jimmy Eat World. Their new single broadens the sonic spectrum a bit. It's still emotional, but less "emo," branching out towards mewithoutYou screaming on the one hand, and The Smiths sad-boy lyricism on the other. Both offer interesting new directions for the band, and they ace the loud-quiet-loud dynamics.
Wren Kitz – Dancing With the Wind

The pieces – it doesn't feel right to call them "songs," exactly – by experimental sound artist Wren Kitz can feel unstable, like music breaking down before your ears. His new album Lovebird careens between deconstructed folk music and equally deconstructed metal. The most immediately accessible, at least to these ears, might be the harmony-laden ballad "Dancing With the Wind." You'll never make out a lyric – it's too far gone for that – but the wash of sound tells its own story, swimming along before finally collapsing in on itself in a flurry of atonal guitar.
Zack Dupont – Grace Morrow

Wonderful folk duo The Dupont Brothers, who I've written about a few times, are no more. Or, rather, they've morphed into the more indie rock-leaning "SoundBrother." While we wait for the new band to record, one half of the Brothers just quietly dropped a beautiful EP that pushes things back toward the singer-songwriter side of the tracks. Don't let the modest Bootlegs Vol. 1 title deceive you. Despite sounding like they'd be half-baked sketches, these songs sound fully polished to me, both in writing and recording. Looking forward to Vol. 2.
If you missed it, here's our Best Vermont Songs of 2017 post.