See previous monthly Best-Of lists here.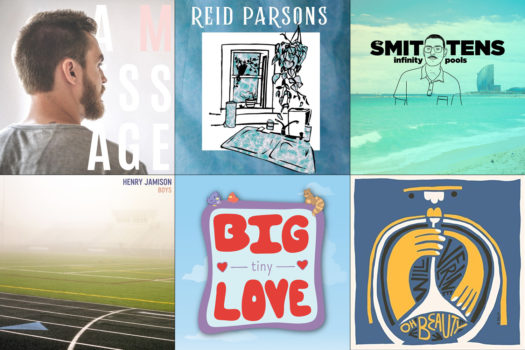 Bow Thayer – Looney Brook Road

The first song we featured from songwriting vet Bow Thayer's latest album found him right in his bluesy Americana pocket. "Looney Brook Road," also off the just-released A Better Version of the Truth, pushes him in some quite different directions. Ambient and spacious, this sonic tour de force takes its meandering time getting to anything like a lyric. When words finally arrive, they sound like the Beatles at their trippy late-period peak, part Sgt Pepper and part White Album and part Paul side-eyeing Yoko in the corner.
Henry Jamison – Boys

Henry Jamison's sophomore album Gloria Duplex is shaping up to be one of 2019's best. The album looks at toxic masculinity – typically the subtext of pop music rather than its subject. On the latest single "Boys," Jamison sings about young men's anger over plucked strings and ethereal harmonies. "Sittin' at a boardwalk bar drinkin' a whiskey, feeling all the rage of a modern man," he sings. "We used to feel our rage just like the sea, now we get it on an installment plan." There's no mention of Donald Trump or the alt-right, but in this era, it still feels politically pointed.
Jeremy Gilchrist – Resist

If Henry Jamison's song is subtly political, Vermont expat Jeremy Gilchrist's couldn't be much more overt. From the title to the raised-fist cover art to managing to fit "intersectional" into a lyric (and surprisingly smoothly too), Gilchrist doesn't pull his punches.
Joshua Panda – Swing Low Sweet Chariot

A group called Big Tiny Love has put together a charming new children's album for charity, featuring a host of people who appear on this blog regularly: Bow Thayer (why, he just appeared 300 words ago!), Swale, Kat Wright, Madaila's Mark Daly, Francesca Blanchard, and these next two. Josh Panda, who recently debuted a new glam-rock band, goes way back to basics on his "Swing Low, Sweet Chariot." He's got the pipes to more than do this gospel staple justice, bringing some New Orleans barrelhouse piano along too.
Lowell Thompson – Home on the Range

From the same album, singer-songwriter Lowell Thompson delivers a tender Americana version of another oft-covered song. I'd reckon it's not a song most readers above to age of 10 often seek out, but Thompson's sincerity and his band's tender twang make it fresh.
Miss Guided Angels – The One That Got Away

One of the first CDs I bought with my own money was The Corrs' MTV Unplugged, a special the channel ran on repeat when I happened to be on a middle-school trip to Germany. I hadn't thought of that album in years until hearing Lisa Gardner sing "The One That Got Away." There's a touch of that same Irish-ish lilt, with plenty of fiddle and pedal steel to match.
Reid Parsons – Charlie

Reid Parsons' debut EP finds a young songwriter emerging fully-formed. Take "Charlie," a harrowing short story that packs years of a troubled child's life in under four minutes. Parson's doesn't waste a word, with poetry worthy of Townes Van Zandt. Early on, the narrator mother laments a son who started bad, and got worse. Though the details are sparse (and, in a Faulkner-esque touch, the narrator shifts a couple times), the final line of the first chorus – chillingly emphasized by the music suddenly dropping out – says it all: "But Charlie never listens / He's not like our other children / And if I had to tell you the truth / I don't love him at all."
The Smittens – Infinity Pools

"Infinity Pools," the latest single from indie-pop vets' terrific new album City Rock Dove, is a homage to the Spanish genre of "tontipop", and also inspired by singer Max Andrucki (the "Dashing Smitten," per the band website)'s longstanding love of tropicália.
Why Nona – Therapy & Twisted Tea

Despite being titled The Things That Bring You Joy, Why Nona's debut album presents emo angst at its loudest, and catchiest. Gems abound (I've already written about a couple), but nothing sums up the emo condition better than the opening two lines of the 90-second banger "Therapy & Twisted Tea": "All the people who I loved are loving others / All the people who I thought would never die are dying"
Will Stamp – A Message

Burlington, Vermont is a long way from Nashville, but country crooner Will Stamp's new single "A Message" sounds straight off of Music Row. It brings just enough grit to appease the "real-country" purists fueling revivalists like Sturgill Simpson and Chris Stapleton, while keeping things tight and polished enough to fit right in on modern country radio. It Stamp had popped up on the recent Country Music Association Awards and they told you he was a rising star, I don't think most viewers would have batted an eye.
Willverine – Oh Beauty

Willverine's elevator pitch has always been clear: synth-pop-plus-trumpet. But from the start, that blurb implied a novelty appeal the songs rarely exhibit. On previous releases, Will Andrews delivered fully-realized pop songs, his trumpet blending seamlessly in with the expected synths and drum machines. His new single, though, doesn't appear to feature any actual trumpet. And that's only a loss for the elevator pitch. Assisted by a wonderful female vocalist, "Oh Beauty" presents one of the most memorable songs in Andrews' career, bringing elements of folk music and dub into the pop sphere. And for the purists, there's a trumpet drawn on the cover at least.
8084 – I Can't Feel You

1980s rockers 8084 don't like to be called "hair metal." But for a long time, from their sound to their outfits to their, well, hair, they fought a losing battle on that front. Their new single, though – the latest in the band's recent revival – finally dispenses with the dated genre tag. If anything, "I Can't Feel You" sounds more 1990s than 1980s, the sort of rock-radio ballad a band like Goo Goo Dolls or Fastball might have made a hit.
If you missed it, here's our Best Vermont Songs of 2017 post.