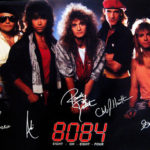 Classic Vermont Albums digs up great and sometimes forgotten albums from Vermont's musical past.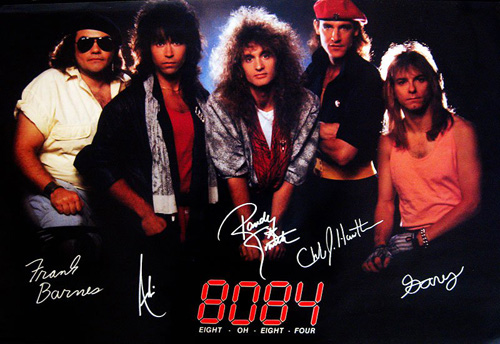 In addition to looking at the best new music coming out of the state of Vermont, we will periodically dive into the archives to look at the best from the Green Mountain State's musical history. To kick off a series simply titled Classic Vermont Albums, we're going to look at an album that isn't just dated chronologically, it's dated period. But we don't mean that as a bad thing.
In the mid-1980s, bands like Van Halen and Bon Jovi were massive, so it figures that many towns with their own music scene would produce imitators. And that's just what 8084 started out as, a band covering all the hair-metal hits of the day. They performed hair-metal and arena-rock covers for parties and bars around Vermont. They dressed the part too, all leopard-skin shirts and huge teased manes, looking like Twisted Sister with a smaller makeup budget.
They soon grew so adept at performing these songs that they began writing their own. As it turned out, they had a knack for it. Their debut album Eight Oh Eight Four, recorded after they moved to New Hampshire to be closer to the Boston club scene, is an underground '80s-rock classic. It contains all the era's tropes, from huge synthy shouters ("Thunder in Her Heart") to lighters-in-the-air power ballads that could give Poison a run for their money ("When I Think of You"). They even nodded towards more meat-and-potato arena rock, like "Bad Man" which sounds like a glammed-up Bob Seger.
One of the best tracks is "Beat of the City," an outrageously catchy fist-pumper that in a more just world would have been a Whitesnake-level hit. Check out part of the music video, which is basically Warrant's "Cherry Pie" on a much smaller budget.
After releasing that debut album, 8084 did come close to national fame a few times. They got signed to a major label, CBS Records subsidiary MCM, and paired with a producer who worked with Bon Jovi and Cyndi Lauper. A sponsorship with Coors allowed them to tour with Blue Oyster Cult and Toto. Jon Bon Jovi himself even reportedly wrote a song for them and they even began being mentored by, of all people, folksinger great Richie Havens.
But, as so often happens, things fell apart. MCM mysteriously dropped their contract after they'd recorded their second album. Then on Christmas Eve, 1989, founding member Charlie Hawthorne died in a car accident driving home from a show. The band soldiered on after these setbacks, but the brief shot they'd had at the brass ring faded away.
Their debut album Eight Oh Eight Four, though, remains an unheralded classic of the hair metal genre. Fun and campy and catchy as hell, it deserves a place in the annals of a genre that is so uncool it may yet become cool again. Stream the full album below.
8084 reforms every year or so for a show. Keep tabs on their website.
Click here to read more articles about Vermont music history.